Shifting the Dial
Lived experience is at the heart of Shifting the Dial, which encourages young African Caribbean men in Birmingham to discuss and explore mental health issues and build resilience.
Knowledge and Learning Manager, Zoë Anderson speaks to Nathan Dennis of First Class Foundation, one of the charities co-delivering the work.
In 2018, after a successful pilot, Shifting the Dial received a Collaboration grant of £746,112 to develop its work.
The project is a partnership between First Class Foundation, Birmingham Solihull NHS Mental Health Foundation Trust, the Centre for Mental Health, and the Birmingham Repertory Theatre. Nathan, the founder and director of First Class Foundation, is a charismatic speaker and effective role model. In conversation, he's quick to build rapport, and passionate about the impact of the work.
Breaking the ice: before the pandemic
Before coronavirus, the project focused on monthly face-to-face group forums with young men aged 16 to 25. To find their clients, the team went out to places in the local community, "That could be outside city centre locations like McDonalds, KFC, Nando's, or going outside youth clubs. All that's completely changed now."
Under the title #DearYoungers, these events offered facilitated conversations about wellbeing for 8-20 participants. A two-hour session would start with 45 minutes of icebreaker games. "Something as simple as 'Describe how you're feeling, by the title of a song.' Get everyone to check in, describe how you're feeling today."
After choosing a song, each young man is asked to sing it – or, if that's too uncomfortable, to play it on his phone. "It becomes a bit of a moment – if people know the song, they'll sing along. It creates an atmosphere. Some people laugh, some people have a giggle."
In our video interview, Nathan brought the technique to life, asking me for my own song. It was a masterclass in pushing gently, in supporting a participant to open up. When I hesitated, he offered his own example, talked me through the process – then asked for my song again. This time, I sang.
It's important to build the mood. Venues were set up like living rooms, with sofas and rugs. There would be a break for food, usually Caribbean. "Behind the scenes, as practitioners, we're trying to get them to somewhere. The space we use, it feels like a home from home. When you have food in the space, it just becomes richer. Over a number of sessions, you find there's a bit of team, peer support, family bonding happening."
Sessions would end with a question: 'Do you know what your purpose is?' or 'What does manhood mean?' The project also explored these themes in larger-scale events, such as a 70-strong conference on "The Making of a Man", which used different metaphors to look at what it means to be a man – and particularly a Black man – in the 21st century.
From living room to Zoom
At the start of the Covid-19 crisis, the project made a smooth transition to online work. "It was mad, but so simple. We just said, let's go online, let's use Zoom – we were using it anyway." They launched an Instagram channel to promote the forums, alongside Facebook, Twitter and WhatsApp, where they post information with the Zoom link, asking viewers to forward it to relevant contacts.
The first online forum had nine young men – equivalent to the face-to-face sessions - and enthusiastic feedback. Since then, Nathan has scheduled weekly forums and larger one-off events, addressing major issues of the pandemic.
"I was very concerned that the Black and ethnic minority community wasn't taking Covid-19 very seriously. In the early days, there were a lot of conspiracy theories on social media – stuff like 5G," which wrongly blamed new technology for the outbreak. Nathan contacted Birmingham City Council, developing ways to share reliable information.
"We invited Dr Justin Varney, who is the head of public health for Birmingham City Council, to have a conversation with some of the young men: social distancing, how they can stay safe. We got the young guys to share, and ask him questions."
Another webinar discussed bereavement services. "There was a massive change in how services were delivered. If you had a funeral at a cemetery, you could only have six people. I was concerned that the community didn't know that." This work with the council led to a new commission, with First Class Foundation helping to improve messaging to BAME communities in the city.
Keep your finger on the pulse
One of the project's biggest successes was an event about serious youth violence – put together in a single day. "There was an incident in our community. Because it had been captured and was being shared on social media, I was concerned about the retraumatising of young people. I felt we needed to have a conversation, as practitioners."
Nathan got the idea for the conference at 8am. By 1pm, he had confirmed his speakers and announced the event. "The conference started at 5pm – so I had about four hours to promote it. It was crazy, because it was the first time we livestreamed a Zoom. We had over 3,000 viewers."
That fast timing was key: "It's so important to have your finger on the pulse. If I did an event yesterday and talked about Marcus Rashford, that would blow up – because that's what everyone's talking about. That's why I talk about energy, spirit, timing, momentum. What's trending? Yesterday it was school meals. Do a conference quickly, about school meals. You'll get more buy in."
The smaller forums also respond to that wider conversation, addressing what matters to participants in the moment. As worries rose about unemployment and furloughing, Nathan invited the West Midlands Combined Authority to showcase job opportunities in the area. "There's a lot of doom and gloom in the news, but actually there's a lot of employers. Supermarket chains were employing; construction, HS2 were recruiting."
Quick reaction is an essential element of supporting good mental health. The death of George Floyd, and the Black Lives Matter protests that followed, have had a huge impact. "We've had to change some of the weekly forums, let them be about Black Lives Matter, just to give people that space to breathe. Imagine if [the forum] wasn't there – all that anger, not being able to articulate yourself.
"It's really bad, anger and trauma – it was like a retraumatising for many people. Many people started to relive times they experienced racial discrimination." As well as support through its own forums, the project has recommended therapy to some participants, signposting to other services.
Resilience and growth
While support to deal with trauma has been important, teaching resilience is "fundamental" to the #DearYoungers project. "You have to be resilient during Covid-19." They've shared practical strategies, including journaling, action planning and ways to be productive under lockdown. Sessions with relatable role models are popular, particularly when there's an economic angle: young men who have started their own businesses, from buying cars to a new clothing line.
There's a clear demand for the work. "Consistently, we do weekly forums, and the guys still come out. The numbers aren't big, but they're very intimate, so the maximum is probably 22. It's changing people's lives, helping them to stay alive. It's that real, because people will share with you in the forums about the struggle."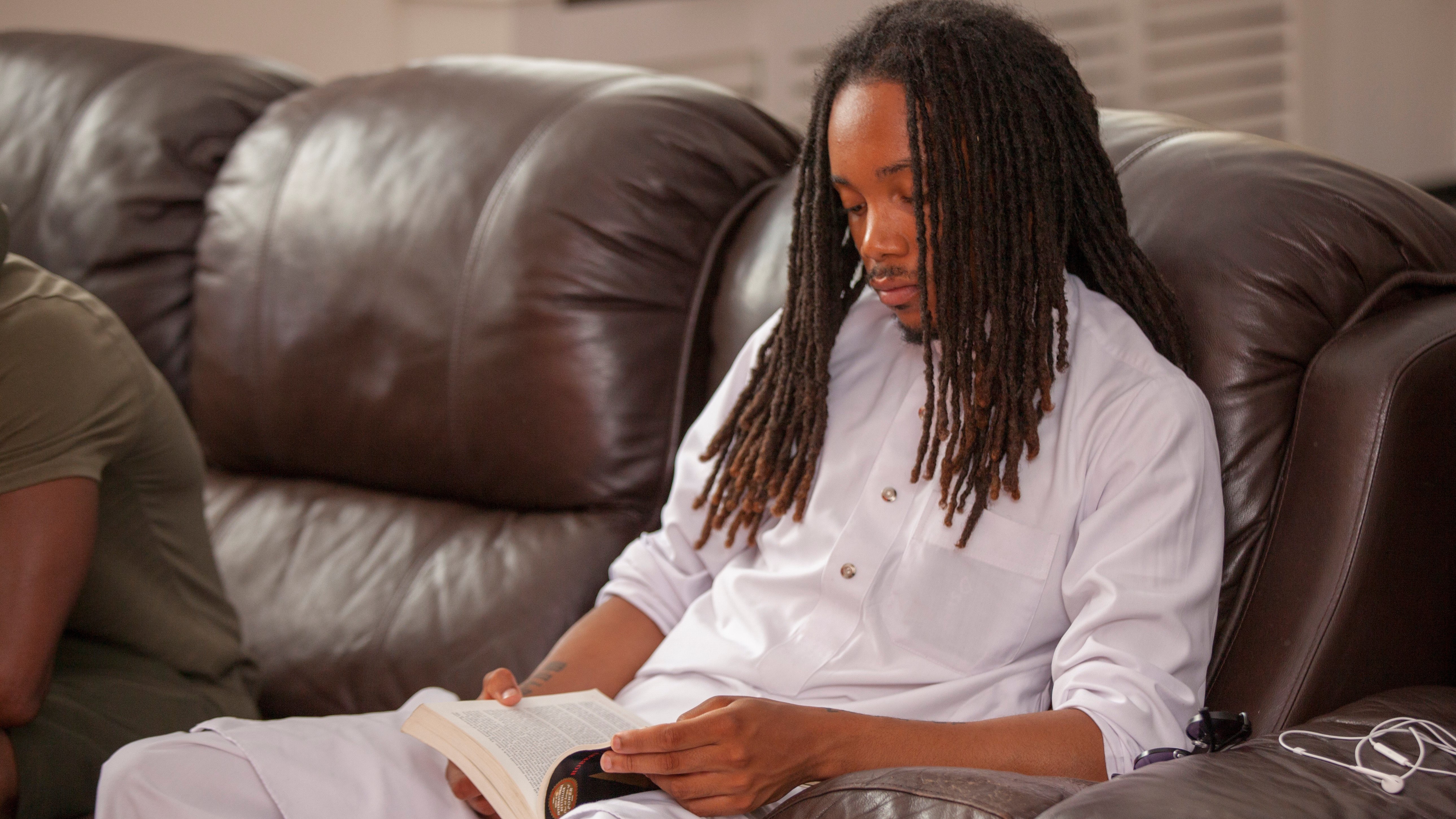 "Sometimes people come in saying, 'I'm feeling low, I've just been in the house all day.' Then you hear them say 'I feel so much better, thank you so much, man, keep doing this.' Then you get the WhatsApp messages after the session, saying, 'That was amazing, I need to come back next week.' So you know that it's having a massive impact in ways that sometimes it's hard to articulate."
The project runs polls at the beginning and end of each session, recording changes in participants' mood. As part of the partnership with the Centre for Mental Health, it uses questionnaires to track shifts in attitudes, mindset and behaviour. Young people receive a voucher for completing the surveys. "All of the polls have been very, very positive."
Nathan's keen to celebrate the young men's personal journeys and how #DearYoungers creates the opportunities for them to use their leadership skills.
Our young ambassadors stepped up big time. Yesterday, you could say they were long-term project participants. When we hit Covid, they stood up and became leaders. They started to facilitate. The very first forum was one of our young men, called Tias, a participant who is now becoming a project ambassador. It was just beautiful to see. He's 21, he was speaking to his peers. I was thinking, these young men have so much leadership in them.

Nathan Dennis
The power of partnership
For the charity sector, Covid-19 has brought new funding and potential opportunities but, for Nathan, some frustration too. "There's been a lot of what I call 'magic money' that's appeared. As a smaller organisation, we haven't been able to take advantage. I don't have a fundraising team, or someone who's sitting there to smack out bids. That's a challenge, not having the capacity to take those opportunities."
Nathan wants grassroots organisations to have the chance to scale up. Sometimes, he says, it can feel as though larger charities processes, and skill in filling in online forms, may outweigh the importance of grassroots organisations' connections and relationships on the ground.
So he'd like to see more capacity building and development programmes attached to grants and more connections between charities of different sizes and specialisms. "I want to be an ambassador for the smaller grassroots organisations who sometimes get missed out, who don't have strong PR teams or writers, so their stories don't get heard.
"That's a tension with many grassroots organisations. You get caught up in delivery, responding all the time. You never get time to do strategy. That's why I love the partnership." By co-delivering this project, First Class Foundation can draw on the skills of its partners, from evaluation to public relations. With that support, the organisation has time to plan and grow.
"I'm enjoying my partnership. We challenge each other, we're accountable to each other, we've got good governance structure. We strengthen each other. That's so important."
Remember your "why"
In developing the work, he has this advice: "Don't chase the profit or the money, chase purpose. I've seen mission drift – people drifting into this sector, that sector, because they're following where the money goes. Find those who really share your values and your mission, that you can work with and be really accountable to."
What else would he say to someone planning a similar project? "Fundamental principle, as an individual or as an organisation: make sure you know what your 'why' is. When the going gets tough, go back to why I want to do this. I want to help, I want to bring transformations to people's lives. If you know what your why is, it gives you that strength to go on.
"I am ridiculously, abundantly grateful that we're still here. We're grassroots, we're truly grassroots: our harsh reality is, if we didn't have strong partnerships, if the Lottery didn't invest in us, I don't know if we'd be here. So I'm really proud that we're still standing."

"We have a track record, to say that we've been engaging with how many young people and even parents during this time. I'm grateful that, in a time like this, we could be a lighthouse for many in our community. That's not stroking our ego, that's real. I'm phenomenally grateful to our partners, to our funders, that gave us that strength to stand and serve our community in a very challenging time."

Nathan Dennis
Nathan Dennis spoke to Zoë Anderson on 17 June 2020. This page was last updated: 2 July 2020.