Shantona Women's and Family Centre
Shantona Women's and Family Centre
In our new series, Voices From the Pandemic, we look in detail at how grantholders have adapted and responded to Covid-19.

Knowledge and Learning Manager, Zoë Anderson talks to Nahid Rasool, chief executive of Shantona Women's and Family Centre in Leeds, about her work before and during lockdown.

Shantona is based in the Harehills area of Leeds, which is one of the city's largest and most ethnically diverse communities. 24% of the population are Pakistani, 9% Bangladeshi. The centre is a BAME (Black, Asian and minority ethnic)-led organisation: out of 30 staff, 28 are from BAME communities. In 2019, it supported 1,700 people on issues including domestic abuse, child sexual exploitation, health and inequality, and community cohesion and integration.
The National Lottery Community Fund has supported Shantona since 2004. Reaching Communities grants of £493,515 and £487,282 have funded the centre's Asroy "safe haven" project, which works with vulnerable women and girls from BAME communities on domestic violence and sexual exploitation.
Domestic abuse: recognising the problem
"When we started, people said there was no domestic violence happening in the community," Nahid says. "That's what Safer Leeds reported about five years ago. They were receiving very few referrals - only 4% from BAME communities overall and referrals from the South Asian community were non-existent.
"Some of our community don't understand domestic violence, emotional abuse. Unless someone is hitting them to death – they don't understand financial abuse, emotional, economic, mental. We started talking about it within the community, engaging with various religious perspective and discussing why it's not okay.
"A lot of the young men, boys in the community, don't understand. They see their father is doing this to their mother, they see it as acceptable. Women's roles are seen as limited to cleaning, doing household work and looking after children. To tackle this we raise awareness and work to empower women."
Shantona now works with schools and community groups and runs healthy relationship programmes. The centre's Community Messenger model trains volunteers to spread awareness in their own social circles, support others to access services and share information on six key messages about domestic violence and its impact:
What is domestic violence and abuse?
How does domestic violence affect children and family members?
How does it affect an individual (identity, low self-esteem, psychological impact)?
Where to go for help and support.
Dispelling myths (around social services, not suffering in silence).
Involving family members in support.
The model is deliberately simple, focusing on the essentials and making the information easy to share. "Give that information to your friends, your family, your social gatherings. You don't need to do it professionally, you just go and do it! Then report back how many people you've supported. That way, we've created a knowledge base within the community." It's led to a huge increase in reporting.
Acting as first point of contact, the charity also supports its service users to go on to other agencies. Shantona initiated Women's Voices Leeds, which brought 11 women's organisations together to support women and girls of all backgrounds across the city. "Shantona is the BAME specialist. We realised that organisations like Women's Aid, Behind Closed Doors and others are not receiving enough referrals from these communities."
Even a confident person will be shaken by domestic violence. We are working closely with them - so when they need another agency we can send them there – and building those relationships with other organisations.

Nahid Rasool
Supporting vulnerable families during Covid-19
Before the pandemic, most of Shantona's services were face-to-face. "We are the first contact point. When someone is facing domestic violence, they don't talk to anyone, they come and have a confidential chat with us. From that, we raise awareness, provide them with support to go to other agencies."
When the charity had to stop its group and face-to-face work, the challenge was keeping in touch with their service users. "I know that they haven't reported it," Nahid explains. "They're not on anyone's radar, so they will be struggling more. Often, they are living with the perpetrator: either their in-laws or their husband.
"So we thought, in any way, we have to have this contact. We were very much aware that people would be struggling with food. We arranged things so we can keep in touch that way." For families, they also offered activities for the children who come to Shantona's nurseries.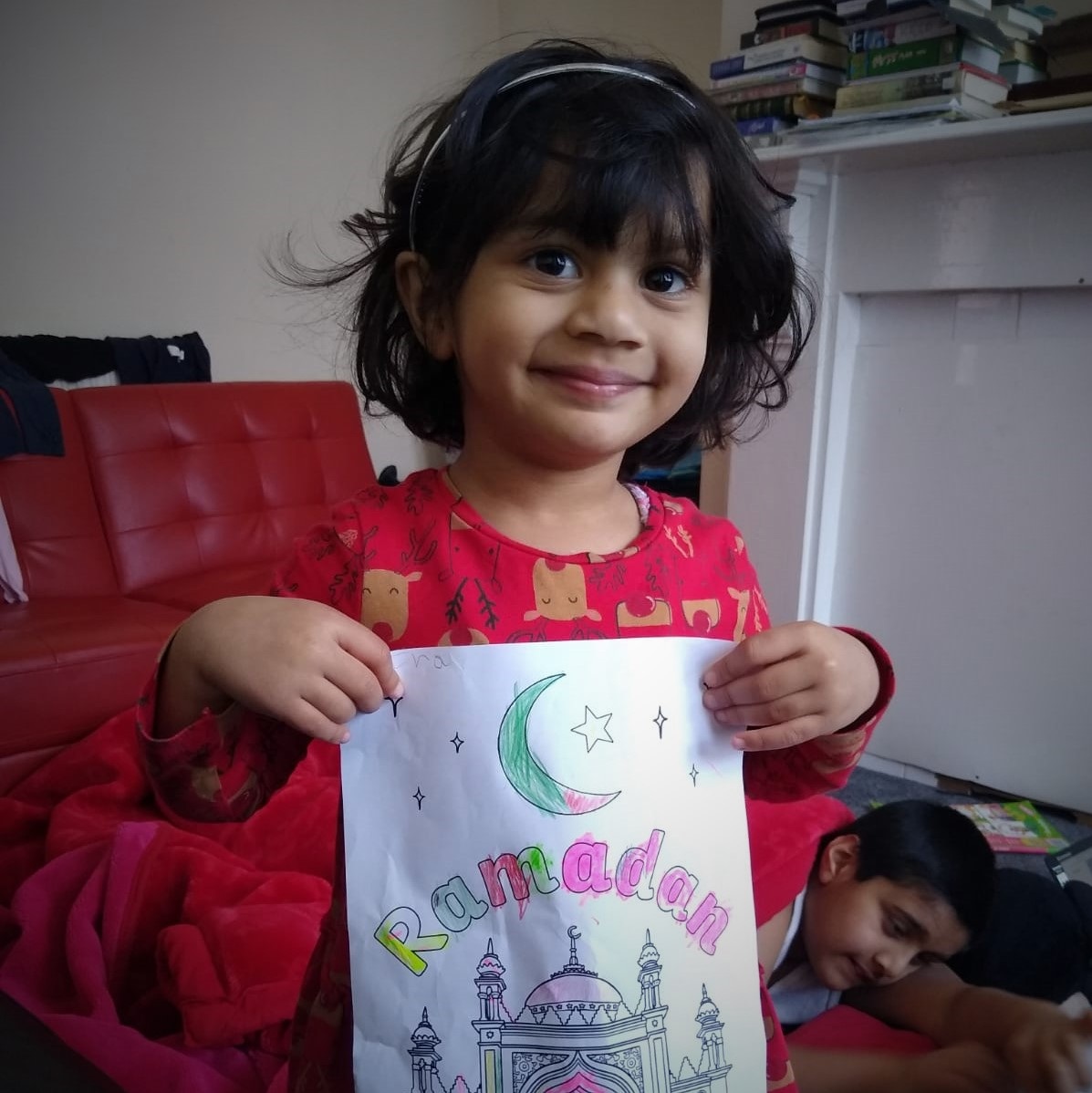 At first glance, delivering activity packs and art supplies might not look like essential emergency support. But for Shantona they've been a vital way to stay in touch with their most vulnerable service users, enabling them to check in with families three times a week.
Building skills, reducing isolation, having fun
Before the pandemic, Shantona had made little use of social media, but now realise this is a good way of reaching more people. At the same time, many of their service users weren't familiar or confident with connecting online. "We produced a lot of cookery programmes: sending the parcel to them, and saying, 'Can you ask a person in the family to show you how to use WhatsApp?'"
One of the most popular measures has been the "Cooking with Zaynah" YouTube series, in which the four-year-old presenter and her mum share how to cook simple, nutritious recipes. "She's motivated lots of people to cook online! People are sending their recipes, 'Can you do something with leftovers?', it's wonderful."
As well as sharing healthy eating suggestions, the Zaynah series is a practical way for families to have fun together, reducing the isolation of lockdown. Shantona is also producing Tai Chi videos, sent through WhatsApp. "Now children are doing Tai Chi in the house, keeping healthy." The recipes and exercise routines encourage people to build connections and practise their computer skills.
Shantona also offered more formal support by checking in to discuss how families could get food or other help from one of the city's hubs. They helped people to complete the necessary paperwork and worked with volunteers and Leeds City Council to make sure that halal and vegetarian food options were available.

The challenges of moving online
Because Shantona had focused on face-to-face and group working, the shift to remote working was a challenge. Their existing computers and server were already due for upgrades and, "We didn't have many laptops, because the work was office-based, or delivering services." Many staff didn't have their own computers and used basic mobiles rather than smartphones: "We couldn't do WhatsApp meetings or anything with those phones."
It took about two weeks to adapt. Staff borrowed computers and good IT support helped them to access their folders on the charity's server. The National Lottery Community Fund agreed to the purchase of new phones, while a Leeds City Council initiative helped to buy new laptops. For Nahid, the upgrade process was about balancing priorities and sources of funding, including Shantona's own reserves.
The need for technology is likely to grow – both because Shantona want to address the digital divide in their community, and because of the risk of a second spike in infections. When we spoke in June 2020, Nahid was "preparing for the worst. If this situation gets worse – we don't know, we might go back into lockdown. If that happens, how do we contact [service users]? We managed to get some IT, computers with docking stations, laptops. We're trying to work smarter. Only 50% of our laptops are up-to-date, now we realise the other 50% need updating. It's a continuous challenge. Smaller organisations – that's the problem we face.
"We're asking staff to be ready, to manage those computers, to manage the situation. That's my role, making sure we do planning, we do all the safeguarding checks, risk assessment, making sure everything is in place."
Influence and leadership
Shantona has fed into the pandemic response across Leeds. "I'm trying to influence the city's Covid-19 strategy group, to change the way they deliver services. We're talking about inequality – and it's very apparent now, there's no denial that Covid-19 has affected the BAME community more.
"Because we work with the community, I'm getting a lot of requests for information, including the Home Office, the health services – everybody wants reports from us about how it's going, how it's impacting, how we are coping, all this data. I'm busy collecting that information." That also means collecting service users' stories, recording how Covid-19 has affected their lives.
With so many requests for their expertise, Shantona is careful over what commitments they make. Nahid is pushing to remove barriers around language and technology, for more translations and digital support. More broadly, she's looking at health inequalities and, "why BAME communities are so affected. It's not just health: everything around you affects your health." To do that, she explains, "I want to create leadership. We want to do it for ourselves. To change the situation we see today."
When it comes to grants supporting BAME communities, Nahid has found that in the past, "though we talk about leadership, it is very tokenistic." So she's finding ways to act as a catalyst. One of her conversations is with Leeds Community Foundation, which supports charities and voluntary groups across the city. "We said, we want to work with small BAME-led groups. I'm not here to gain anything, I'm just here to make sure we have those support mechanisms. Train us to do the safeguarding, to hold the grant so we can work with the community to make sure they are accessing things to make change."
Looking to the future
While emergency funding is available now, Nahid is concerned about the long term, when so many people in the community have lost their jobs. "Taxi driving, manual work, restaurant work. They've lost their jobs. How long can this continue? How long can the government support them? I'm thinking about what can we do in the future, rather than now. Real poverty hasn't hit them yet. It's going to hit them. My concern, I'm asking, 'What are you doing for the future?' I'm trying to influence that.
"It's fine that you're doing food parcels, trying to provide halal food – but we don't know how long this situation will continue. How are you going to support these people? So we're planning strategically, rather than rushing for any money we see. A huge amount of funding was released during Covid-19. People applied left, right, centre. I've seen people applying for funding for so many things, creating things they need money for. I didn't apply for money until I was sure – I focused on the community, what was required." Nahid wonders if that makes Shantona more reactive than proactive – but concludes that it's most important to find what's needed.
Her current priority is support for older people, particularly older women who have been isolated by lockdown. Again, she used food delivery as a way to consult those who used to attend Shantona's lunch club for older people. This helped identify key issues: mental health, financial worries, loss of independence. Based on this feedback, Shantona has successfully applied to the Fund to support older women with befriending, wellbeing activities and developing basic technology skills.
As lockdown starts to lift, Shantona is starting to look at face-to-face activities again, though with care for social distancing. "Instead of 15 women, we are going to take five." This will increase costs. Working in smaller groups means extra sessions and more staff time. To keep a safe distance, they'll hire a larger, more expensive room. It's important to go carefully. "I don't want to do things in one go, I want to test it, see how it goes. Is the community feeling comfortable to come back? Those are the measures we are taking, so that we keep our community safe."
Nahid is proud of how quickly her team has adapted, the way they've found and used new opportunities.
It's made us much more mature. Even though we still have problems, we have changed the way we work. It's shown how resilient we are, how motivated our staff can be. I always question the impact we're bringing – at this moment, the impact is huge, and it shows. How we tackle the most difficult situation, still we've managed to support our community. We are standing next to them.

Nahid Rasool
Nahid Rasool spoke to Zoë Anderson on 5 June 2020. This page was last updated: 2 July 2020.