Off the Record Bristol
Off The Record Bristol (OTR) supports the mental health of young people living in Bristol and South Gloucestershire. Knowledge & Learning Manager Zoë Anderson speaks to Liam McKinnon, the charity's director of engagement, and to Henry Poultney, team manager of Freedom, its project for LGBT+ young people.
From its beginnings as a counselling service, OTR has grown and diversified. "It's about creating communities for young people," says Henry. "Thinking about mental health and wellbeing with a new lens: it's about the relationships we make, the communities that we're part of." OTR offers "safe places to meet new friends, to access one to one support, and be part of groups and workshops which support wellbeing but also speak to elements of their identity." Some strands target particular communities, such as LGBT+ or Black, Asian and minority ethnic (BAME) young people. Others focus on activities, from boxing to gardening, or particular challenges such as self-harm.
The Fund is a long term supporter of the project. It currently supports Freedom with a grant of £99,433, while OTR Bristol received a grant of £78,135 to build young people's resilience during the Covid-19 crisis.
Shared experience: participants and practitioners
When I asked both Liam and Henry their key advice on running this kind of service, they had the same answer: listen to young people. "The most successful services that we have are the ones designed in collaboration with young people," Liam explains, pointing to their body image and self-harm support groups. "Young people were coming to our sessions and giving us feedback, saying, 'It was good, but could be better if…'. So we said, 'Okay, let's do that'."
Some of those young participants are now trained facilitators. "That's something we're organisationally really proud of. We have lots of members of staff who were, at one point, in the sessions as young people. They know what works."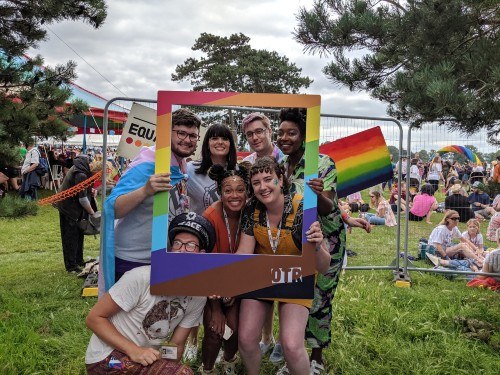 That shared experience matters. OTR's wellbeing practitioners work in schools, offering both general support and more targeted work on issues faced by the Black, Asian and minority ethnic (BAME) or LGBT+ communities. Feedback shows that, where the practitioner has lived experience, young people "feel more able to access the therapy effectively, they don't have to answer so many questions," Henry explains. "And they feel more comfortable – worries around racism, or homophobia, or transphobia, are less there."
"We do always place mental health in a social and political context," Liam says. "It feels very individual, but the way you are feeling is informed by the wider world. What the pandemic has demonstrated is that the way you're feeling – if you're feeling distressed, scared, anxious – that's pretty normal, because right now the world is abnormal."
"It feels very individual, but the way you are feeling is informed by the wider world. What the pandemic has demonstrated is that the way you're feeling – if you're feeling distressed, scared, anxious – that's pretty normal, because right now the world is abnormal."

Liam McKinnon, Off the Record Bristol
Looking ahead to lockdown
When the pandemic started, Liam explains, "the number one priority was to be available, to work flexibly, to work in a way that was right for young people." Like so many charities, OTR moved online – but did this unusually early. Liam remembers "delivering a crash course about Zoom and WhatsApp" early in March, getting staff ready for what was coming.
Similarly, "the week before lockdown, I did a socially distanced session with young people to plan what platforms they'd use, what they'd like to see," says Henry. "We had a conversation: 'If this does happen, how are we going to handle it together? What do you need, how can we help?'"
The shift online was remarkably smooth – as other charities noticed. "A lot of organisations have been coming to Liam, asking, 'How did you do it? What did you do?', because we didn't have a gap," says Henry.
"We're fortunate that, because we reach young people, we're quite in tune with the digital stuff," says Liam. OTR had good infrastructure and a strong audience for its social media channels and email. Even so, there was some resistance. Therapists who were used to building relationships in person had doubts about working online. "The biggest advice I was giving was to get your staff and volunteers on board, especially when it became apparent this wasn't going anywhere fast."
"It's about building up confidence," adds Henry. "A group that was on my radar – I gave them a call, because I hadn't heard if they were running stuff. We had a chat about how Freedom was going, what we were doing and how. A week later, I got an email: 'You really put my mind at ease, we've run our first session online now'." He's enjoyed building new connections across the sector: "We've had a lot of chats where people have said, 'Can I just run something past you? How do you do this?' That's been nice."
There were challenges for young people, too. Henry found that some LGBT+ participants weren't out at home. When they logged onto online sessions, "they can't be on camera or speak out loud, they're only able to type – but they'll still engage with sessions." Others might be using shared devices. As well as Zoom, OTR has used text messaging and WhatsApp for its one to one sessions, offering more privacy for those who feel vulnerable.
Staying safe online
"With that came, very quickly, rewriting and reframing all our safeguarding and risk assessments," Liam explains. "There's a whole different dynamic online. We were writing things into our agreements, like, 'You don't have to be on video if you don't want to'." At the same time, they needed to be sure that participants were who they say they were – which meant a lot of administrative work. "We have sessions where six, ten, twenty young people come, so calling them all in advance was time consuming but important for safeguarding."
They created new policies for one to one sessions, now often held on WhatsApp. "It's essentially a signed agreement in advance: 'We have one hour to talk, as it would be in person. The number isn't used outside that time, so please don't use it as a crisis line. We can signpost to other resources if you need to speak to somebody immediately. This isn't my personal number, it's a work number.' There's a lot of logistics."
For Henry, lockdown has highlighted both digital poverty and other access challenges. He points to participants who rarely came in person, due to distance, fatigue or disability reasons. "But over lockdown, they've come every week. Those kinds of things are going into the planning [for the future]."
Creating a sense of normality
Lockdown has been a time of huge disruption. With schools, universities and workplaces shutting, OTR offered structure – regular events that young people could rely on and use to build new routines. The weekly timetable of online groups and activities was promoted on social media and through the newsletter. "If it helps you to have something in the calendar for 3pm on Thursday, this might be the thing for you," Liam says.
They paid attention to feedback, and to what else was out there. "With social media, we quickly realised that we didn't want to add to the noise," he explains. "There was so much stuff, initially, about looking after yourself. There were tips and tricks coming out of people's ears. We know we're good at that, that's what we do, but we also wanted to offer things for young people to lose themselves in."
One wellbeing practitioner offered ten minute Italian lessons on Instagram. Liam and his dog hosted a "pet together", with participants introducing their own dogs, cats and rabbits. These gentler activities were also a chance to talk about OTR's services, to signpost people to help and support.
Connecting the virtual and the physical
Nature Works, an OTR programme that uses gardening for wellbeing, couldn't run normally in lockdown – so they created seed kits that could be delivered to participants. The sign up form was posted on a Monday evening. "When I logged on on Tuesday morning, I thought we had been hacked," says Liam. "We had a thousand responses. We'd imagined we might get a hundred."
They fulfilled every request. "It was a big pulling together. We sourced volunteers from other charities, and the general public. We had some nice local press, too. What I was proud of was the recognition of why we were doing it. It wasn't just nice, it had therapeutic benefits. Watching something grow, having something mindful to participate in, through the pandemic." Over the following weeks, people shared photographs of their flowers and vegetables, keeping the care and connection going.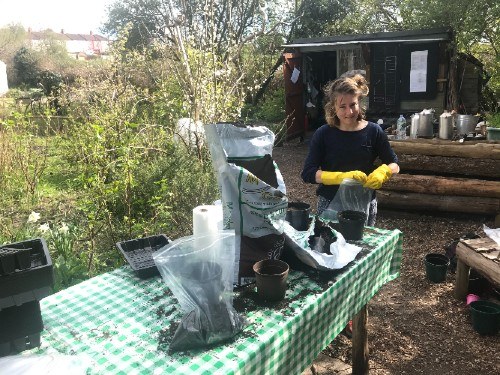 "Connecting the virtual and physical is really important," agrees Henry. Freedom sent out Pride kits: "We had water bottles, glitter, a temporary Freedom tattoo." People were delighted. He remembers members gasping when they saw the kits – something delivered to their homes, a physical reminder of their online connections. "It was really nice for us, too, that mini sense of normality."
Freedom celebrated its 25th birthday this year. "We were going to do an absolutely gigantic party." Instead, they worked with members to reshape the event, with six weeks of online planning. Rather than a single event, they created a mini-festival. There was the online party itself, with Zoom performances by members, and a visit from the alpaca the group has adopted. "We've launched a film, something the members had worked on the previous year. The documentary is a love letter to meeting up in person, to be honest, alongside the idea of community."
That community is still there, even when meeting hasn't been possible. "When young people have good news, bad news, hard stuff, they come to us to share and engage. What we really try to maintain is that sense of sanctuary from the outside world."
"When young people have good news, bad news, hard stuff, they come to us to share and engage. What we really try to maintain is that sense of sanctuary from the outside world."

Henry Poultney, Freedom
Liam McKinnon and Henry Poultney spoke to Zoë Anderson on 7 September 2020. This page was last updated on 16 October 2020.