Action in Caerau and Ely
Action in Caereau and Ely (ACE) is owned and run by the residents of two council estates in western Cardiff. Started as part of Communities First, a Welsh Government anti-poverty programme, it works to improve and regenerate its communities. Projects range from crisis support to community arts and crafts – and, like most organisations, ACE has had to rethink how it operates to meet the challenges of Covid-19. Knowledge and Learning Manager Zoë Anderson speaks to Sam Froud Powell about community, flexibility, and telling positive stories.
Building on the community's strengths
For Sam, ACE's Community Support Coordinator, it's vital that "over half of our staff team live in this community. So you're not flying in ideas from elsewhere, you're growing stuff up from people's own ideas and passions and strengths." Caerau and Ely are the second and third most deprived communities in Cardiff, according to the Welsh Index of Multiple Deprivation – but, he points out, it also has "a long history of self help, community activism and action". Across many different activities, ACE works with local people to change the narrative of the area, to celebrate its heritage and its strengths.
The National Lottery Community Fund has supported ACE since 2012, including a £498,343 grant as part of the Helping Working Families programme, and a specific grant of £9,288 for its Your Local Pantry scheme. This is a food shop based at The Dusty Forge, a former pub which is now ACE's much-loved main venue. "Lots of people wouldn't access the foodbank, particularly people who were struggling but in work," Sam explains. "The foodbank is there for crisis, not to provide ongoing support for people who are struggling to make ends meet."
Your Local Pantry is a network of community shops, run as a membership scheme, building connections both locally and nationally. Members pay a weekly fee of £5, and can choose about £20-25 of shopping. The food comes from Fare Share, a Lottery-funded charity that redistributes supermarket surpluses, and other sources. The pantry offers fresh and chilled food, including meat, fruit and vegetables. It's run by volunteers, who are themselves pantry members. ACE offers staff support, including training and food safety, but volunteers decide the shop's layout and organisation.
"We wanted to provide something really affordable that had the dignity of choice. People are customers, it's not like accessing a charity." It avoids the potential stigma of foodbanks, and was immediately popular. "It brought a lot of new people into the building. What was really nice was that they felt positive about being part of the project, and gave us feedback about the new things they'd cooked. Very few people would feel positive about accessing a foodbank." Starting deliberately small, the pantry launched with 30 members in June 2019. It's grown to nearly 200.
ACE built on this enthusiasm, running cooking and nutrition courses, and taster sessions that encouraged people to try less familiar foods. "Because people were getting quite a lot of value for £5, they were more prepared to try different things. On a tight budget, you're quite risk averse – you don't want to waste money on stuff you or your kids might not like." Hosted by volunteers, the waiting area offered free tea and coffee, a library of recipe books, and a chance to talk about what you've cooked.
Those conversations showed the depth of knowledge in the community, a resource to celebrate and share. "People on low incomes get castigated for being terrible at managing – but this showed how much experience they have in managing budgets. We're trying to help people with information, but the knowledge and input of the members are key. With the pantry model, you've got a group of people you can work with, you've got their permission to invite them to stuff. That was really powerful."
Covid-19: realistic choices
While ACE runs a wide range of projects, from children's play schemes to a community woodworking shed, most of the work is face to face. Lockdown meant choosing what to continue, and how.
"For a few weeks, we were in crisis mode," Sam says, "but then we were able to settle down, have some sensible discussions with the whole team. What could we realistically do, with our capacity?"
Where possible, projects were delivered by staff and volunteers working from home, often with real ingenuity: the Hidden Hill Fort community archaeology project continued, with activities like a "Big Dig" in residents' gardens. Advice and information drop in sessions became a telephone service. Community arts work, a STEM-based after school club and a summer food festival were all put on hold. Some staff were furloughed. The Dusty Forge closed to the public, but ACE continued to run core services from the building.
"We focused on making best use of our resources, our building. We basically turned The Dusty Forge into a food distribution hub, serving pantry members and providing emergency food parcels." With donations from local churches and individuals as well as Fare Share supplies, more food was coming in than ever before.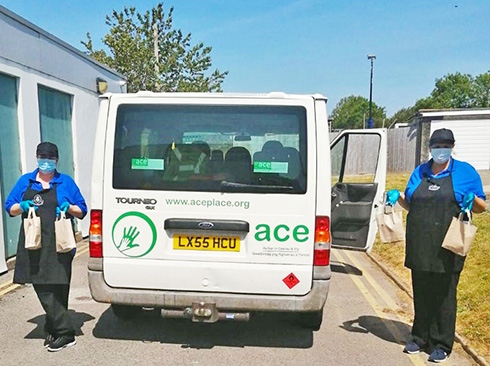 The pantry became a delivery service, working with reduced numbers. "Due to logistic challenges, we're able to provide food to about half the membership. We were careful not to overcommit. If we'd tried to keep providing food to everybody, staff would have burned out, and we'd have disappointed people by failing to deliver."
Clear communication reduced the risk of disappointment. ACE talked to members, explaining that they would prioritise those most in need, while other memberships would be suspended. "We could be flexible about people's individual circumstances, because we already had a relationship with them. It wasn't hard and fast criteria, but we tried to focus support on those who weren't receiving help from elsewhere."
Some low income families didn't qualify for free school meals, but still found it difficult financially. Those who were shielding were another priority, along with people whose anxiety or mental health issues made it difficult to shop. "We know families and pantry members who haven't left the house over the course of the pandemic. We're trying to be sensitive to those situations." Similarly, "if someone's a single parent with three or four children, it's just not a nice experience to go to a socially distanced supermarket. Even though they're not shielding, we recognise that it's harder for them."
Those on the pantry delivery list continued to pay £5. "We felt it was important to keep that element, that it's not charity you're asking for." From the start of lockdown in March until the end of June, ACE made 650 pantry deliveries, and sent out 300 free emergency parcels for people who were shielding or lacking support. Again, the aim was to fill gaps in services, coordinating with Cardiff Council to avoid duplication.
They plan to reopen the pantry shop, with social distancing, at the end of August. Deliveries will continue for the smaller group who still need them, recognising that it's a valuable option for the service. Some of ACE's top-up grant from the Fund will be spent on a new electric van. "Whatever happens, we'll do a lot more work with food. To have a low-cost, environmentally sustainable vehicle will be really super."
Financial support by phone
Like many charities, ACE faced rising demand and falling volunteer numbers at the start of the pandemic. "That was heartbreaking, a lot of our volunteers couldn't be involved because of shielding and childcare. We saw a big dip, but then we started getting offers from new volunteers. We weren't able to say yes to everybody straight away, because of social distancing. Without Covid, you could say, 'Brilliant, 50 people!' - but we have a strict number of people who can come into the Dusty at any one time."
Demand has shifted to the advice line, which received 500 calls by the end of June. ACE set up a new rota, with calls transferred to staff's home mobiles, and requests logged in a central spreadsheet. Most calls are for help with food, prescription deliveries or money and benefits.
Many callers are claiming Universal Credit for the first time, and may just want to ask about how it works. For more complex problems, advisers can signpost to in-depth advice. Others are struggling to make claims online, due to lack of devices or internet skills. With a donation from Tesco Mobile, ACE distributed 25 handsets and data to people who were digitally excluded. Staff also supported people to navigate the application system.
Signposting to grant schemes such as the Welsh Government's Discretionary Assistance Fund can help with essential items, such as replacement washing machines. "Within that cohort of 800 callers, we've supported people to access £15,000 of grants."
More than washing machines
Some of the advice line's callers simply felt isolated and alone, and wanted someone to talk to. ACE responded with a new phone friend service, training volunteers to make regular wellbeing calls. "The support line isn't really set up for people to have a 20-minute chat, so we'll offer a friendly follow up call." It's popular with both service users and with volunteers, mobilising those who can't take part in the practical activities.
ACE offered mental health support before the pandemic, working with mild to moderate anxiety and depression. Moving past the first impact of the crisis, demand is likely to grow. "Mental health, family breakdown – stuff has happened as a result of Covid, but we're now in the aftereffects, the economic difficulties people are facing. That can't all be dealt with through grants or food deliveries."
Sam, who coordinates the practical side, feels lucky to work alongside a dedicated health and wellbeing team. "It's really important that people are whole people – they don't just need food and washing machines. We're trying to provide things in a joined up way."
One example is the new "back home box", a care package for people discharged from hospital. The box includes essential foods, an information pack about services offered by ACE and its partners, and "nice things: toiletries, skin cream". As well as a caring gesture at what can be a vulnerable time, the back home box can be the start of a relationship with ACE. "We can't see them, they can't come in to the centre, so this is an opportunity to let people know what they can get involved in. We're hoping that when The Dusty Forge reopens, they'll know what's available."
Taking care of your team
Sam is proud of the staff and volunteer team. "People have stepped up, shown flexibility and huge compassion, wanted to make things better. As a manager, it's been hard to keep a handle on everything going on – staff have taken things and just run with it! It's not just a step in the volume of work, they're developing new ideas, new partnerships. 'I've got this new partnership with this church, they're going to start delivering food.' It's been a lovely environment to work in."
With so much commitment, they've had to be careful about burnout. "People might do too much above and beyond! The lack of face to face interaction, doing everything over Zoom, has been hard for everyone. We're not used to remote working, so it's a big cultural shift." Many had childcare and other demands. "People want to do more, but we don't want them burning the candle at both ends."
Openness has been essential, starting with discussions about capacity. "We took a step back from some activities, those we felt were impossible. It's about flexibility. People who were on our training project now help with food distribution. There was a lot of that, repurposing capacity. As long as that was managed well, it worked fine.
"Some of our partners, like Care and Repair, who work with fuel poverty, started volunteering their time as staff on our project. Staff can't do home visits to deal with energy efficiency issues, so they got repurposed. They were existing partners, but the relationship changed. It was really positive." In some cases, relationships have even improved: "We've worked much better with the local authority! In the crisis, it's been really good."
For Sam, funders have an important role in avoiding burnout. "They've been really helpful – the Lottery have been brilliant." He highlights the flexibility that has allowed ACE to make decisions on the ground. "Accountability to management and to funders can be a big source of staff stress. Are we hitting our targets, are we doing the right thing by the money that we're getting? We felt trusted to make decisions, to do what we need to do. That really helped staff wellbeing and morale."
Feedback has been another boost. "People understand why The Dusty Forge is closed, but they can't wait for it to reopen. That's really nice. It brings home how valued the work was."
For Sam, it's the people who make The Dusty Forge what it is – and they're eager to return. "We've had good feedback over Covid, but it would be a disaster if we have to work like this forever. We're a community organisation, not a food distribution centre. People do value the telephone, they do value the food - but that's not what it's all about. They want to have that community space again, where people come together and are energised by each other. I think they're feeling the lack of that – socially, but also because they want to be involved in making a difference."
Sam Froud Powell spoke to Zoë Anderson on 23 July 2020. This page was last updated: 19 August 2020.