Volunteering saved my life
Volunteering saved my life
Great-grandad, Raymond Field, 70, proudly says he is Better Start Bradford's oldest Community Champion. Here, he describes how volunteering helped turn his life around.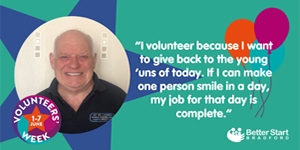 My wonderful wife Jackie died back in 2015, we had been married for 45 years since our late teens. I was totally lost without her.
Every day after Jackie died, I would come back home and the house would smell of her perfume, but one day I couldn't smell it anymore and I felt so lost. I went to bed that night and when I woke up that morning, I just didn't want to be here anymore.
I went out for a walk that morning and quite frankly if I had walked in front of a speeding car, I wouldn't have cared. As I was passing Laisterdyke Library, I decided to pop in, in the hope that there may be a friendly face to make me feel better. I saw my neighbour Darryl, who was there with his young children and he introduced me to Humera from Better Start Bradford.
As soon as Humera started talking, it was as if my Jackie was speaking as she sounded a lot like her. I grabbed a chair and listened to her telling me all about Better Start Bradford and how they were working with many projects to give Bradford children the best start in life. She also told me how they needed volunteers to champion their work and to help spread their messages. I just knew I had to get involved, it was like my Jackie had steered me into the library that day.
As I got more involved with Better Start Bradford and I became one of their Community Champions, I was amazed by the number of projects that they have helping our children get the best start in life. My favourite projects are the ones that get children away from their electronics and out into the outdoors, such as Better Place and the Forest School Play Project. When I was a kid, I was always out and about with my friends, getting outside and getting lots of exercise.
Before lockdown, I would help out at Better Start Bradford events, I am also a Parents in the Lead Panel member and we even all went to a Better Start conference in Blackpool together – that was one of the best days of my life since Jackie died – it was so much fun.
During lockdown and because of my volunteering roles, I have been able to still be involved in things such as socially distanced litter picks at Bradford Moor Park, I've had Zoom catchups with Better Start Bradford families and the Community Engagement team. We even did a Zoom karaoke session before Christmas! Volunteering has really helped me through the pandemic.
I volunteer because I want to give back to the young 'uns of today. I want them to have that happiness that I had as a child – I wasn't always old! If I can make one person smile in a day, my job for that day is complete.
Volunteering with Better Start Bradford
There are lots of ways to support Better Start Bradford as a volunteer, developing your skills, confidence and social circles in the process. People volunteer for a whole variety of reasons and there are a range of opportunities with Better Start Bradford and several of our projects, including the following:
Better Start Bradford Board Member
Better Start Bradford Parent Champion
Better Start Imagine
Bradford Doulas
HENRY
Home-Start Bradford
The Perinatal Support Service
If you have any questions about volunteering with Better Start Bradford, please contact Emma Stafford on 07709 643864 or email emma.stafford@betterstartbradford.org.uk
About A Better Start
A Better Start is a ten-year (2015-2025), £215 million programme set-up by The National Lottery Community Fund, the largest funder of community activity in the UK. Five A Better Start partnerships based in Blackpool, Bradford, Lambeth, Nottingham and Southend are supporting families to give their babies and very young children the best possible start in life. Working with local parents, the A Better Start partnerships are developing and testing ways to improve their children's diet and nutrition, social and emotional development, and speech, language and communication.
The work of the programme is grounded in scientific evidence and research. A Better Start is place-based and enabling systems change. It aims to improve the way that organisations work together and with families to shift attitudes and spending towards preventing problems that can start in early life. It is one of five major programmes set up by The National Lottery Community Fund to test and learn from new approaches to designing services which aim to make people's lives healthier and happier
The National Children's Bureau is coordinating an ambitious programme of shared learning for A Better Start, disseminating the partnerships' experiences in creating innovative services far and wide, so that others working in early childhood development or place-based systems change can benefit.
Sign-up to join our mailing list.