Think Dads! An approach to Father Inclusivity in Early Years
Think Dads! An approach to Father Inclusivity in Early Years
Alison Poxon, Project Manager at Small Steps Big Changes, describes how father inclusivity is one of the programme's main system change ambitions.
Alison also explains how the recruitment of a Senior Project Officer who will focus on father inclusivity is an important step in driving this work forward across the partnership in Nottingham.
"The impact of positive male role-modelling on child developmental outcomes is well evidenced, most notably in relation to the father-child relationship" (Amodia-Bidakowska & Ramchandani, 2020; Sethna et al, 2017).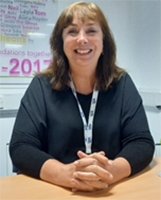 A recent Guardian article highlighted the limitations of support for men following the birth of a baby, backing up findings highlighted in the fatherhood Institute's 'Bringing Baby Home' report (Burgess, A & Goldman, R (2022)).
Understanding the needs of fathers to help identify how initiatives can really make a difference was and is at the forefront of our work on changing the approach to dads.
First steps
In 2020 we commissioned Coram Family and Childcare to run a consultation to obtain insight into the lived experiences of Nottingham dads. The findings from this, which heard from 93 men, through surveys, interviews and focus group sessions, were used to inform the SSBC Father-Inclusivity Strategy.
The consultation raised questions and initiated conversations around several topics:
The type of support and information fathers wanted and needed
Fathers' engagement with services
Fathers' experiences of services; including experience of appointment-based services and feedback about group services
Fathers' mental health
When and how we reach fathers effectively.
Key findings showed that:
Most dads were very satisfied with local services, but these were often run at times which made it difficult for them to attend.
Fathers wanted to be recognised as an active (if not equal) parent when engaging with services but also often felt that the services were there to meet the needs of the mother. This was backed up by most fathers feeling that their own mental health was left unaddressed.
Fathers were most proactive in seeking support and information in the weeks and months immediately before and after the birth of their baby but were unsure where to find information.
The learning from this consultation identified some clear areas of focus and has already started to make a difference:
A Father-Inclusivity Strategy has been developed.
An information pack for new fathers has been produced and is available for download or hard copy; the guide has also been embedded into the Maternity Support Workers pathway.
A one stop 'Dad's Zone' on the SSBC website is live, providing information and signposting, including for dads who need support with low mood.
New recliner chairs have been installed at Nottingham University Hospitals NHS Trust (NUH NHS Trust) to give dads/non-birthing partners a place to spend the night alongside mum.
A poster reminding the workforce to engage and check in with dads-to-be and new dads at appointments has prominence in key staff areas (maternity) at NUH NHS Trust and a digital screensaver with the same message appears on all Nottingham CityCare Partnership devices.
A shared learning webinar has been created for the workforce and partners to share findings from consultations and continue the discussion around dads.
Three Years Ideas Fund. Requested for project applications from community and voluntary sector organisations which supported fathers. Two projects received funding of up to £6K per year to deliver sessions.
Next steps
We have a new Senior Project Officer starting shortly; having made such a brilliant start, the previous role owner was offered promotion and moved on. But this hasn't stopped the work continuing.
Our current focus is on hosting briefing sessions for children's services on the new information guide, embedding the guide as part of the midwifery and 0-19 Children's Public Health Service pathway which will, along with the Maternity Support Workers pathway, ensure wide coverage of this valuable resource to expectant and new fathers, and reviewing and revising SSBC's 'Think Dad's' training for the workforce.
Beyond that, we look forward to seeing how the new post holder will bring different skills, expertise, knowledge and thoughts to this important role and to furthering our ambitions.
As the system in Nottingham continues to embrace father inclusive practice, the benefits, and opportunities of including fathers will hopefully lead to an improvement in child development outcomes.
Useful resources
Amodia-Bidakowska A, Laverty C, Ramchandani P (2020). Father-child play: A systematic review of it's frequency, characteristics and potential impact on children's development. Developmental Review. 57.
Burgess, A & Goldman, R (2022) Bringing Baby Home: UK fathers in the first year after the birth (full report). Contemporary Fathers in the UK series. London: Fatherhood Institute.
Sethna V, Perry E, Domoney J, Iles J, Psychogiou L, Rowbotham NEL, Stein A, Murray L, Ramchandani PG. (2017). Father-child interactions at 3 months and 24 months: contributions to children's cognitive development at 24 months. Infant Ment Health J. 38. 3.

About A Better Start
A Better Start is a ten-year (2015-2025), £215 million programme set-up by The National Lottery Community Fund, the largest funder of community activity in the UK.

Five A Better Start partnerships based in Blackpool, Bradford, Lambeth, Nottingham and Southend are supporting families to give their babies and very young children the best possible start in life. Working with local parents, the A Better Start partnerships are developing and testing ways to improve their children's diet and nutrition, social and emotional development, and speech, language and communication.
The work of the programme is grounded in scientific evidence and research. A Better Start is place-based and enabling systems change. It aims to improve the way that organisations work together and with families to shift attitudes and spending towards preventing problems that can start in early life. It is one of five major programmes set up by The National Lottery Community Fund to test and learn from new approaches to designing services which aim to make people's lives healthier and happier
The National Children's Bureau is coordinating an ambitious programme of shared learning for A Better Start, disseminating the partnerships' experiences in creating innovative services far and wide, so that others working in early childhood development or place-based systems change can benefit.
Sign-up to join our mailing list