The 'Brain Certification' course
The 'Brain Certification' course
Rebecca Calvert, a Health Visitor at a Blackpool Teaching Hospital - seconded into a workforce development role at Blackpool Better Start – explains how trauma-informed practice is part of a training programme on brain architecture and mental wellbeing for local practitioners.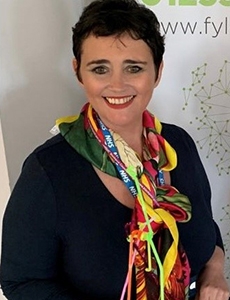 I had completed the Brain Story Certification as part of my induction when I started working with Blackpool Better Start, and as a Health Visitor and workforce development trainer I was already passionate about encouraging others to complete the 19 modules. However, it was a motivational presentation by Nancy Mannix of the Palix Foundation that drove me to further promote The Brain Story Certification online course to our whole workforce and our community.
Nancy spoke about how in Alberta they had worked with leading scientists, Harvard University and The Frameworks Institute, and together they had managed to improve the health and wellness of children and families in the area by raising awareness of brain science, early childhood trauma and poor adult outcomes and the impact on health and society.
In Alberta, they had achieved a systems change, policy change and more importantly had found that the use of a place-based approach had raised an awareness of the impact of trauma and the importance of strong supportive relationships in minimising consequences of adverse childhood experiences (ACE'S).
They had a workforce that was working in a trauma informed way, not only with children and families, but within their own organisations and teams, with improving knowledge, skills, personal and professional wellbeing and helping retention and recruitment of staff. This was also Blackpool's vision.
The Alberta Family Wellness Initiative (AFWI) Brain Story Certification (www.albertafamilywellness.org/training) provides the foundations to what we hope to achieve in Blackpool and sits within the Trauma Informed Care (TIC) training we offer. This includes the Brain Architecture Game, Resilience film, and some bespoke sessions focusing on individual services, their policies, staff support and supervision.
The 19-module course is free, is completed online at your own pace and features internationally renowned speakers. Each module takes 60-90 minutes and on completion you are provided with a learning summary and Harvard references. Following completion of the whole course you are provided with an accredited certificate which can be used as evidence for CPD. This has been useful for revalidation for nurses, health visitors and midwives, and can be used in appraisals, job applications and interviews. Colleges and Universities have embedded the modules into their early years courses and professions like nursing, midwifery, health visiting, teaching, police, youthwork, social work, fostering teams and carers, early help, housing, probation and youth offending teams are all taking part.
I've found that teams are embracing it and are completing four modules a month, then using a team meeting to discuss what has been learnt and how this will change and improve practice, before moving onto the next four modules. Childminders, early years practitioners and those working at home have appreciated the opportunity to learn at their own pace and without a time constraint. The course is promoted at every training session we deliver and is emailed to an extensive mailing list and promoted on social media.
The modules cover a variety of areas including: brain development; how the gene environment shapes brain architecture; the importance of social interactions; how early adversity shapes brain development; and the importance of building self-regulation and executive function.
There are also some modules on child maltreatment, interventions for temperaments, anxiety and ADHD, and children's mental health and how services can be improved. The final few modules cover Adverse Childhood Experiences (ACEs), adult health outcomes, and the impact of ACE's on child and adult PTSD and depression.
Some of the modules focus on the impact ACE's have on adults and addiction, the brain's neurobiological changes and the process of addictions like compulsive drug use, eating disorders, obesity, and sexualised behaviours - and explain how these toxic life experiences may impact on future parenting. Family based treatments and specialist approaches used to improve services across the world are explored and the last module looks at building resilient children, families and communities.
In Blackpool, over 1100 people across multi agency workforces (and our future workforce) completing the programme. The feedback is very positive and we are proud of the professionals in our small town for embracing the 19 modules, improving their knowledge and skills and making a shift towards a trauma informed approach to working with pregnant women, children and families, and each other within their organisations.
About A Better Start
A Better Start is a ten-year (2015-2025), £215 million programme set-up by The National Lottery Community Fund, the largest funder of community activity in the UK. Five A Better Start partnerships based in Blackpool, Bradford, Lambeth, Nottingham and Southend are supporting families to give their babies and very young children the best possible start in life. Working with local parents, the A Better Start partnerships are developing and testing ways to improve their children's diet and nutrition, social and emotional development, and speech, language and communication.
The work of the programme is grounded in scientific evidence and research. A Better Start is place-based and enabling systems change. It aims to improve the way that organisations work together and with families to shift attitudes and spending towards preventing problems that can start in early life. It is one of five major programmes set up by The National Lottery Community Fund to test and learn from new approaches to designing services which aim to make people's lives healthier and happier
The National Children's Bureau is coordinating an ambitious programme of shared learning for A Better Start, disseminating the partnerships' experiences in creating innovative services far and wide, so that others working in early childhood development or place-based systems change can benefit.
Sign-up to join our mailing list