Swept up in the pandemic - understanding the effects of Covid-19 on families with young children
Swept up in the pandemic - understanding the effects of Covid-19 on families with young children
Richard Newson, Media and Communications Manager at the National Children's Bureau, describes how Small Steps Big Changes is considering the experiences of parents and children during the pandemic as it adapts services and support to meet their needs.
'The first lockdown was a novelty, it was summer and we soon had the garden looking immaculate'.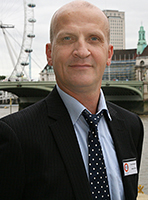 This was how Tara, a parent champion with Small steps Big Changes (SSBC) in Nottingham described her experience of the very first days of the pandemic.
It wasn't to last.
Like many parents, the pressure on Tara grew as she became the focal point of her children's world. She described how, as 'Mum, teacher, cook, cleaner', she found there 'simply weren't enough hours in the day' to attend to all the extra demands on her.
By the time Christmas 2020 came around, lockdown had become a 'nightmare'.
Tara was speaking at the first of a series of shared learning webinars organised by SSBC, where her account was mirrored in discussions with other families presented by Nottingham Trent University. Researchers had spoken to nearly thirty local parents to understand the lived experiences of young children and their families during the pandemic.
Researchers noted that some families had positive experiences too.
It wasn't all bad. Many Nottingham families appreciated the extra time spent together as a family, especially working fathers who were unused to spending so much of the day at home.
And there were glowing accounts of local staff who went the extra mile to provide support. One parent described a dedicated health visitor who came to the house wearing full PPE and proceeded to weigh the baby in the garden.
Parents also appreciated the ease of telephone appointments with GPs and expressed the hope that these could continue after lockdown is eased.
But there were lots of negative experiences.
The worry about catching the virus added to the tension of being isolated within the same four walls, with no contact with extended family.
Parents also described difficulties in accessing some support services. For example, when health visiting contacts were reduced to support the management of the frontline response to Covid-19. Some also reported difficulties in accessing speech and language therapy and physiotherapy, during lockdown.
Panic buying of baby milk and nappies also left parents struggling when the supermarket shelves were bare.
And the difficulty of balancing childcare with home-working was a constant pressure for many parents, leaving them little time to themselves at the end of the day.
Some parents noted the knock-on effect on their children, leaving them less confident with other children and adults when restrictions were eased and they could socialise again.
The response to these needs were led by parents themselves.
At the forefront of SSBC's work to support these needs, were the parents who make up a network of Family Mentors. As per Government guidance, they also had to cease face-to-face visits, but in response to the emerging needs this peer workforce made over 3,600 calls to local parents between April and December, checking in on their wellbeing and signposting to the available support.
SSBC also significantly increased the money distributed by its grassroots Ideas Fund, which supported over twenty local initiatives including; the development of outdoor spaces, a puppet show for children and an emotional support toolkit for families.
This work was supplemented by a range of initiatives including the distribution of an activity pack to families, and the creation of a series of fun animated videos sharing stories and creative activities with children.
What next for SSBC?
Building on the research conducted by Nottingham Trent University, and the accounts of parents like Tara, SSBC is committed to continue adapting what it does to respond to the lived experiences of families during the pandemic.
For a start, the team are keen to understand the different response of children, parents and carers to online, phone and face-to-face services. The partnership is also in the process of commissioning a dedicated parent and infant mental health team to support the wellbeing of families. SSBC is working with the City Council and fully supports Nottingham's aspiration to be a child-friendly city by continuing to place children and parents at the heart of how it develops and delivers support.
However the pandemic effects children and families in the future, the learning from the lived experiences of local parents during the last year will make SSBC even better placed to respond effectively.
Richard Newson is Media and Communications Manager at the National Children's Bureau.
About A Better Start
A Better Start is a ten-year (2015-2025), £215 million programme set-up by The National Lottery Community Fund, the largest funder of community activity in the UK. Five A Better Start partnerships based in Blackpool, Bradford, Lambeth, Nottingham and Southend are supporting families to give their babies and very young children the best possible start in life. Working with local parents, the A Better Start partnerships are developing and testing ways to improve their children's diet and nutrition, social and emotional development, and speech, language and communication.
The work of the programme is grounded in scientific evidence and research. A Better Start is place-based and enabling systems change. It aims to improve the way that organisations work together and with families to shift attitudes and spending towards preventing problems that can start in early life. It is one of five major programmes set up by The National Lottery Community Fund to test and learn from new approaches to designing services which aim to make people's lives healthier and happier
The National Children's Bureau is coordinating an ambitious programme of shared learning for A Better Start, disseminating the partnerships' experiences in creating innovative services far and wide, so that others working in early childhood development or place-based systems change can benefit.
Sign-up to join our mailing list.