Super-babies and the fight against alcohol during pregnancy
Super-babies and the fight against alcohol during pregnancy
Hannah Connell, Senior Communications Officer at Blackpool Better Start, shows how a 'super-babies' campaign is helping to highlight the dangers of drinking alcohol during pregnancy.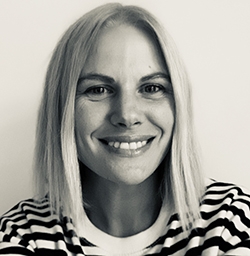 Back in November 2018, Blackpool Better Start launched a public health messaging campaign to raise awareness of the dangers of drinking during pregnancy. The strategy was to highlight the issues that babies may face if they are exposed to alcohol in utero, but also to encourage the community to take collective responsibility for the development and health of the unborn child.
We know that in order to affect behaviour change, the responsibility to protect babies from the effects of alcohol should not lie solely with the mother, but support should also be sought from the dad, the grandparents, friends and the wider community. It is everyone's responsibility to protect the unborn child.
The evaluation of the initial campaign – named Be Your Baby's Hero, Keep Alcohol at Zero - was very positive, with 90% of the community stating that they understood the message and felt that it was an important issue to be highlighted.
Over 50% of those questioned were able to recall the campaign when prompted, and 25% were able to recall it unprompted. Buses, GP surgeries and Facebook being the most successful platforms for engagement with the campaign. Despite these positive findings, the evaluation did also highlight that the campaign hadn't been as successful in reaching the under 25s age group, or men generally.
With this learning in mind, we set about refreshing and re-creating the campaign for a second phase.
Working collaboratively with behaviour change specialists, We Are Brave, we started to develop a new concept that would build on the success of the previous campaign, but with improved engagement with a younger audience and with men in Blackpool.
We felt it was critical to keep the strapline 'Be Your Baby's Hero, Keep Alcohol at Zero', as recall of this message was high. It was decided that rather than make the mum/dad/grandparent/friend the superheroes of the design, instead we would create super-babies. And, instead of highlighting the risks of birth defects that drinking alcohol during pregnancy can cause, we would reframe the message to the health benefits of not drinking.
The campaign features four super-hero babies and eight different creatives that will be used strategically, depending on the platform. Four of the designs feature a mum, and the other four are split between two dads, a grandparent and a friend. To see all of the designs, visit https://blackpoolbetterstart.org.uk/be-your-babys-hero/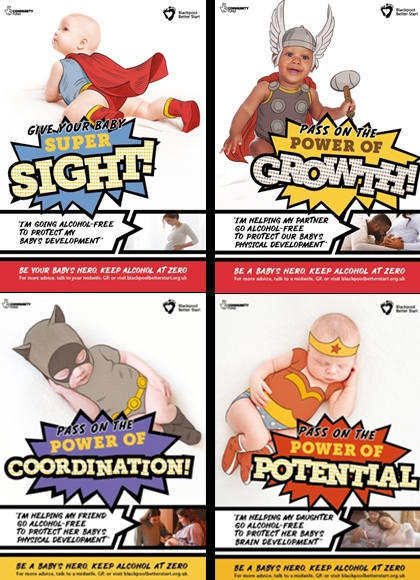 Before signing off on the creative campaign, we felt it was critical to test the designs and messages with our community to make sure it was effective in communicating with them the key messages.
A group of 20 parents were identified, and the draft artwork and a questionnaire were sent out to them, asking for their opinions. The results from the survey showed that the community understood the campaign, and felt that the message was very important. Some of the feedback from parents is shown below:
"Fantastic advert, informative and powerful in a short and snappy way with good use of picture and art to catch the readers eye."
"I love that there is help for people and understanding why you shouldn't drink while pregnant"
"Stands out well, super sight is very eye catching, mums should want the best for there children and that is down to themselves. I will look forward to a non-smoking campaign in pregnancy ;)"
"Very good campaign to launch! Extremely important area, that mothers to be definitely need to be made aware of how important it is not to drink alcohol during pregnancy"
The new campaign is launching at the beginning of June, and will be visible both out-of-home and through digital platforms. The learning from phase one of the campaign indicated that adverts on the side and rear of buses were the most memorable format, so two 'mega-rears' and 50 'super-sides' have been commissioned on Blackpool buses for 12 weeks.
Digitally we are investing more into both assets and spend. The paid for campaign will be appearing on Facebook, Instagram, Twitter and Snapchat and we have developed gifs to make the ads more dynamic.
We are also advertising on YouTube, Sky Sports and Spotify using video/voice over, which, using a combination of demographic and postcode, is very highly targeted to our desired audience. The digital campaign allows for a high degree of flexibility and each month we will be reviewing engagement across all platforms, and adapting the plan when necessary.
In order for this campaign to be a success, it is crucial that these messages are consistent with those given out to parents by professionals. As such, a workforce survey has been developed and distributed to all relevant professionals in Blackpool to get a better understanding of the messages that are currently used by health and social care workers.
Due to changing professional body advice on safe levels of alcohol in pregnancy, messaging can be inconsistent, and if the results of the survey indicate that professionals also struggle with consistent messaging, then additional work will be done to target the 'no alcohol' message to the professional audience, developing workforce support, such as training, to ensure professionals are comfortable and able to deliver the message of abstinence in pregnancy.
The Be Your Baby's Hero Campaign launches on 31 May and will runs until August 31 2021.
About A Better Start
A Better Start is a ten-year (2015-2025), £215 million programme set-up by The National Lottery Community Fund, the largest funder of community activity in the UK. Five A Better Start partnerships based in Blackpool, Bradford, Lambeth, Nottingham and Southend are supporting families to give their babies and very young children the best possible start in life. Working with local parents, the A Better Start partnerships are developing and testing ways to improve their children's diet and nutrition, social and emotional development, and speech, language and communication.
The work of the programme is grounded in scientific evidence and research. A Better Start is place-based and enabling systems change. It aims to improve the way that organisations work together and with families to shift attitudes and spending towards preventing problems that can start in early life. It is one of five major programmes set up by The National Lottery Community Fund to test and learn from new approaches to designing services which aim to make people's lives healthier and happier
The National Children's Bureau is coordinating an ambitious programme of shared learning for A Better Start, disseminating the partnerships' experiences in creating innovative services far and wide, so that others working in early childhood development or place-based systems change can benefit.
Sign-up to join our mailing list.