Seeing the world through babies' eyes in times of crisis and change
Seeing the world through babies' eyes in times of crisis and change
Richard Newson, Media and Communications Manager at the National Children's Bureau, shares advice from the PAIRS team in Lambeth, who support parents to develop good relationships with their babies and young children.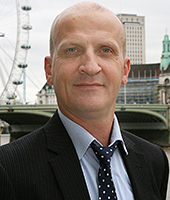 At a recent webinar convened by the Parent and Infant Relationship Service (PAIRS) in Lambeth, a child psychotherapist presented the story of a mother and baby he had recently visited.
The mother – we will call her Sonia – has a six-month old baby girl. But Sonia finds it difficult to focus on her child's needs. Mum has struggled with repeated episodes of mental illness and has persistent suicidal thoughts. During a home visit, the psychotherapist could see Sonia's distress as she talked articulately about her low moods and internal turmoil.
But the psychotherapist could also see the baby girl sombrely and silently observing as her mother continued to fixate on her own personal issues. There was little interaction between the two. The child was almost invisible to her mother.
Staff at PAIRS have seen this kind of difficulty before. Depressed parents can send the message, through body language and being distant, that there is something wrong with the child, that they are somehow unlovable and unwanted. As a result, the child may go onto develop longer-term social and emotional difficulties.
The job of the practitioner in these cases is to see the world through the baby's eyes. To reinstate the baby's experience into a dialogue that can be monopolised by the perspective of a struggling parent.
The good news is that over the course of a series of home visits space began to open up for both baby and mother. Mother was able to articulate how her own experiences of early childhood were shaping her relationship with her own baby, and slowly she began to realise how it was for her daughter. The baby was able to interact and play together with her mother more and the bond between them grew.
Seeing the world through a baby's eyes, while developing trust with the parent, is a demanding but vital process. The PAIRS team have developed important guidance for other practitioners based on what they have learned working with families in Lambeth.
Think baby!
A baby's perspective is often overlooked because:
it is hard to find words for babies' feelings when they do not have words themselves
the caregiver's perspective can dominate and services, interventions and safety plans tend to focus on adults
It is painful, sometimes unbearable, to think about the needs of a vulnerable baby.
Seeing the world through babies' eyes helps us understand what they need at
a critical time for their brain development and can prevent difficulties in later life.
Understand the effects of relational crisis
A baby has its own mind which is shaped by early experiences with the world, particularly with their caregivers. Babies rely on caregivers to understand and contain their distress because they have not yet learned to regulate their own emotions.
In times of crisis or change just when the baby needs most emotional support, the caregiver may be least able to provide it because of their own stress.
When there are a series of relational crises at critical times or additional risk factors (such as parental mental health difficulties and a lack of external support) babies can be left traumatised by negative interactions with their caregiver. This can lead to long-term difficulties for the baby in regulating their emotions and forming relationships.
As practitioners, we have an important preventative role by seeing what the baby needs are and responding to what we see.
Observation
The first step to helping a baby in a crisis is trying to understand what they are feeling. Observation is key, and since a baby's mind is shaped by its relationships with the world, observing baby, their relationships, and ourselves are all important.
Observing baby
A baby has no words yet they communicate a great deal. Noticing small details about gestures, behaviours and interactions can tell us how babies are feeling and what they may need.
Babies and young children communicate their feelings through play. Observing and encouraging baby-led play is important. A baby that is neither playful nor curious about the world may be distressed.
Observing baby and caregivers
Observing the parent-infant relationship closely, the quality of contact between baby and caregiver and the capacity of the caregiver to notice the baby can help us understand what each may need in a crisis.
Being curious about what may be causing these relational difficulties can help us and others to find the right support. A current crisis with a baby can often stir up past difficulties or trauma in the caregiver's own history.
Observing family dynamics
To see through babies' eyes, we need to observe the extended family and the relational dynamics around the baby. Research shows that the quality of the relationships between caregivers impacts on a babies' development.
Observing ourselves
How do we feel in relation to the baby and the caregiver? Noticing our own feelings, both positive and negative, can provide important clues as to what the baby may be experiencing.
Responding to what we see
Being the voice of the baby
Voicing our observations of babies (to both baby and caregiver) can help bring about a shared understanding of difficult experiences.
We can also be the voice of the baby with other professionals, advocating for a baby's needs, and the needs of the baby/caregiver relationship.
Supporting the adults (caregivers and ourselves)
Attending sensitively and without judgement to the needs of the caregiver can help us find a way for babies' communications to be heard.
Working with babies in crisis can be painful and challenging for us practitioners. Looking after ourselves is crucial to being able to support the parents and their babies. Think about who you might be able to go to when you need support
Team work
No single practitioner, service or intervention can effectively see the world through babies' eyes. Practitioners bring their distinct expertise and perspective of the baby and caregiver. It is essential we work together as a team.
More information about PAIRS is available here. Their resource on nurturing a baby's perspective in therapeutic relationships is available here.
Richard Newson is Media and Communications Manager at the National Children's Bureau, and he wrote this article based on guidance for practitioners produced by the PAIRS team in LEAP Lambeth.
About A Better Start
A Better Start is a ten-year (2015-2025), £215 million programme set-up by The National Lottery Community Fund, the largest funder of community activity in the UK. Five A Better Start partnerships based in Blackpool, Bradford, Lambeth, Nottingham and Southend are supporting families to give their babies and very young children the best possible start in life. Working with local parents, the A Better Start partnerships are developing and testing ways to improve their children's diet and nutrition, social and emotional development, and speech, language and communication.
The work of the programme is grounded in scientific evidence and research. A Better Start is place-based and enabling systems change. It aims to improve the way that organisations work together and with families to shift attitudes and spending towards preventing problems that can start in early life. It is one of five major programmes set up by The National Lottery Community Fund to test and learn from new approaches to designing services which aim to make people's lives healthier and happier
The National Children's Bureau is coordinating an ambitious programme of shared learning for A Better Start, disseminating the partnerships' experiences in creating innovative services far and wide, so that others working in early childhood development or place-based systems change can benefit.
Sign-up to join our mailing list.