Referral guide for local practitioners
Referral guide for local practitioners
We've recently published our LEAP Referral Guide for Local Practitioners. This accessible booklet helps practitioners:
Become familiar with LEAP's suite of services;
Understand the aims and core content of each service and identify families who will benefit most;
Make referrals by directly contacting the relevant delivery team.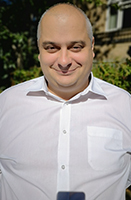 The Referral Guide divides services by outcome area (social and emotional development; diet and nutrition; and communication and language) but also by type of support (Staying well during pregnancy; Getting ready for baby; Giving your child a healthy start; Enjoying quality parent-infant time; Supporting early language and communication; Connecting with other local parents; Improving early years services; Managing wider stresses).
The purpose here is to help make the process of matching family needs or concerns with services as straightforward as possible. We've circulated the Referral guide throughout the local early years system including to all staff delivering LEAP-funded work, midwives, health visitors, GPs, children's centre staff, leadership teams in childcare settings, and community organisations.
We produced the Referral guide for three linked reasons. First, local LEAP and non-LEAP practitioners told us they needed key information relating to every LEAP service in one place as an easy-to-use reference guide. The whole workforce team discussed and clarified the exact need at an event for service providers, explaining that they have contact with lots of families every single day, that they must be able to immediately see the range of support available, and efficiently pass on accurate service details or make referral recommendations. Gathering this feedback en masse informed our decision on both material (print) and format (by outcome and type of support).
Second, we believe greater positive impact for children and families will be possible where LEAP's services work in conjunction, building on one another and creating the conditions for each other's success. This is why we monitor referrals between LEAP services and create regular opportunities for services to discuss their work together. The Referral guide is another tool to promote cross-programme-working.
Third, LEAP's services must work with and complement mainstream provision, creating integrated and enhanced service pathways. By making the Referral Guide available to midwives, health visitors, GPs, children's centres, and childcare settings, we can start to embed LEAP services within existing care pathways.
We'll consult with practitioners about how they are making use of the Referral guide, and continue to monitor referrals into, out of, and across our services. By doing this, we'll be able to improve the Guide going forward so that it best meets the needs of local practitioners.
Chris Wellings is Assistant Director of the Lambeth Early Action Partnership (LEAP).
About A Better Start
A Better Start is a ten-year (2015-2025), £215 million programme set-up by The National Lottery Community Fund, the largest funder of community activity in the UK. Five A Better Start partnerships based in Blackpool, Bradford, Lambeth, Nottingham and Southend are supporting families to give their babies and very young children the best possible start in life. Working with local parents, the A Better Start partnerships are developing and testing ways to improve their children's diet and nutrition, social and emotional development, and speech, language and communication. The work of the programme is grounded in scientific evidence and research. A Better Start is place-based and enabling systems change. It aims to improve the way that organisations work together and with families to shift attitudes and spending towards preventing problems that can start in early life. It is one of five major programmes set up by The National Lottery Community Fund to test and learn from new approaches to designing services which aim to make people's lives healthier and happier
The National Children's Bureau is coordinating an ambitious programme of shared learning for A Better Start, disseminating the partnerships' experiences in creating innovative services far and wide, so that others working in early childhood development or place-based systems change can benefit.
Sign-up to join our mailing list