How mums and tots created their own community outdoor oasis in Bradford with the help of Better Place
How mums and tots created their own community outdoor oasis in Bradford with the help of Better Place
Humayun Islam describes how a dream of a special outdoor space for families became a reality.
Humayun Islam and the community at the Neighbourhood Resource Centre on Ventnor Street in Bradford have been blown away by the transformation of its outdoor space. A transformation that the community never thought would happen thanks to the pandemic.
Humayun talks us through how the community started talking about their dreams for a lovely outdoor space two years ago and how Better Start Bradford's Better Place project made their dream come true!
Our Neighbourhood Resource Centre is very popular with the local community and every Thursday, we run a Bangladeshi Mums and Tots group. If the weather was nice, we would bring chairs and toys outside to a large concrete area that at the time housed the centre's bins. It was such a depressing space and we thought it would be nice to have a bench and a couple of plants to cheer it up a little.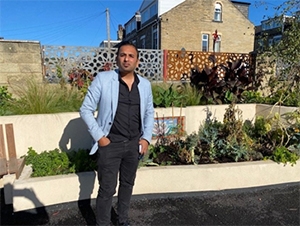 When we mentioned our idea to the Family and Community Engagement Team at Better Start Bradford, they introduced us to their Better Place project. Haleema from Better Place started coming to the mums and tots group every week to talk to the mums about what they would like in the area – our dream of a bench and a couple of plants changed to a seating area, somewhere for the children to play and an allotment growing space. Our mum's group said they simply wanted a space to feel happy and safe.
Then the COVID-19 pandemic hit us just as the plans were coming together, so everything was put on hold. Unfortunately, we live in a community where lots of promises have been made and not followed through, so the families were very disappointed and many did not believe that this would ever happen for them.
We tried to keep the momentum going through the first lockdown. As we couldn't meet face-to-face, Haleema would send plans and drawing sheets to me, I would send the plans to Rani, who leads the mums and tots group, who would then send them to the mums to feedback on – it was such a long-winded process. The construction industry had come to a standstill too, so it was so hard to keep the momentum going.
The Better Place Team provided a selection of Islamic geometric designs colouring-in sheets for the families at the centre to colour in during lockdown in early 2021. They created some wonderful designs, including the national flower of Bangladesh, the Shapla Lily, which were sent to mosaic artist Nikki Greaves to inspire her to create the mosaics that now surround the outdoor space. The whole play area is surrounded by metal fretwork also inspired by the designs the mums created.
Work on the outdoor space finally began in March 2021 and it was wonderful to see each stage happen. More importantly it was essential for the community to know that the transformation was actually taking place, that their voices mattered and this built such trust in us and Better Start Bradford.
The work was completed in June 2021 and our new outside area now boasts an open play area with chalk boards, drawing boards and play mirrors on the wall, artificial grass, and an allotment space with raised planting beds and seating areas. The play areas encourage exercise and outdoor play for toddlers and children to help their physical development and is good for positive mental health for both parents and children.
We are using the space to deliver outside arts and craft sessions and lots of fun outdoor activities for babies, toddlers and many other groups ensuring the whole community can enjoy and use the garden.
The range of sensory and edible planting gives our toddlers and babies the opportunity to touch, smell, taste and experience different sensations. The interactive items on the wall such as chalk boards for children to decorate are helping to develop their fine motor skills and babies love to pull faces at the 'baby in the mirror', which is so lovely to see.
We are now growing our own produce and will be cooking with it in Cook and Eat sessions to encourage healthy eating and the use of freshly grown fruit, vegetables and herbs.
Our community are blown away by our new outdoor area at our centre. It has made a massive difference to our community. It provides a safe space and probably the only garden space for many of our service users. This is the biggest thing ever to happen to our centre and our mums feel really valued and happy.