Little Free Libraries
Little Free Libraries
Adele Adams, Project Manager, at Better Place shares how Little Free Libraries, which started back in 2009 in Wisconsin, America, have now reached parks in the Better Start Bradford area. The project has succeeded thanks to community input and partnering up with another Better Start Bradford project: Better Start Imagine.
Back in 2009, the first Little Free Library was erected in Wisconsin, America by Todd Boll, who created it is a tribute to his mother - a teacher who loved reading. He made a small wooden house and put it on a post at the end of his drive with a sign that said 'Free Books' for families and children to take books to read.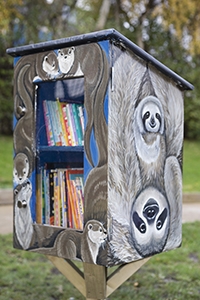 12 years on, Todd's book sharing idea is now Worldwide, with over 100,000 Little Free Libraries registered in over 108 countries. We have several in my hometown of Todmorden and it got me thinking that it would be such a wonderful idea to have toddler height Little Free Libraries across the Better Start Bradford area. I got in touch with Better Start Imagine, Better Start Bradford's free book gifting project, to see if they would like to partner up with us to commission the 'libraries' and stock them with baby and toddler books.
Better Start Imagine jumped at the chance to get involved and as soon as we were given the go ahead, we consulted with Friend's Groups of local parks and community groups about the locations and design of the Little Free Libraries, as we wanted them to be as bright and as inviting as possible for young children, with each one having their own unique design and theme.
We managed to get local artists Helen Corney and Hannah Lawson on board to create beautiful designs on the 'libraries' including animals and their babies, British wildlife, life cycles, bugs and beasties, Islamic patterns and much more. Helen and Hannah were already familiar with the Little Free Libraries as they had worked their artistic magic on many of the ones that are in Leeds.
We now have eight Little Free Libraries being placed by Better Place all across the Better Start Bradford areas of Bowling and Barkerend, Bradford Moor and Little Horton.
The first Little Free Library launched in November 2021 at The Mayfield Pocket Park at the Mayfield Centre, where Better Start Bradford and Better Place are based, with a further seven Little Free Libraries being installed in parks and streets over the next few months.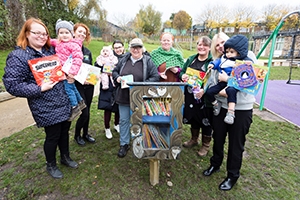 Free book gifting project, Better Start Imagine will fill the boxes with a selection of books with new and exciting titles aimed at 0-3s. The books are there to be taken, swapped, replaced, shared or simply to be read in situ as the libraries have purposely been located near play areas, benches and seating areas.
The Little Free Libraries is a wonderful initiative that brings greater access to books for very young children. By being placed in areas already improved by our Better Place project, families and their little readers can also use the surrounding features and sculptures to act out moments in the books or make their own stories up as books really do open doors into exciting new worlds, while improving language development.
Hopefully the Little Free Libraries will encourage families with little ones to explore reading further and to visit their local Big Free Libraries.
The Better Place Team would like to thank everyone involved in bringing the Little Free Libraries to life including Better Start Imagine, Friends of Park Groups, Bradford Trident, the Neighbourhood Resource Centre, residents on Folkestone Street, Laisterdyke Library and artists Helen Corney and Hannah Lawson.
Adele Adams is Project Manager at Better Place, part of Better Start Bradford.
About A Better Start
A Better Start is a ten-year (2015-2025), £215 million programme set-up by The National Lottery Community Fund, the largest funder of community activity in the UK. Five A Better Start partnerships based in Blackpool, Bradford, Lambeth, Nottingham and Southend are supporting families to give their babies and very young children the best possible start in life. Working with local parents, the A Better Start partnerships are developing and testing ways to improve their children's diet and nutrition, social and emotional development, and speech, language and communication.
The work of the programme is grounded in scientific evidence and research. A Better Start is place-based and enabling systems change. It aims to improve the way that organisations work together and with families to shift attitudes and spending towards preventing problems that can start in early life. It is one of five major programmes set up by The National Lottery Community Fund to test and learn from new approaches to designing services which aim to make people's lives healthier and happier
The National Children's Bureau is coordinating an ambitious programme of shared learning for A Better Start, disseminating the partnerships' experiences in creating innovative services far and wide, so that others working in early childhood development or place-based systems change can benefit.
Sign-up to join our mailing list