Knowledge is power: Adapting and developing our services through greater data access
Knowledge is power: Adapting and developing our services through greater data access
Shaneka Foster, Senior Data Analyst - Equalities, reveals how LEAP has been able to build a clearer picture of the maternity booking process.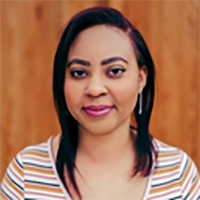 Combining the maternity data of two of our partner NHS Trusts has given us a much fuller understanding than would otherwise be possible. It's one of the major advantages we have gained from forming a multi-agency partnership, knitting local early years services together.
Live births are declining in the LEAP area and the general fertility rate in Lambeth has almost halved. This could affect programmes in the local early years sector. However, we have also found that one in five women are being booked onto maternity services late. Therefore, many families are missing out on key support during the early stages of pregnancy – meaning that some services are being underused and have the potential to reach more people.
The maternity data certainly backs this up. It reveals that women living in LEAP areas have more social risk factors than in the rest of Lambeth. Higher social risks require a higher level of support. Social risk factors can include learning disabilities, housing problems and social services interventions.
Combining local maternity data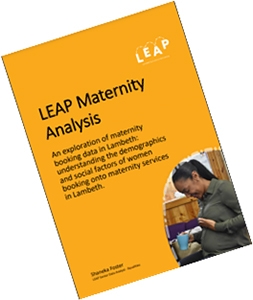 LEAP offers services specifically for pregnant women during antenatal and postnatal periods.
Most births in Lambeth take place at either Guy's and St Thomas' (GSTT) or King's College Hospital (KCH), both of which are partner NHS Trusts. We have combined the data to analyse the population of women accessing both trusts.
GSTT and KCH use specialist perinatal data management software, called Badgernet, to store pregnancy and neonatal health records. Badgernet captures information recorded during appointments and interactions with hospital maternity services – from the booking appointment to birth. It is a more complete dataset than we would otherwise have access to at a national or local authority level. And it provides frequent insights that aren't normally available.
This helps us build a better picture of the maternity booking process, and which information is prioritised, or more easily gathered. It also gives us a greater understanding of the characteristics of the women booking into maternity services.
How LEAP uses evidence and data
We gather evidence in several ways: focus groups, surveys, national statistics and local data sources.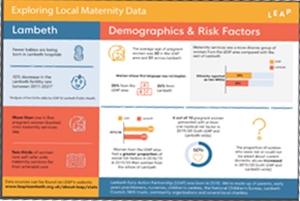 Data helps us to identify and understand the diversity of individuals who make up the LEAP target group. Through this, our services can adapt existing processes and improve delivery while ensuring the families attending are at the heart of key decisions.
Understanding the demographics of our families helps ensure services are inclusive and helps us overcome barriers to our services, such as language and other accessibility issues.
Understanding trends means we can react to the changing needs of our families, such as support with interpreting/translating information.
Comparing data with national statistics helps us identify factors affecting our local area.
Not all services are limited to pregnant women or new parents, but it is useful for all services at LEAP to understand the demographics and social factors of the women we work with. Social risk factors can influence how individuals engage with our services. It is important that we minimise the influence of these factors during the planning and promotion stages.
Note on terminology
Although I use the term 'women', I interpret it to also include 'birthing people'.
About A Better Start
A Better Start is a ten-year (2015-2025), £215 million programme set-up by The National Lottery Community Fund, the largest funder of community activity in the UK.

Five A Better Start partnerships based in Blackpool, Bradford, Lambeth, Nottingham and Southend are supporting families to give their babies and very young children the best possible start in life. Working with local parents, the A Better Start partnerships are developing and testing ways to improve their children's diet and nutrition, social and emotional development, and speech, language and communication.
The work of the programme is grounded in scientific evidence and research. A Better Start is place-based and enabling systems change. It aims to improve the way that organisations work together and with families to shift attitudes and spending towards preventing problems that can start in early life. It is one of five major programmes set up by The National Lottery Community Fund to test and learn from new approaches to designing services which aim to make people's lives healthier and happier
The National Children's Bureau is coordinating an ambitious programme of shared learning for A Better Start, disseminating the partnerships' experiences in creating innovative services far and wide, so that others working in early childhood development or place-based systems change can benefit.
Sign-up to join our mailing list