I CAN: An approach to supporting speech and communication in young children
I CAN: An approach to supporting speech and communication in young children
Amanda Hall, I CAN Training Co-ordinator shares how the Early Talk project has equipped early years practitioners with the knowledge, approaches, and strategies to support the development of speech, language and communication (SLC) in babies, toddlers and very young children aged 0-3 in the Better Start Bradford area.
In my I CAN training role, I am extremely fortunate to be able to share my knowledge and draw upon my experience to arm other early years practitioners with the skills and expertise to improve the outcomes of children.
The I CAN Early Talk Project is delivered in two strands:
Early Talk 0-5 - Working with Under 3's is aimed at early years practitioners who want to increase their SLC knowledge and the approaches and strategies that can be used in early years settings
Early Talk 0-5 - Working with Parents is designed for family facing practitioners and early years practitioners with the aim of enhancing parental support of early communication development.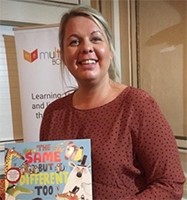 Supporting family facing practitioners such as health visitors, teachers, childminders and family support workers is key in terms of empowering parents to support their child's language and communication.
Parents and carers are the first and most important influence on their child's development and future outcomes. The interactions which take place in the home environment, especially in the early years, can have a huge impact on a child's future, so it's really important that parents understand the important role that play can have on a child's speech, language and communication development. The Working with Parents strand emphasises the value of child-led play at home and gives participants ideas on ways to share important information with busy parents, as well as activities to try at home.
Children learn a lot of language through play opportunities and the experiences they enjoy. If children are provided with opportunities that allow them to explore, then they develop a greater understanding of themselves and the world around them. For most children, their play and learning are natural and spontaneous, although some children may need some help from adults around them.
Children use words to describe and refer to objects and people around them, and it is through these play experiences that, with the right interactions, children will develop an extensive vocabulary. Language provides a means for sharing ideas, defining roles and managing conflict in play.
We train practitioners through their nursery or their childminding setting to focus on the child's strengths and current knowledge when talking to parents. I have a huge range of strategies that I have implemented throughout my career as an early years specialist and, dependent on the child's developmental stage, I will provide information and show techniques that are appropriate for the child's current level of understanding.
I will always encourage the following methods:
Let your child choose and lead the activity – this can be with any toys that your child likes to play with.
Look at what your child is interested in and what they want to do. Participate in play with them.
Concentrate on 'what' your child is doing and 'how' they are playing instead of how much they are talking.
Give plenty of time for a child to initiate or respond, observe, wait and listen. Ten seconds is about right.
Use simple sentences that are around one word longer than the sentences the child is currently saying, for example if they can only put three words together, then you don't use sentences with any more than four words.
Copy what your child is doing or saying. Build on it by adding one or two words to their sentence, for example 'car' 'yes, a red car'.
Give your child your full undivided attention when you are playing with them. Make sure you are at their level, for example playing on the floor with them. Make sure it is as quiet as possible and the TV is turned off.
Don't ask too many questions, use encouraging comments or open questions, like 'tell me about your day' (ICAN, 2018).
Since we began our ICAN Early Talk project in 2018, 30 early years settings have received our training and 239 early years practitioners have attended.
We have had some fantastic feedback from the early years settings:
"Children's communication and language has improved across the setting, their engagement in activities and attention and listening skills have developed. Children are using more words to communicate, singing and action songs are being continued as parents are singing with their children at home. Children are sitting together and sharing books with each other, the babies are able to make more animal sounds and recognise familiar characters in favourite books.''
''Staff are much more confident in the role they play developing children's speech, language and communication. Practitioners have looked at different ways they can encourage parents to continue children's learning at home, using and developing activity ideas and home play packs. Staff share ideas, tips and support each other to promote children's language and communication using the resources we were provided with from the training.''
When I observe settings as part of the accreditation process that many settings go through, I've noticed that many more staff identify and support children's communication skills as routinely as they would pick up on gross and fine motor skills following the training and support they receive
This project has not only improved the knowledge of the Early Years Practitioners who have taken part, it has also improved practitioner confidence in being able to identify children with speech, language and communication needs, and this has enabled them to ensure the children are being supported in the most appropriate way. We plan to formalize some of this feedback into some case studies as part of the evaluation.
About A Better Start
A Better Start is a ten-year (2015-2025), £215 million programme set-up by The National Lottery Community Fund, the largest funder of community activity in the UK.
Five A Better Start partnerships based in Blackpool, Bradford, Lambeth, Nottingham and Southend are supporting families to give their babies and very young children the best possible start in life. Working with local parents, the A Better Start partnerships are developing and testing ways to improve their children's diet and nutrition, social and emotional development, and speech, language and communication.
The work of the programme is grounded in scientific evidence and research. A Better Start is place-based and enabling systems change. It aims to improve the way that organisations work together and with families to shift attitudes and spending towards preventing problems that can start in early life. It is one of five major programmes set up by The National Lottery Community Fund to test and learn from new approaches to designing services which aim to make people's lives healthier and happier
The National Children's Bureau is coordinating an ambitious programme of shared learning for A Better Start, disseminating the partnerships' experiences in creating innovative services far and wide, so that others working in early childhood development or place-based systems change can benefit.
Sign-up to join our mailing list