How distributing activity cards has supported engagement in the community
How distributing activity cards has supported engagement in the community
Michelle Ormerwood, Community Connector Co-ordinator at Blackpool Better Start, describes how local people have responded to an initiative encouraging child development activities.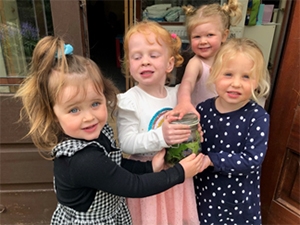 Over the last six years, Blackpool Better Start – with help from parents in our community - has developed twelve individually themed activity cards with the aim to give parents, grandparents and carers simple way to help young children play, learn and discover the world around them.
The cards feature age appropriate activities that link to different themes. They offer families accessible child development activities that will engage both parent and child in tasks, and are aimed at parents with pre-school aged children using activities, songs and recommended books.
The themes over the years have included 'Making a Nature Jar', 'Fun at the Beach' and 'Making a Leaf Scrapbook'. We have also produced seasonal activity cards around Christmas and Easter.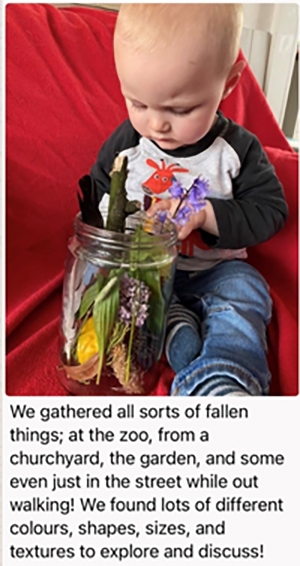 Recently the Community Connector team has been tasked with distributing the activity cards to local childminders and childcare settings every month. Childcare settings are asked to engage in the activity and promote the cards to their families through their own social media platforms and they also hand out cards to their parents and ask them to participate. Parents are then encouraged to take photographs of them and their children engaging in the activity, which are then shared on our social media pages.
To encourage parents further, we made this into a monthly free prize draw to win a Duplo set and book activity by posting a picture or comment. This initiative has significantly increased participation, built relationships with both settings and the community and has raised awareness of the Better Start offer from their local Community Connector. In turn this has resulted in growth in both engagement and in support for parents and practitioners to services and programmes of need.
Between April and June 2021, a total of 1519 activity cards were distributed to Blackpool families through settings and childminders. Between May and June there was a steep increase in the number of children engaging with the initiative, raising from 25 in May to 73 in June. Not only was it fantastic to see more families taking part, but the photos and comments that were shared on social media helped us promote the scheme further to other families.
There are still activity cards left to distribute however it would be great to get parents involved in creating new activity cards in the future and producing them for very young children with simple activities parents can access in the home environment that are of minimal cost.
About A Better Start
A Better Start is a ten-year (2015-2025), £215 million programme set-up by The National Lottery Community Fund, the largest funder of community activity in the UK. Five A Better Start partnerships based in Blackpool, Bradford, Lambeth, Nottingham and Southend are supporting families to give their babies and very young children the best possible start in life. Working with local parents, the A Better Start partnerships are developing and testing ways to improve their children's diet and nutrition, social and emotional development, and speech, language and communication.
The work of the programme is grounded in scientific evidence and research. A Better Start is place-based and enabling systems change. It aims to improve the way that organisations work together and with families to shift attitudes and spending towards preventing problems that can start in early life. It is one of five major programmes set up by The National Lottery Community Fund to test and learn from new approaches to designing services which aim to make people's lives healthier and happier
The National Children's Bureau is coordinating an ambitious programme of shared learning for A Better Start, disseminating the partnerships' experiences in creating innovative services far and wide, so that others working in early childhood development or place-based systems change can benefit.
Sign-up to join our mailing list.