How a Winter Wonderland is a great way to reach families
How a Winter Wonderland is a great way to reach families
Now in its fourth year, Blackpool Better Start's Winter Wonderland is aimed at families with children aged 0-4 years. Registration to the mid-week advocacy event has grown each year and is attracting more and more families - with 550 adults and children attending in December 2019.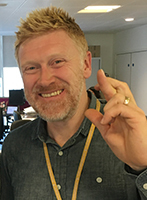 We know that Christmas can be a difficult and stressful time for families so, alongside creating a festive atmosphere, the additional premise of the event is to provide Blackpool families with access to important help and advice. Professional bodies are invited to exhibit and offer access to information on training and volunteering opportunities, as well as guidance on health, wellbeing and finance.
Winter Wonderland is the one time of year when all community programmes come together under one roof, providing an invaluable opportunity to showcase the early years offer available to Blackpool families.
The event provides an opportunity to highlight the breadth of Better Start programmes available for families to engage with; ranging from activities in green spaces, libraries and Children's Centres, to targeted services including Health Visiting, the Family Nurse Partnership and Baby Steps.
During the three-hour event families can take part in interactive sessions, such as cookery, football, crafts, baby sensory activities and drama performances. To promote healthy eating at our most recent event, our Health Connectors organised a 'bush tucker' challenge encouraging children to try exotic fresh fruits.
Park Rangers ran wreath-making sessions and there was a sing-a-long from Blackpool's Grand Theatre, providing a real festive atmosphere.
Father Christmas made a special appearance to the delight of the children – we're conscious experiences like this can cost money families simply can't afford.
This year we were delighted that over 45 local professional services were on-hand to offer advice and provide support to our families.
By presenting the services to the families in an approachable environment, the event helps to make the first contact much less daunting and provides an engagement opportunity that they wouldn't ordinarily get.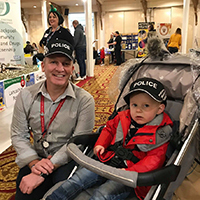 When targeting exhibitors, we aim to cover a range of advocacy services that families may require, such as advice on household energy efficiency, healthy life choices, improving oral health, learning opportunities and support for children with Special Educational Needs and Disabilities.
Families were able to access advice and support from the Department for Work and Pensions, Blackpool Carers Centre, Adult & Family Learning, Lancashire Police, Blackpool FC Community Trust, Electricity North West, United Utilities and also Care & Repair, a home improvement agency helping Blackpool families live independently in their own homes by keeping them safe, warm and secure.
Blackpool and The Fylde College also exhibited. Their Health and Social Care Career Academy Manager, Helen Cook, commented:
"Blackpool and Fylde College attended the Winter Wonderland and successfully signed-up 10 families to the health and social care career academy's Talent4Care Programme. In addition, we had 89 face-to-face contacts with people who were interested in either a childcare or health and social care course. It is a fantastic opportunity for the college to talk to parents and support their aspirations to gain qualifications so that they can gain future employment.
"Many parents were interested in the level 2 and 3 childcare qualification and the level 2 and 3 in health and social care. We were also able to talk to parents about short-term courses too so that they can enhance their professional development and increase their knowledge. All of our courses are accredited qualifications and funding is available so that parents gain support to help them with their learning".
Dee McGregor, Development Support Officer at the Centre for Early Child Development, said:
"Winter Wonderland provides us with a relaxed, approachable environment in which to chat with families about Blackpool's Health Visiting service and answer any questions they may have. We know parenthood can be daunting, so to be able to meet with health care professionals and be reassured about anything that is worrying them is really beneficial. Our student Health Visitors set up a craft activity which provided an opportunity for them to meet with parents and discuss child development."
As we approach the mid-point of Better Start, the way we build supportive connections and engage with families and the wider community continues to evolve, with Winter Wonderland being the annual highlight.
Universal programmes and events are being accessed by families on a regular basis in parks, libraries and Children's Centres, and our team of Health and Community Connectors are continuing to build links with traditionally harder to engage parents.
In the past year, additional services have been added to the A Better Start programme in order to play a role in reaching our outcomes of developing social and emotional skills, language and communication skills and improving diet and nutrition.
New services have included healthy lifestyles programme Move, Play & Grow designed to motivate families across Blackpool to improve their knowledge of healthy eating, physical activity and oral health; a Sling Library support group provides information on the benefits of baby carrying; and Baby Steps perinatal classes supporting the emotional and physical transition to parenthood.
The development of parks, Early Years play areas and green spaces is also being undertaken in consultation with the community, as well as recruitment of additional Early Years Park Rangers to increase forest school sessions.
Our focus on engaging with Blackpool's fathers continues to be developed through activities aimed at improving social interactions with other male role models and the development of new skills. Most recently, a partnership with Jamie Oliver's Ministry of Food programme saw a group of fathers undertaking an eight-week cookery programme with positive outcomes.
Our top three pieces of advice to any projects thinking of planning a similar advocacy event:
Strike a balance between 'fun' and 'serious'
As far as our families are concerned, the event is a pre-Christmas 'Winter Wonderland' and has all the festive elements to strike this chord. It is a fun day out for both parents and children. However, the advocacy element and engaging with the families is the priority for Blackpool Better Start and our partners.
For professional services to fit in seamlessly with the 'fun' elements of the event, we request that their information stands have a festive-feel and include interactive activities that are engaging for young children. This provides an opportunity for parents to talk to services in a relaxed environment whilst their child may be crafting or playing with sensory toys.
Involve partners in the run-up
We utilise the resources and enthusiasm of our local volunteering group, Community Voice, to really engage with families and drive event registrations through 'lead-up' festive craft events at libraries and children's centres. This year we had over 100 families attending these sessions who then signed up to the Winter Wonderland.
Plan early!
Given how many partners come together across the town, organisation is essential and planning for the next year starts almost as soon as the event finishes! Winter Wonderland is now established as being held in the first week of December and a 'save the date' is sent to families along with a feedback request.
Get everyone involved
We feel our success really boils down utilising the skills of the whole team to deliver a well-organised event. We draw on the experience of our varied team to help with the planning; which can range from contacting exhibitors and booking entertainers, to driving interest via social media, undertaking risk assessments and dressing the venue.
Somebody – be that a volunteer or senior member of staff – willing to throw on a giant bear outfit and walk around can be the difference between a child having a fun day and a magical day!
About A Better Start

A Better Start is a ten-year (2015-2025), £215 million programme set-up by The National Lottery Community Fund, the largest funder of community activity in the UK. Five A Better Start partnerships based in Blackpool, Bradford, Lambeth, Nottingham and Southend are supporting families to give their babies and very young children the best possible start in life. Working with local parents, the A Better Start partnerships are developing and testing ways to improve their children's diet and nutrition, social and emotional development, and speech, language and communication.
The work of the programme is grounded in scientific evidence and research. A Better Start is place-based and enabling systems change. It aims to improve the way that organisations work together and with families to shift attitudes and spending towards preventing problems that can start in early life. It is one of five major programmes set up by The National Lottery Community Fund to test and learn from new approaches to designing services which aim to make people's lives healthier and happier
The National Children's Bureau is coordinating an ambitious programme of shared learning
for A Better Start, disseminating the partnerships' experiences in creating innovative services far and wide, so that others working in early childhood development or place-based systems change can benefit.
Sign up to join our mailing list