From clinical practice to Better Start Bradford: the added value to the Health Education England's Future Leaders Programme – A personal perspective
From clinical practice to Better Start Bradford: the added value to the Health Education England's Future Leaders Programme – A personal perspective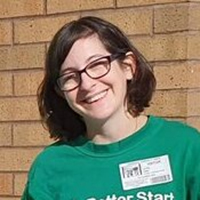 I began working at Better Start Bradford in August 2019 as part of the Health Education England's Future Leaders programme.
After working on the front line of healthcare for eight years, following qualifying as a Doctor in 2011, the leap into community/public health was an exciting new challenge.
For the last five years I have worked in hospitals across Yorkshire as a Paediatric doctor. During this I have seen first-hand the pressure services are under day-to-day and the increasing complexity and barriers that many of our families must overcome to provide the best start for their children.
Improvement, change and development is a necessity to continuously provide first class services to children and families. However, Paediatric training mostly focuses on in-hospital care and there is often limited time to develop leadership and management skills that can influence change and improvement. Strong engagement and clinical leadership has been shown to lead to improved health outcomes for patients (1).This gap in training has been increasingly recognised and the Yorkshire and Humber Deanery are investing in developing leadership skills in their trainees. Part of this commitment includes the Health Education England - Yorkshire and Humber Future Leaders Programme and as part of this programme I am also completing the NHS Mary Seacole Leadership Academy Award.
I took up the opportunity to do a Leadership Fellowship to improve and develop the leadership and management skills that are a necessity in providing high quality care and services. I also had a desire to explore and increase my knowledge of the complexities of the prevention side of healthcare as I strongly believe that this area is the future in creating a sustainable health service.
My role at Better Start Bradford has given me the opportunity to develop these skills, and put into practice learning from the professional development courses, all the while working, engaging and influencing a wide range of partners and stakeholders to create a shared vision of early years preventative intervention.
For example, I am working with a range of stakeholders, including clinical commissioning, public health, charities and third sector organisations to influence the strategic importance of Infant Mental Health in Bradford. I have recently successfully proposed the development of a Yorkshire Infant Mental Health Hub. This workforce development initiative aims to bring passionate professionals together in a community of practice to share learning and best practice throughout Yorkshire.
At Better Start Bradford I have had the opportunity to use my previous experience and training in paediatrics to bring a different perspective to the programme, including an understanding of new and evolving public and child health initiatives. For example, there is a rising public health concern that children in the UK are having insufficient sleep to support their physical, social and cognitive development.
This public health concern, has recently been recognised by the Department of Health and Social Care in the 2019 Prevention Green Paper (2), by the Institute of Health Visitors (3)and by the Royal Society of Public Health (4) and is championed by the Children's Sleep Charity (5). However, neither Bradford district nor Better Start Bradford have a coordinated sleep initiative for parents struggling with this issue. I have promoted the importance of sleep in early years and am leading on a community consultation of childhood sleep to evaluate local need and understanding, including working with early years professionals and researchers from Born in Bradford. This work will be used to inform the approach of Better Start Bradford and Bradford Public Health relating to this important issue.
Being part of the Better Start Bradford programme has opened my eyes to the sheer quantity of work and development going on in the community. and how much commitment there is from communities and charities to improve children's and families' lives. There is so much expertise in the communities, showcased by the role of community members on the Better Start Bradford board, community champions, Parent's in the Lead projects and volunteers working within many of Better Start Bradford's projects. I believe it is vital to continue to engage and empower them so they can offer the best start for their children.
Better Start Bradford are an excellent organisation to work for and have given me the space to be curious about health improvement and encouraging and open to change and investment in emerging health areas. The skills I am learning within this environment are invaluable and I know that the perspective gained will continue to influence my work for years to come.
References
Leadership and engagement for improvement in the NHS - together we can. s.l. : The King's Fund, 2012.
Advancing our health: prevention in the 2020s – consultation document. s.l. : Department of Health and Social Care, 2019.
Health Visiting in England: A Vision for the Future. s.l. : Institute of Health Visiting, 2019.
Waking up to the benefits of sleep. s.l. : Royal Society of Public Health, 2019.
The Children's Sleep Charity. [Online] [Cited: February 6, 2020.] https://www.thechildrenssleepc... A Better Start
A Better Start is a ten-year (2015-2025), £215 million programme set-up by The National Lottery Community Fund, the largest funder of community activity in the UK. Five A Better Start partnerships based in Blackpool, Bradford, Lambeth, Nottingham and Southend are supporting families to give their babies and very young children the best possible start in life. Working with local parents, the A Better Start partnerships are developing and testing ways to improve their children's diet and nutrition, social and emotional development, and speech, language and communication.

The work of the programme is grounded in scientific evidence and research. A Better Start is place-based and enabling systems change. It aims to improve the way that organisations work together and with families to shift attitudes and spending towards preventing problems that can start in early life. It is one of five major programmes set up by The National Lottery Community Fund to test and learn from new approaches to designing services which aim to make people's lives healthier and happier
The National Children's Bureau is coordinating an ambitious programme of shared learning for A Better Start, disseminating the partnerships' experiences in creating innovative services far and wide, so that others working in early childhood development or place-based systems change can benefit.
Sign up to join our mailing list