Finding innovative new ways to provide services to families
Finding innovative new ways to provide services to families
As the UK enters a truly unprecedented time, Jeff Banks, Director of A Better Start Southend, describes how the programme he leads is continuing to deliver innovative services to local children and families, with teams using technology such as video-conferencing and social media live tools.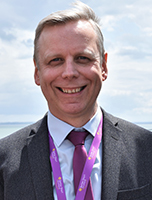 Following government guidance preventing non-essential travel and on social distancing, here in Southend, we have found new ways to deliver our portfolio of over fifteen services, including by using the Zoom video-conferencing service, social media and Youtube.
As an example, our pioneering breastfeeding support groups 'Bump to Breast' – delivered by Southend YMCA – typically offer face-to-face, group-based support to families choosing to breastfeed, but are now offering their invaluable assistance to new mums via the Facebook Live tool.
This allows parents to ask questions and receive answers in real time, and can be viewed retrospectively. A recent live broadcast session on the benefits of breastmilk, led by Southend YMCA, was viewed by over 600 parents. This just serves to show that the need for breastfeeding support is there, even though 'normal' life has paused.
Our Perinatal Mental Health service, which helps new parents adjust emotionally to parenthood, is now also offering support to families remotely, either via Skype, Facetime or a phone call.
The service, which is run by a team of Specialist Health Visitors employed by the Essex Partnership University NHS Foundation Trust, is offering invaluable and constant support, which is crucial at a time like this where anxiety and other emotions may be more intense.
Alongside these efforts, our normal promotion of services and the programme as a whole has been adapted to suit the current climate, and we are also offering some fun, playful activities across our Facebook, Twitter and LinkedIn profiles, which can be done with very young children at home to help them learn as they play. These social media activities are formulated with our specialists from all three of our work streams to incorporate valuable advice and tips.
It truly is fantastic that all of the A Better Start partners, including health, education and social care agencies across the Borough, are firmly committed to continuing support for parents at this time of high anxiety, and our brilliant delivery partners have all found imaginative new ways to continue supporting vulnerable families.
We know many parents will be anxious and in some instances struggling, and we want to send out a very clear message, we are still available to offer support.
Jeff Banks is Director of A Better Start Southend
About A Better Start
A Better Start is a ten-year (2015-2025), £215 million programme set-up by The National Lottery Community Fund, the largest funder of community activity in the UK. Five A Better Start partnerships based in Blackpool, Bradford, Lambeth, Nottingham and Southend are supporting families to give their babies and very young children the best possible start in life. Working with local parents, the A Better Start partnerships are developing and testing ways to improve their children's diet and nutrition, social and emotional development, and speech, language and communication.

The work of the programme is grounded in scientific evidence and research. A Better Start is place-based and enabling systems change. It aims to improve the way that organisations work together and with families to shift attitudes and spending towards preventing problems that can start in early life. It is one of five major programmes set up by The National Lottery Community Fund to test and learn from new approaches to designing services which aim to make people's lives healthier and happier
The National Children's Bureau is coordinating an ambitious programme of shared learning for A Better Start, disseminating the partnerships' experiences in creating innovative services far and wide, so that others working in early childhood development or place-based systems change can benefit.
Sign-up to join our mailing list.