Family wellbeing packs – one parent's inspiration
Family wellbeing packs – one parent's inspiration
Mum of four, Salma Nawaz - a community representative on Better Start Bradford's board - shares her inspiration behind family well-being packs and the impact Covid-19 has had on her mental health.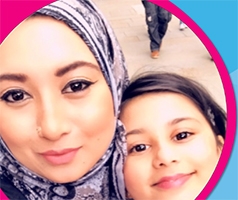 Salma knows what a struggle lockdown has been on many parents with young children, as her own mental health has suffered during the COVID-19 pandemic.
So when Better Start Bradford started delivering activity packs for children, Salma was appreciative, but she also felt that it would be wonderful for parents to have their own well-being packs as so many parents were struggling to simply get through each day.
When Salma made the suggestion at a Better Start Bradford Board meeting, staff and trustees agreed it would be a brilliant idea, so they made it happen.
In this blog Salma shares the experiences which prompted her to come up with the idea.
Salma's Well-being Packs
When the January 2021 lockdown was announced, my eldest daughter and I started crying. She was desperate to be at school and I just knew how I had struggled to cope in the lockdown that began in March 2020 with four children under the age of 11. I physically thought I was having a panic attack as the last lockdown had such a huge impact on my mental health.
When the first lockdown happened, it was a novelty at first. The children were excited to be at home, we didn't really go out, there was no routine and the children wanted to stay up until 'stupid o'clock'.
The novelty of lockdown soon wore off!
The novelty soon wore off though! My husband works in the food industry so he was classed as a key worker and he was at work, while I was at home with the children. After a few weeks, the school started delivering a bit of work, but it was so difficult – they are all in different age groups, with different abilities and different needs and I was also still breastfeeding my youngest daughter.
I started to have panic attacks
When the children wanted to play outdoors, I had to tell them not to play with other children, which was hard. I would take them to Mira Shay (a park in Bradford) and panic when they touched things like railings and handrails – it really was a vicious cycle of sanitise, 'don't touch that', sanitise, 'don't go near that child', sanitise.
I was watching the news day in, day out and found it so it so overwhelming. I started to have panic attacks to the point where I didn't leave the house for a few weeks. My husband did all of the shopping, so I didn't have to go out and I found that Iockdown completely drained me. I was literally exhausted trying to be everything to everyone.
I made a conscious decision to take some time for myself
I then made a conscious decision to take a little time for myself. I turned to my faith, prayed and read passages to calm me. I questioned why I was doing this to myself, why was I throwing myself into a situation of 'what if' all of the time? I started to do what I could with the schoolwork and gradually I started to pull myself out of my heightened state of anxiety.
During lockdown we received an activity pack from Better Start Bradford for the children, which was lovely. However, even doing those activities with the children at times felt overwhelming and it made me think how parents can possibly do things with their children if they are struggling mentally. There is a big expectation around improving outcomes for children, but how can you try to do that if you are not taking care of yourself?
I then suggested at a Better Start Bradford board meeting that it would be great for us to develop well-being packs for adults. The Vine Project had done some activity packs for children, but they had also included a couple of things for adults, such as a bath bomb and an adult colouring book.
The board thought well-being packs for adults were a great idea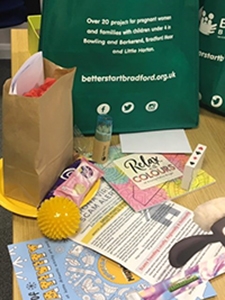 The Board thought it was a great idea and the Better Start Bradford Family and Community Engagement team went ahead and developed a winter well-being bag with a massage ball, adult colouring book and pens, hot chocolate sachet, a snack, Better Start Bradford pens, notepads, mental-health support numbers, self-help ideas plus some festive activities for children too.
From the feedback that we have had, families have loved the well-being packs and have appreciated that their health and mental well-being is important too and to not be afraid to ask for help if they need it.
Parents shouldn't feel ashamed if they are struggling
I made a big decision in this most recent lockdown to contact my children's school for help. As my husband is a key worker and I am also a carer for my mum, they have allowed our children to go to school – this has helped so much. The children are so happy to be back at school and it has made such a difference on my own mental health.
Parents shouldn't feel ashamed if they are struggling. No-one out there has got it all together all the time and everyone's challenges are different, just try and take a little time out for yourself and do something you enjoy.
Salma's Self-Help Well-being Tips
Here are the things that have helped me – they might seem small, but they have made a huge difference to my well-being.
Have a soak in a lovely warm bath
Go for a walk just to get some fresh air and to free your mind – there are some lovely parks in Bradford
Do an exercise class for yourself – there are loads online on You Tube
Do a pedicure
Do a face mask
Keep a little journal – try find something positive in every day and write it down
Start reading a book – even if you just manage a chapter every other day
Have a virtual cuppa with a friend via your mobile or on Zoom
Salma Nawaz is a community representative on Better Start Bradford's board
About A Better Start
A Better Start is a ten-year (2015-2025), £215 million programme set-up by The National Lottery Community Fund, the largest funder of community activity in the UK. Five A Better Start partnerships based in Blackpool, Bradford, Lambeth, Nottingham and Southend are supporting families to give their babies and very young children the best possible start in life. Working with local parents, the A Better Start partnerships are developing and testing ways to improve their children's diet and nutrition, social and emotional development, and speech, language and communication.
The work of the programme is grounded in scientific evidence and research. A Better Start is place-based and enabling systems change. It aims to improve the way that organisations work together and with families to shift attitudes and spending towards preventing problems that can start in early life. It is one of five major programmes set up by The National Lottery Community Fund to test and learn from new approaches to designing services which aim to make people's lives healthier and happier
The National Children's Bureau is coordinating an ambitious programme of shared learning for A Better Start, disseminating the partnerships' experiences in creating innovative services far and wide, so that others working in early childhood development or place-based systems change can benefit.
Sign-up to join our mailing list.