Eureka! Supporting bright ideas from the community
Eureka! Supporting bright ideas from the community
Jane Flewitt, Marketing & Communications Manager at Small Steps Big Changes, shows how bright ideas from the community are being put into practice in Nottingham.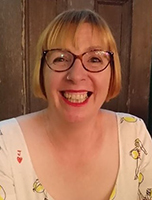 Since 2016, the Small Steps Big Changes (SSBC) Ideas Fund (previously known as the Innovation Fund) has been providing small pots of funding to support community projects in the SSBC wards of Aspley, Bulwell, Hyson Green & Arboretum and St Ann's.
With a brief that allows organisations to be innovative in their approach, our experience has been that this 'seed-fund' allows true community test-and-learn to take place.
When Covid-19 arrived, it became clear that the Ideas Fund was ideally placed to be able to provide a quick response to the needs of our communities. For the first time, the award was offered across Nottingham City with a broader focus on helping families impacted by the pandemic and a wider age range incorporating families with children up to the age of five.
Following a quicker than usual decision-making process, 19 projects were funded, including capital projects to enhance outside play spaces, several projects which reflected the growing need to support children's mental health and resilience, and others which focused on reducing isolation.
One project which really took the opportunity to do something truly innovative was City Arts. Alison Denham, lead for the production of 'The Search for Teddy Island' explains what receiving the funding meant to them:
"As a community arts organisation, we strive to create work that is fun, inclusive and accessible. We could see that nationally, very small-scale outdoor work was starting to emerge, with the advice that being outdoors was safer.
"With this in mind, we started to work on ideas for 'The Search for Teddy Island'. We worked collaboratively with a group of artists to develop the proposal to create a piece of puppet theatre that could be performed on a family's doorstep. This would bring live creative interaction directly to them after the first long stretch of digital and online activity, whilst reducing any anxiety around having to travel.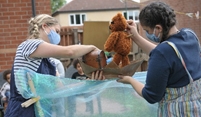 "Families booked the show for free; we would arrive at their address, set up, knock and when they opened their door, they had arrived in the theatre!
"The show was about a Teddy Bear who had heard about a beautiful island but didn't know how to get there. He set off in his boat, and got lost and afraid. But on the way, he made lots of friends in the sea and air who helped him. We wanted to keep the story simple, but build in elements of mindfulness and emotional awareness that families could use after we left.
"Characters shared with the Bear things like 'big birdy breaths' to help him manage any anxiety, or 'watching the sea and the sky' to make him calm and happy. We wanted the story to explore some of these emotions, and to share how everyone feels them on some level. Through the play and puppetry, we explored techniques for helping to acknowledge and calm these emotions. At risk of a spoiler, he found his way to the island in the end!
"This was a fantastic opportunity for City Arts in the height of that first lockdown. It allowed us to create something responsive to the environment we all found ourselves in. Additionally, as a small team, we work with a huge number of freelancers, who found much of their work vanishing overnight. This fund allowed us to develop a project with a group of our freelance artists when they needed it most.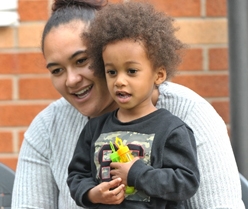 "It also allowed us to rethink how we could actively engage families, developing ideas and methods of working that we will hold on to and build on. We received overwhelmingly positive feedback from families on many levels. They welcomed the social interaction, the wellbeing ideas were understood and used, the story stayed in the imagination of the children long after we left, and the fun of the experience punctuated an otherwise tricky time.
"Despite being devised for a pandemic situation, the freshness of the approach, and the warm welcome we received from the families who hosted us is something that we found hugely rewarding and positive, and a valuable learning opportunity for us. In a moment of national anxiety and uncertainty, it allowed us to create something positive, meaningful and joyous, and gave us lots of ideas to build on for the future."
Small Steps Big Changes' next Ideas Fund opens on September 1, for more information please visit https://www.smallstepsbigchanges.org.uk/work-with-us/ideas-fund
About A Better Start
A Better Start is a ten-year (2015-2025), £215 million programme set-up by The National Lottery Community Fund, the largest funder of community activity in the UK. Five A Better Start partnerships based in Blackpool, Bradford, Lambeth, Nottingham and Southend are supporting families to give their babies and very young children the best possible start in life. Working with local parents, the A Better Start partnerships are developing and testing ways to improve their children's diet and nutrition, social and emotional development, and speech, language and communication.
The work of the programme is grounded in scientific evidence and research. A Better Start is place-based and enabling systems change. It aims to improve the way that organisations work together and with families to shift attitudes and spending towards preventing problems that can start in early life. It is one of five major programmes set up by The National Lottery Community Fund to test and learn from new approaches to designing services which aim to make people's lives healthier and happier
The National Children's Bureau is coordinating an ambitious programme of shared learning for A Better Start, disseminating the partnerships' experiences in creating innovative services far and wide, so that others working in early childhood development or place-based systems change can benefit.
Sign-up to join our mailing list.