Early years speech and language – a pathway to support
Early years speech and language – a pathway to support
Kathryn Morris, Early Years Co-ordinator at Blackpool Better Start, shows how the partnership has improved its early years speech, language, and communication pathway and offer.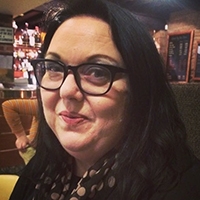 In April 2020, a new multi-agency Speech, Language and Communication (SLC) Triage Panel was established in Blackpool to help identify children in the town who were not accessing language assessments and interventions.
The 'Post WellComm Speech Language and Communication Triage Panel' meets every two weeks to discuss new referrals and the next steps for children that are coming to the end of their interventions.
The panel brings together an NHS SLC Therapist; an SLC Therapist from our commissioned service 'Communicate'; the local authority Early Years Team Manager; a literacy advisory teacher; and a Community Connector Co-ordinator from Blackpool Better Start.
Referrals to the triage panel come, for the most part, following a WellComm assessment that forms part of children's mandatory developmental checks by a health professional or an early years setting. Currently there is a 50/50 split as to where the referrals come from between health colleagues and pre-school settings.
Prior to the panel, information about the children that have been referred for support is shared with a Community Coordinator who then allocates a Community Connector to make contact with the family.
The Connector calls the parents to let them know about the panel, what they can expect and the services and organisations involved.
This informal chat allows the Connector to ask the parents how they have coped during lockdowns and helps to establish if there are any barriers preventing the parents from engaging with the service, such as capacity, complex needs of the child or other children in the household, and digital poverty.
This peer support approach has proved to be very successful as parents appreciate the opportunity to have an informal chat and to ask questions about the SLC service.
It also encourages and enables parents to be open and honest about their circumstances and helps to capture the parent's views on what interventions would work best for them. For instance, there is little point in the triage panel recommending a six-week online therapist-led intervention if the family does not have access to the equipment needed for this.
The information gathered from the contact with families is presented to the panel and is treated with the same importance as the clinical information on the referral form.
Following the triage discussion, letters are sent to parents containing information about the referral and the type of intervention they are likely to be offered. These letters are then delivered by the Community Connector team who will make sure that the family are clear on the next steps and what to expect. This regular contact is maintained with the family so that ongoing support with appointment reminders continues.
At the end of the intervention children are brought back to the panel and options for next steps are discussed. This could be another round of the same intervention, or it could be that if a child is now attending an early years setting, they will now have support provided there.
Between April 2020 and March 2021, this multi-agency approach has received 463 referrals, with 87 families (98% of which are from Blackpool Better Start wards) receiving Community Connector support, and 80 families in Blackpool with parents under 25 identified for additional support who received Literacy Trust support packs.
Find out more about the project, and others from across A Better Start, in 'A Better Start – Five Years of Learning'.
About A Better Start
A Better Start is a ten-year (2015-2025), £215 million programme set-up by The National Lottery Community Fund, the largest funder of community activity in the UK. Five A Better Start partnerships based in Blackpool, Bradford, Lambeth, Nottingham and Southend are supporting families to give their babies and very young children the best possible start in life. Working with local parents, the A Better Start partnerships are developing and testing ways to improve their children's diet and nutrition, social and emotional development, and speech, language and communication.
The work of the programme is grounded in scientific evidence and research. A Better Start is place-based and enabling systems change. It aims to improve the way that organisations work together and with families to shift attitudes and spending towards preventing problems that can start in early life. It is one of five major programmes set up by The National Lottery Community Fund to test and learn from new approaches to designing services which aim to make people's lives healthier and happier
The National Children's Bureau is coordinating an ambitious programme of shared learning for A Better Start, disseminating the partnerships' experiences in creating innovative services far and wide, so that others working in early childhood development or place-based systems change can benefit.
Sign-up to join our mailing list.