Early Adventures: a toolkit for play and learning in the early years
Early Adventures: a toolkit for play and learning in the early years
Helen Hall, Early Years Specialist and Zaibun Nawaz, Early Years Facilitator, share how Better Start Bradford supported the development of the Early Adventures: building futures, making a difference - Quality toolkit for Play and Learn groups with the Early Years Alliance for Bradford Council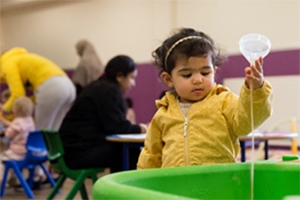 Bradford District Council Children's Services and Bradford Public Health worked together to look at recommissioning play and learn sessions (where parents and carers of under 3s bring their children to sessions in the local community) across the Bradford district, in order to expand the number of sessions and increase capacity within the Prevention and Early Help Family Hubs within Bradford.
As part of this work, they undertook consultation with local family community groups to establish what play and learn groups needed to deliver quality provision. Better Start Bradford were identified by the council as an organisation with recognised expertise of evidence-based practice and outcomes for children and families to assist in writing the invitation to tender and to share what good quality provision looks like in practice. Following this, Better Start Bradford agreed to part fund the service as one of our sustainability initiatives.
In developing the commissioning specifications, Better Start Bradford identified that some groups have excellent practice and that some needed some additional support. The commission was for an organisation to provide additional quality play and learn sessions across the district and to provide extra support to existing groups, with an emphasis on providing holistic quality play experiences for children under four and their families.
During the consultation with partners in 0-3 services across the district, it was identified that groups wanted a quality standard toolkit to provide guidance and with the intention of proposing an accreditation process for groups to evidence that the services they are providing to families is of a high standard. Group leaders said that they wanted recognition of quality, group status, safeguarding, EYFS (Early Years Foundation Stage) quality practice, health and wellbeing, sensory play and developing policies for their group. It could also help them with future funding applications.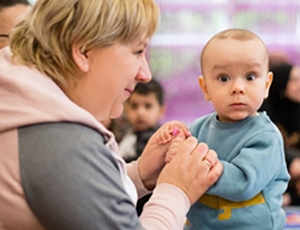 The Early Years Alliance were successful in winning the contract in June 2021 to provide the service and develop the toolkit district wide. As part of the commissioned service, Better Start Bradford and Early Years Alliance were to work together to jointly design the new toolkit.
Both organisations brought different strengths and expertise to the table, in particular the Early Years Alliance brought their expertise around play and learn delivery, (opportunities for parents and carers to explore and learn together and have fun while doing so), whilst Better Start Bradford brought our expertise of knowledge of the local area, Bradford District and the various communities, along with the experience gained from our range of projects to support play and learn groups.
An action plan was jointly produced in April 2022 to develop shared ideas around building a quality toolkit and the Early Years Alliance built upon their previous guidance structure to support the process.
The Early Adventures: building futures, making a difference - Quality toolkit for Play and Learn groups was completed in early September 2022 and is designed with the analogy of building a house. It will require group leaders to work through six core principles to help develop strong foundations to support a structure of high-quality provision.
The six principles are:
Section 1: Laying the foundations - a strong base to build on the policies
Section 2: Forming a sound structure - procedures and guidelines for the group
Section 3: Entrance: embedding inclusive practice and creating a welcoming experience for all
Section 4: Ground floor: developing an enabling environment and valuing the role of the adult
Section 5: First floor: caring and supporting each other and being part of the local community
Section 6: Roof: a time to review, reflect on and evaluate your progress
Commenting on the toolkit, the Early Years Alliance, said: "This toolkit has been designed as a self-help tool to enable group leaders to continually reflect on current practice, maintain and improve quality, and plan for the future development of the group, all the while maintaining an emphasis on providing a sense of belonging and community for families."
All groups will be supported to register with the Early Years Alliance (membership is free) in order to be able to effectively make use of all the extra training and resources that support the toolkit. For example, training to support bonding and attachment, infant mental health, HENRY and various Educare modules of training and practice.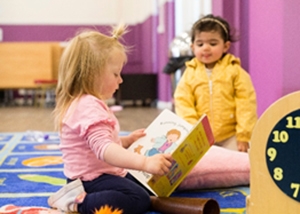 Although there is no formal accreditation procedure at this stage, the aim is to encourage group leaders to reflect and put into practice the focal points of the toolkit. This will vary from group to group. Joint practical support, from staff from Early Years Alliance and Better Start Bradford, will be offered to group leaders to enable them to work through the toolkit.
Four play and learn groups across the Bradford District have been chosen to pilot the toolkit and this trial has now started (mid-September 2022 for six weeks). Each group will be supported with a number of visits from Early Years Alliance practitioners and Better Start Bradford early years facilitators. After the trial, the aim is to have the final toolkit ready to rollout district wide in January 2023.
The Early Adventures: building futures, making a difference - Quality toolkit for Play and Learn groups will be evaluated during and after the trial sessions to see how it works in practice and if any amendments are needed before the rollout next year.
In this collaboration between Better Start Bradford and the Early Years Alliance, two well-established early years organisations have combined their expertise to develop a toolkit requested by our play and learn organisations. We endeavour for these groups in Bradford to be recognised by the early years sector for their good practice and anticipate that this is a critical step in supporting the process. To achieve this we will publish and disseminate the learning and the toolkit.
About A Better Start
A Better Start is a ten-year (2015-2025), £215 million programme set-up by The National Lottery Community Fund, the largest funder of community activity in the UK.
Five A Better Start partnerships based in Blackpool, Bradford, Lambeth, Nottingham and Southend are supporting families to give their babies and very young children the best possible start in life. Working with local parents, the A Better Start partnerships are developing and testing ways to improve their children's diet and nutrition, social and emotional development, and speech, language and communication.
The work of the programme is grounded in scientific evidence and research. A Better Start is place-based and enabling systems change. It aims to improve the way that organisations work together and with families to shift attitudes and spending towards preventing problems that can start in early life. It is one of five major programmes set up by The National Lottery Community Fund to test and learn from new approaches to designing services which aim to make people's lives healthier and happier
The National Children's Bureau is coordinating an ambitious programme of shared learning for A Better Start, disseminating the partnerships' experiences in creating innovative services far and wide, so that others working in early childhood development or place-based systems change can benefit.
Sign-up to join our mailing list