Cost-of-living crisis – spreading the word
Cost-of-living crisis – spreading the word
Melanie Larke, Communications and Marketing Officer at A Better Start Southend, outlines how the programme is sharing advice with families in the community.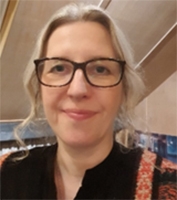 As part of our Festival of Conversations events programme (a fringe-style festival that took place from 12 to 26 October) it was important for us to provide as many beneficial and supportive events as possible to our local community.
Like other A Better Start partnerships, the cost-of-living crisis is a huge issue facing our local families. Through our A Better Start Southend (ABSS) Workskills programme, we were able to invite Crosslight Advice, who provide personal financial support and advice, to host an online webinar during the festival.
The 'Cost-of-Living Toolkit Workshop' was a 90-minute event sharing tips and information to help families learn about budgeting and build their financial resilience. The session covered the following topics:
The cost-of-living crisis – the current situation and support available
Why bother with a budget?
Steps to get started
Maximising your income and reducing your spendings
Dealing with debt
Managing your money day-to-day
Getting further help and support.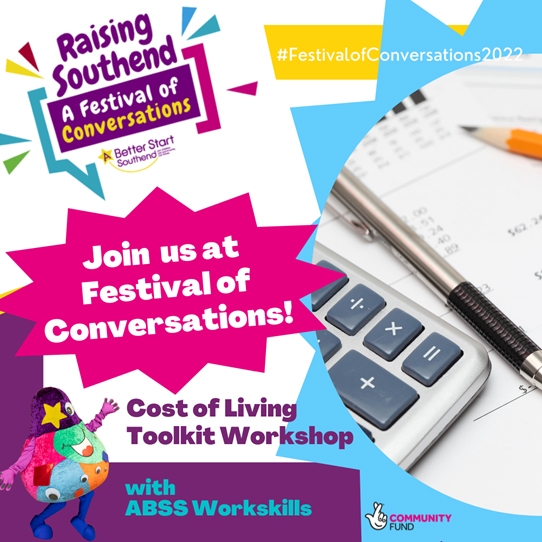 Energy prices

We began by thinking about how we feel about our current individual cost-of-living situations which reminded us that all attendees had concerns about making ends meet. This led on to a discussion of energy bills.
We heard explanations of price caps and schemes to help families pay their bills. We also looked at the benefits and grants that are available and are worth checking for eligibility. These include: the Energy Bills Support Scheme, Priority Services Register and Disability Cost of Living Payments amongst others.
The key message was that it is important to contact energy companies as soon as possible if you think you can't meet your payments. Energy suppliers' websites or the Ofgem website has useful information on the steps you can take. And the issue of scammers was also discussed as benefits will be paid automatically and you should not be required to share additional personal information.
Budgeting
With no lessons on budgeting at school, we discussed how easy it is for people to get into debt. Budgeting can be daunting initially but ultimately it can make you feel more in control of your finances when you've made a start. Whether parents prefer using a spreadsheet, an online budget builder/app or just on paper, the emphasis was to start by finding a method that works for you and is easy to maintain. The workshop considered essential expenditure, then receipts and subscriptions, and onto the 'invisible spends' such as takeaways and coffee etc. Honesty was the key word here and to avoid panic or worry if your budget doesn't balance at first.
Maximising income and reducing spend
Aside from requesting a pay rise or working more hours, we considered other ways of earning extra money such as: selling second-hand items online; asking other adults at home to contribute to household bills; or renting out a parking space on a driveway or in your garage.
Turn2us or EntitledTo are websites to search for non-repayable grants, as well as information on claiming the benefits you are eligible for. It is estimated that £15 million of benefits aren't claimed across the UK, so don't lose out.
To reduce spending, we looked at sticking to a shopping list, making use of online shopping vouchers, and the useful Money Saving Expert newsletter from Martin Lewis' website. Everyone should consider signing up to this newsletter to read about the best deals on mobile phones, shopping, and insurance etc.
Families can also look at local council websites for discounted family rail cards and bus passes, and enrol for a prescription payment certificate to reduce the costs of regular prescriptions. And using cost comparison sites for new broadband deals can save money too.
Dealing with debt
During the workshop, families discussed the importance of always choosing a free, independent and regulated debt advice organisation if they get into difficulties. The National Debt Line, Citizens Advice and Money Advice Centre are good places to start.
Managing money day-to-day to avoid debt
Another piece of advice that families found useful is to separate debt into different pots, a bit like piggy banks. You would have a pot for:
Bills & regular payments
Day to day spending
Savings and big purchases
The workshop structure provided opportunities for smaller breakout rooms to go through five-minute exercises in small groups where we aired concerns and through talking, shared some really useful tips.
The workshop was a taster for other Crosslight Advice services. For further help and support, Crosslight offers free money courses with daytime and evening options, and budget coaching. For staff teams, they provide a Financial First Aid Workshop which aims to equip support staff with the tools they need to talk to others about money and to offer support with their financial concerns.
https://www.crosslightadvice.org/
About A Better Start
A Better Start is a ten-year (2015-2025), £215 million programme set-up by The National Lottery Community Fund, the largest funder of community activity in the UK.
Five A Better Start partnerships based in Blackpool, Bradford, Lambeth, Nottingham and Southend are supporting families to give their babies and very young children the best possible start in life. Working with local parents, the A Better Start partnerships are developing and testing ways to improve their children's diet and nutrition, social and emotional development, and speech, language and communication.
The work of the programme is grounded in scientific evidence and research. A Better Start is place-based and enabling systems change. It aims to improve the way that organisations work together and with families to shift attitudes and spending towards preventing problems that can start in early life. It is one of five major programmes set up by The National Lottery Community Fund to test and learn from new approaches to designing services which aim to make people's lives healthier and happier
The National Children's Bureau is coordinating an ambitious programme of shared learning for A Better Start, disseminating the partnerships' experiences in creating innovative services far and wide, so that others working in early childhood development or place-based systems change can benefit.
Sign-up to join our mailing list