Cooking For A Better Start changed our lives
Cooking For A Better Start changed our lives
Mum of two young children, Mariyam Ali, recently completed Henry's online Cooking For A Better Start Course. Mariyam says that the sessions have changed her life and thanks to everything that she has learned, her whole family's eating habits have improved.
I take my children to Thornbury Tots, which is a Parents in the Lead funded playgroup, that runs in Thornbury.
At one of the sessions there was an opportunity to sign up to the Better Start Bradford's Cooking For A Better Start online course. I had been looking for a way to improve our eating habits and making more creative healthier meals for my young children, so I added my details to the 'sign-up' form.
The Cooking For A Better Start Team contacted me and I was provided with a toolkit and a series of videos to work through in my own time. This was ideal for me as I do work so it meant that I had the flexibility to do it at my own pace.
Initially, I must admit it was quite challenging to get motivated to start the sessions, but I was so glad I did. I was able to get my husband involved and he worked through some of the content with me. I was also called by one of the members of the team after every couple of sessions to have a chat and catch up to see whether there was anything I needed support with.
There were six online sessions to work through in total and I learned so much.
There were lots of different recipes and healthy alternatives to the junk food that we would eat. I learned about food safety in the kitchen and how to store food safely – for example I thought you could keep rice for days in the fridge, but through the course I found out that rice should only be kept for 24 hours in the fridge at the most.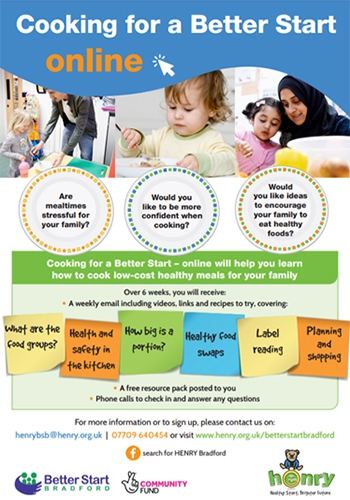 I also learned how to read labels on food items at the supermarket. It really shocked me how much sugar is in the yoghurts and cereals that I used to buy for my children. I now buy plain yoghurt and make porridge and add fruit or honey – the kids absolutely love it and my daughter even helps me to measure out the porridge. I also add water to fresh fruit juice rather than using the concentrated cordials I used to.
I also learned about portion sizes and all the different food groups, such as proteins, carbohydrates, fats and how you don't have to plan every meal around the food wheel, you can actually balance it over a couple of days.
At home we have cooked all the recipes and one of our favourites are the oat and banana biscuits. We also love the chicken goujons, which I have modified to make into smaller nuggets – but they are such a great healthier alternative to the frozen processed ones I used to buy.
My four-year-old daughter starts reception in September and I can now confidently make her a wide variety of packed lunches with lots of healthy creative choices that she loves. My children used to have a lot of sugary cereals and treats, but now we have swapped these for healthier porridge and home-made versions. I have also noticed that since I introduced this, they seem to be sleeping a lot better.
I feel so lucky that I have been able to do the Cooking For A Better Start course. I was so worried that my children weren't getting all the nutrients that they need, but now I know they are.
I thought it would be difficult to change our cooking and eating habits, but it's not just about buying healthy fruit every day – you just need to know what the healthier alternatives are. It's all about making those small changes that lead to a big difference.
*Please note that the image used with this piece has been provided by the team at HENRY and represents the Cooking For A Better Start programme, when delivered face-to-face. It does not feature the family represented in this blog.
About A Better Start
A Better Start is a ten-year (2015-2025), £215 million programme set-up by The National Lottery Community Fund, the largest funder of community activity in the UK. Five A Better Start partnerships based in Blackpool, Bradford, Lambeth, Nottingham and Southend are supporting families to give their babies and very young children the best possible start in life. Working with local parents, the A Better Start partnerships are developing and testing ways to improve their children's diet and nutrition, social and emotional development, and speech, language and communication.
The work of the programme is grounded in scientific evidence and research. A Better Start is place-based and enabling systems change. It aims to improve the way that organisations work together and with families to shift attitudes and spending towards preventing problems that can start in early life. It is one of five major programmes set up by The National Lottery Community Fund to test and learn from new approaches to designing services which aim to make people's lives healthier and happier
The National Children's Bureau is coordinating an ambitious programme of shared learning for A Better Start, disseminating the partnerships' experiences in creating innovative services far and wide, so that others working in early childhood development or place-based systems change can benefit.
Sign-up to join our mailing list.