Capturing the Parent Voice during Covid19
Capturing the Parent Voice during Covid19
Katie Watts, Volunteer Manager at Coram Family and Childcare, looks at the views and experiences of local parents are reflected in the work of Small Steps Big Changes.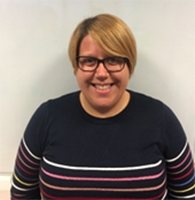 When the country went into lockdown on Monday 23rd March 2020, like everyone we had to quickly adapt to a new world and find a new way of working. This was no different for the Parent Volunteers – Parent Champions and Parent Ambassadors – who support Small Steps Big Changes (SSBC).
Parent Volunteers usually meet local families within their communities to gain understanding into local services and to learn what's important to families; this was now no longer possible. However, the volunteers wanted to continue their commitment to families and to focus their attention on issues relating to Covid-19 and the impact of this on communities and families.
Since March, they have continued talking to local parents in various different ways including through Facebook, WhatsApp, via text messages, phone calls and virtual zoom meetings; this has all been achieved whilst caring for and, initially, home schooling their own children.
To help us understand our communities better, our volunteers have been keeping a track of these conversations; this has helped us to monitor the impact of Covid-19 on local communities and the families who live within them. These conversations ensured that the voice of our parents was included in SSBC's submission to the Parliamentary Inquiry into the Effect of COVID-19 on Education and Children's Services. Having this written evidence accepted by the committee means that both local successes and challenges around supporting vulnerable families and early childhood development outcomes in the context of Covid-19 can be considered as part of the national review.
As Volunteer Manager, I've introduced weekly zoom meetings with our Parent Champions and Ambassadors; this allows further discussion about the conversations they are having, identify new issues in more detail, share experiences and support them in their conversations with families.
Over the past 20 weeks they have had 893 conversations* with the total rising daily.
'As an Ambassador I have coped with conversations by sharing what I feel, as I am going through a similar experience. It's hard when you can't help people financially. I have tried to reassure parents through regular chats and texts, it's nice to be able to support someone.' Parent Ambassador, Bulwell
The table below shows the topics parents are discussing: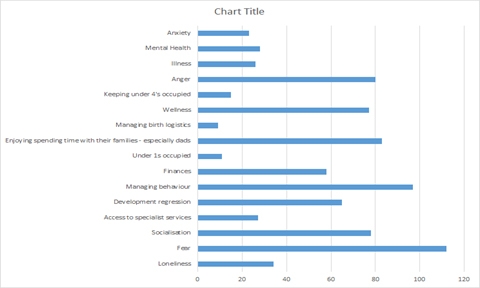 The biggest topic identified from these conversations has been around fear: fear of contracting the virus, fear of a child contracting it whilst at school and bringing it home to their families and fear of the unknown for the future and how long it will take for 'normality' to return.
In more recent weeks, parents have started to have more conversations around children returning to school and some of the difficulties this has been causing. Some schools have changed drop-off and pick-up times, meaning parents are hanging around outside the school to drop-off or pick-up multiple children.
There are also concerns around schools being closed due to a confirmed case and about the change to social groups. There seems to be some confusion around the maximum numbers of six people in a group as it appears that families who consist of six or more people cannot socialise with anyone else but their children can still go to school and mix with lots of other children.
Along with all of these amazing conversations our Parent Volunteers have continued to support SSBC and the wider partnership with their 'normal' business. This has included providing feedback on service design, being involved in moderating a service re- commissioning tender, and being part of the interview panel for this same contract. Volunteers have also been part of the interview panel for our new Volunteer Coordinator, whose role will be to assist Coram Family and Childcare develop this great team of volunteers further.
We plan to continue with our weekly calls to support our volunteers throughout this time and will view the plan moving forward when 'normality' resumes.
*SSBC are currently working with partners including Nottingham City Council to ensure these voices are captured and heard as part of ongoing service improvement and broader 'recovery, restoration and rebuild' plans within the City.
Coram Family and Childcare hold the community voice, community connections contract for Small Steps Big Changes.
About A Better Start
A Better Start is a ten-year (2015-2025), £215 million programme set-up by The National Lottery Community Fund, the largest funder of community activity in the UK. Five A Better Start partnerships based in Blackpool, Bradford, Lambeth, Nottingham and Southend are supporting families to give their babies and very young children the best possible start in life. Working with local parents, the A Better Start partnerships are developing and testing ways to improve their children's diet and nutrition, social and emotional development, and speech, language and communication.
The work of the programme is grounded in scientific evidence and research. A Better Start is place-based and enabling systems change. It aims to improve the way that organisations work together and with families to shift attitudes and spending towards preventing problems that can start in early life. It is one of five major programmes set up by The National Lottery Community Fund to test and learn from new approaches to designing services which aim to make people's lives healthier and happier
The National Children's Bureau is coordinating an ambitious programme of shared learning for A Better Start, disseminating the partnerships' experiences in creating innovative services far and wide, so that others working in early childhood development or place-based systems change can benefit.
Sign-up to join our mailing list.