Building local parents' work skills during the pandemic
Building local parents' work skills during the pandemic
Lucie Babbington, Project Administrator with the Work Skills project at A Better Start Southend, considers how support for parents to move into employment, education and volunteering, has moved to digital delivery during the pandemic.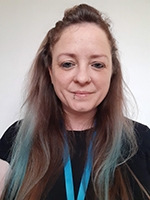 As we approach the end of the fourth year of our Work Skills project, we certainly did not imagine we'd be delivering it virtually during a worldwide pandemic!

If there's anything the last nine months have taught us here at Work Skills, it's that we are constantly surprised by how well we are all able to adapt. As lockdown started we had already cancelled two planned events, and soon realised we were facing the possibility of cancelling many more.
lockdown meant that we quickly had to come up with a solution. We began working on the "Work Skills Lockdown Delivery Plan", putting our heads together to work out how our events could be carried out in a way that aligned with government guidance, and allowed parents to take part as easily as possible.
We knew it would not be easy. For parents, sometimes finding even five spare minutes in a day is an impossible task. With home-schooling, working from home, trying to juggle play time with housework, and the anxieties and worries that come with a global pandemic, we realised it may be a challenge for parents to engage with the service in the same way as previously.
We formulated our response hoping that our events may offer a distraction, and perhaps a chance to spend spare time positively, making plans for when life gets back to "normal". Here are some of the highlights we experienced delivering this new way of working.
Throughout March and April 2020, we were due to run three co-production events which would be a chance for parents and organisations to tell us how they would like our events to run, and what types of events and courses would be most helpful in terms of looking for work, education or volunteering.
Because of the COVID-19 pandemic and subsequent government guidance, the decision was taken to replace these events with a survey. We wanted to hear from as many parents as possible, so the survey was sent out to previous participants, parents who had not engaged with us before and local employers too. Thank you to all the parents that were able to take part, we received a fantastic response. The results have helped us to develop new ideas, which started in October when we relaunched the Work Skills programme!
Alongside the co-production initiatives we were running, our popular 'Intro 2 Enterprise' course was due to run throughout May too. Suzy – a qualified Business Consultant who has delivered the course for the past couple of years - immediately set to work planning how we could run it online. The format changed from our in-person delivery of two-hour events over four weeks, to recorded presentations from Suzy once a week, which were accompanied by email handouts and weekly one-to-one phone support with her.
We were even able to run the marketplace – a session which allows participants to chat to and learn from local business support services and organisations. This session would usually take place face-to-face, but fortunately, we were able to adapt it into a virtual marketplace, where parents could choose to have one-to-one phone support with any of the services.
Another useful way that we found to tackle the challenge of not being able to meet face-to-face, was by creating themed weeks. We are unable to run two-hour in-person sessions as we would have previously, but we have been able to provide an entire themed week of online activities and phone support around various different topics.
So far, we have worked with Southend Adult Community College to produce Job Skills Week, as well as a Careers in Education Week and a Wellbeing Week. We've also run a Training & Skills week and a Volunteering week with the help of organisations including South Essex Community Hub, Job Centre Plus, Morgan Sindall and Go Train.
From October, our relaunch saw themed weeks being replaced by individual sessions, allowing us to deliver a higher number of events and engage with as many families as possible. We've been able to run live online industry visits, including a tour of a business and a talk from staff, plus information about the jobs available. We've introduced new events including one on money management, as well as individual career support sessions. We're even planning to deliver a virtual job fair to replace the in-person job fair we were hoping to run in the new year!
If you would like any more information about any of these or have any questions about the A Better Start Southend Work Skills project, please contact us today, we would love to hear from you!
Email: workskills@southend.gov.uk / LinkedIn/Facebook/Instagram: "A Better Start Southend – Work Skills"
Lucie Babbington, Project Administrator with the Work Skills project at A Better Start Southend.
About A Better Start
A Better Start is a ten-year (2015-2025), £215 million programme set-up by The National Lottery Community Fund, the largest funder of community activity in the UK. Five A Better Start partnerships based in Blackpool, Bradford, Lambeth, Nottingham and Southend are supporting families to give their babies and very young children the best possible start in life. Working with local parents, the A Better Start partnerships are developing and testing ways to improve their children's diet and nutrition, social and emotional development, and speech, language and communication.
The work of the programme is grounded in scientific evidence and research. A Better Start is place-based and enabling systems change. It aims to improve the way that organisations work together and with families to shift attitudes and spending towards preventing problems that can start in early life. It is one of five major programmes set up by The National Lottery Community Fund to test and learn from new approaches to designing services which aim to make people's lives healthier and happier
The National Children's Bureau is coordinating an ambitious programme of shared learning for A Better Start, disseminating the partnerships' experiences in creating innovative services far and wide, so that others working in early childhood development or place-based systems change can benefit.
Sign-up to join our mailing list.