Boosting community action during lockdown
Boosting community action during lockdown
Jo Smith, Community Engagement Officer at Blackpool Better Start, shows how the ideas of community members are being brought to life in Blackpool.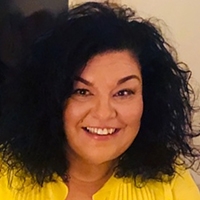 When lockdown was announced there was a lot of immediate work to make sure our targeted services and programmes could evolve to continue to help our families. One of our key areas of focus has always been community development and Blackpool families lead our strategy. It was vital that we found a way these families could still shape their community, even in lockdown.

Prior to Covid-19, we had piloted a new way to deliver and fund community led ideas. We invested in the Street to Scale model. Street to Scale is a citizen-led project developing trust in communities by giving groups instant access to funding pots of up to £1000 to come together to do something positive in their community. It is founded on five principles: trust, citizen-led, small, instant and learning.
We launched a lockdown version of Street to Scale, putting out a call to action across social media for local groups to come together with ideas to improve or help their community during lockdown. A total of 19 community groups applied for the funding and their applications were considered by a panel of their peers through Community Voice, a volunteer group made up of passionate local families that works in partnership with Blackpool Better Start to co-produce services.
Six groups in total submitted bids that were successful and they are currently being planned or delivered, they are:
Blackpool Costal Housing will use the money to develop an outdoor early years space in a children's hostel by using the money to buy picnic benches and a mud kitchen.
Aiming Higher for Disabled Children is buying musical instruments for Zoom music sessions that will help up to 40 children.
Aunty Social Group will provide families with a selection of craft activities to complete at home together, after face-to-face art groups have ceased due to lockdown.
Families in Claremont supported by Blackpool Park Rangers are developing spaces in Claremont Park for the community to grow fresh fruit and vegetables.
Daisy First Aid will provide online first-aid courses for the parents of babies and young children who cannot access parent groups during lockdown.
Layton Community House is helping to prevent social isolation by using the funding to buy tablets to shielding families, and also develop the garden at their community house to create a special space for families who visit.
Kaleigh Whitaker, a single parent who accesses services through Aiming Higher for Disabled Children with her daughter Hannah, said:
"My daughter Hannah is three years old and was diagnosed with autism last July. She likes routine and because of this, lockdown has been very difficult for her. She has become a lot fussier with her food and it's really affected her sleep. She has been very stressed and we have had days where we have both cried as Hannah can become upset and aggressive when she's out of routine.
"Sensory stimulation really helps Hannah and the Better Start funding will be used to provide musical instruments to families with disabled children. We will now be able to join in with a zoom class with Jo Jingles, who we would usually see at Aiming Higher during one of the group sessions.
"This will give back a little bit of the routine to families like mine who have struggled with not having this and it will provide sensory stimulation which will give them a sense of release from the stress they feel. It will also help with their fine motor skills. Honestly it will mean on the day she has Jo Jingles she will eat better, sleep better and generally feel much better."
Peter Mercer, Manager at Layton Community House, explains what the funding means to him:
"Normally, our community house is used for daily drop-ins, and we run craft sessions, CBT counselling, mental health and dementia groups. The last few months have been incredibly tough for our community, as we've only been able to provide support virtually.
"The funding is a godsend as it will allow us to purchase a few tablets to allow some of our elderly visitors to be in touch with family members. Being so isolated has affected this age group the most since lockdown. It will also allow me to improve the front of the building to make it more welcoming to any visitors waiting to use the house."
The project has had such positive feedback and we look forward to launching Street to Scale 'proper' in the Autumn with a launch campaign, new webpage, branding and case studies to make sure it reaches every family in Blackpool.
Jo Smith is Community Engagement Officer at Blackpool Better Start.
About A Better Start
A Better Start is a ten-year (2015-2025), £215 million programme set-up by The National Lottery Community Fund, the largest funder of community activity in the UK. Five A Better Start partnerships based in Blackpool, Bradford, Lambeth, Nottingham and Southend are supporting families to give their babies and very young children the best possible start in life. Working with local parents, the A Better Start partnerships are developing and testing ways to improve their children's diet and nutrition, social and emotional development, and speech, language and communication.
The work of the programme is grounded in scientific evidence and research. A Better Start is place-based and enabling systems change. It aims to improve the way that organisations work together and with families to shift attitudes and spending towards preventing problems that can start in early life. It is one of five major programmes set up by The National Lottery Community Fund to test and learn from new approaches to designing services which aim to make people's lives healthier and happier
The National Children's Bureau is coordinating an ambitious programme of shared learning for A Better Start, disseminating the partnerships' experiences in creating innovative services far and wide, so that others working in early childhood development or place-based systems change can benefit.
Sign-up to join our mailing list.