Blackpool's Christmas campaign
Blackpool's Christmas campaign
Blackpool's Christmas campaign offers advice and festive cheer to local families. Hannah Connell, Senior Communications Officer at Blackpool Better Start describes how it came about.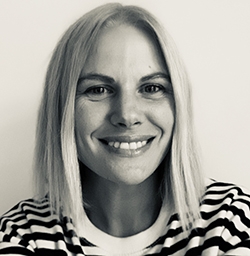 Planning the Blackpool Better Start Christmas campaign for 2021 provided some unique challenges as the Covid landscape remained uncertain. Pre-pandemic, our annual Winter Wonderland community event attracted hundreds of families from across the town, but it was clear that this format wouldn't be appropriate due to the risk of infection at such a large-scale event.
The aim of the Christmas campaign is not just to provide families with a fun-festive experience, but – more importantly - to offer support, signposting and advice to parents living in the Better Start wards. The Christmas initiatives and events offer an effective way of engaging families and initiating conversations with the community about the support available.
To engage more families in Blackpool with Better Start, the team developed three elements for this campaign. These were:
To offer a free, personalised letter from Father Christmas to Blackpool-based children aged 0-4
To give the community an opportunity to visit Father Christmas in a mobile grotto and participate in Christmas crafts, stories and music activities.
To communicate advocacy messages around food and fuel poverty and signpost to services available to families in the town.
Personalised letter from Father Christmas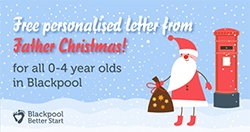 To increase engagement with families, a social media campaign was launched to offer a personalised letter from Father Christmas to Blackpool children aged 0-4.
1,137 families applied for the letter after it was promoted on Facebook and the campaign reached 16,000 people in the local area. From this, 112 families requested a call from the Community Connector team and 77 food parcels were distributed.
Pop-up grottos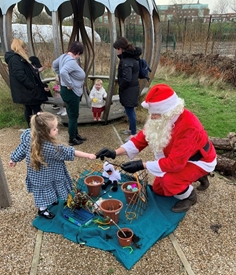 For a full week in December, mobile grottos were created in key community locations. The sessions included a visit to Father Christmas, a story-time, craft activities and singing, and all children were gifted a book and a set of jingle bells.
The event was promoted on social media and families were asked to enter a ballot to gain a place in one of the 10 sessions being held over the week. These entries were allocated to families, with those living in the Better Start wards, and those receiving support from the Early Help and Family Contact Teams, being given priority.
During the week the grottos were visited by 118 families and a total of 161 children got to experience the magical pop-up winter wonderlands.
All of the grotto events were attended by Community Connectors who were on hand to talk to parents and signpost them to relevant services and support.
Advocacy campaign
A recent poll of over 300 Blackpool professionals found that 73% of those questioned expected fuel and food poverty to be the biggest challenge faced by Blackpool families this winter.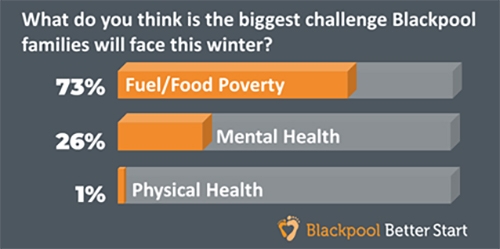 From this, the advocacy themes for 2021 were clearly identified and this gave a clear direction for the messages and support to be communicated to the community. The team researched the current provision in Blackpool to help families suffering from fuel and food poverty, and a range of ways to ensure families were aware of the available support were made. These included films on social media about grants and the various services that are available, and literature about food parcels which were distributed at all the grotto events.
The campaign messages around food and fuel poverty will continue over the winter, to ensure families are aware of the sources of support.
Feedback from families has been fantastic. One mum said: "Jersey-Hope had such good fun and it was made magical by all the team interacting with all the children so nobody felt left out. It really was like a Christmas wonderland."
Christmas 2022
Overall, we feel that the Christmas campaign provided an innovative approach to engaging families despite the difficulties caused by the pandemic. All the activity cost less than £3000 which is far less than the previous large-scale events we have run, so it will be interesting if (when!) we return to "normal" life, if this new engagement model is adopted or whether we will return to working the way we did pre-Covid.
Hannah Connell is Senior Communications Officer at Blackpool Better Start
About A Better Start
A Better Start is a ten-year (2015-2025), £215 million programme set-up by The National Lottery Community Fund, the largest funder of community activity in the UK. Five A Better Start partnerships based in Blackpool, Bradford, Lambeth, Nottingham and Southend are supporting families to give their babies and very young children the best possible start in life. Working with local parents, the A Better Start partnerships are developing and testing ways to improve their children's diet and nutrition, social and emotional development, and speech, language and communication.
The work of the programme is grounded in scientific evidence and research. A Better Start is place-based and enabling systems change. It aims to improve the way that organisations work together and with families to shift attitudes and spending towards preventing problems that can start in early life. It is one of five major programmes set up by The National Lottery Community Fund to test and learn from new approaches to designing services which aim to make people's lives healthier and happier
The National Children's Bureau is coordinating an ambitious programme of shared learning for A Better Start, disseminating the partnerships' experiences in creating innovative services far and wide, so that others working in early childhood development or place-based systems change can benefit.
Sign-up to join our mailing list