Better Place, Better Life
Better Place, Better Life
Annabel Mason, Senior Project Officer for Better Start Bradford's Better Place programme showcases the extensive work that the team have been doing in the community. Not only have they been improving and installing play spaces for 0-3s, but major work has gone into making it a happier, healthier and safer environment to live in.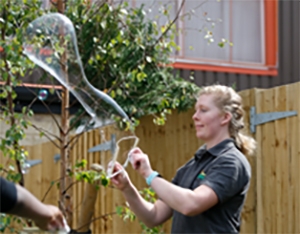 When we started the Better Place project, the key aims were to make our area more family friendly for 0-3's by enhancing the green spaces that we have, encouraging walking by making routes to nurseries and schools more toddler friendly and away from the main roads, and to improve air quality through tree planting and air pollution reporting – all these small changes aiming to give our children the best start possible.
In Better Start Bradford's latest podcast 'Greener Cities, Healthier Communities', Senior Research Fellow at ActEarly, Shahid Islam talked about the link between green space, air quality, rich biodiversity and health in children. Shahid shared a stark insight into the reality of the impact high levels of air pollution and environmental factors have on the development of our children from womb to later on in life.
We know that having green spaces available in our area is a massive boost for good health especially during pregnancy for both the mother and the unborn child. Research tells us that pregnant women who live in green spaces tend to experience much lower levels of depression compared to women that do not live in those areas.
We also know that in our area of Bradford (Bowling and Barkerend, Bradford Moor and Little Horton) your life expectancy is significantly reduced by 10 years compared to 'greener' areas in the Bradford District such as Burley in Wharfedale. Worryingly 'healthy years' at the end of life are also reduced by 20 years in comparison to Ilkley.
Shahid said we need to look at this like a jigsaw rather than one big piece, with every piece adding to improving health inequalities and reducing air pollution. If everyone in the community could make small changes to their lifestyles, then this could lead to huge positive changes to protect our young children and improve their health outcomes.
I am proud to say that our Better Place project has already making some significant headway in bringing those pieces together. Here is a highlight of what our Better Place project are doing to reduce air pollution for our 0-3's in the Better Start Bradford area:
School Streets - Better Place is working with Public Health, Bradford Council engineers and JU:MP on 10 pilot school street schemes to encourage active travel to school (walking, wheeling – bikes/scooters) instead of making small journeys by car. Different measures to suit different schools such as road closures, parking away from school gates, walking buses etc.
Tree Planting - Public Health and National Lottery funded tree planting schemes to plant large trees that will have some impact on filtering air pollution on busy routes in and out of Bradford, capturing noxious chemicals so that little ones breathe less in. The team even appeared on BBC's Countryfile in 2020 as part of a large tree planting initiative in Bradford's built-up areas.
Improving air pollution near schools – Better Place have provided local schools with air pollution reports advising on measures the schools could take to lessen impact. They have worked with some of these schools to implement recommendations including boundary hedge planting to trap pollution, moving waiting areas away from the road, moving play areas as far away from roads as possible. This work is continuing with other schools in the area.
Through campaigns we have been encouraging communities to use their cars less, for example a no idling campaign outside schools (turning engines off whilst waiting), walk to school schemes, supporting lots of other national and local campaigns such as Clean Air Day.
Worked in collaboration with Bradford Council on Active Travel schemes and low traffic neighbourhoods.
Developed playful spaces along routes to schools and nurseries and developed paths to bypass busy roads to encourage walking to school rather than using cars.
Better Place have included a wheelie track in Bowling Park, so 0-3's can practice off-road wheelie travel.
Developed Toddler Trails in Bradford parks to encourage walking and walking away from the road. They worked with another Better Start Bradford project 'Baby Steps' to get copies of little one's footsteps.
Delivered several litter picking events with local families and volunteers.
Designed activity trail maps to encourage families out and about walking in local parks. One such map included sculptures that have been implemented in different parks in the area.
Improved the quality of local and doorstep spaces such as Pocket Parks, alleyways so people don't have to travel so far for somewhere to play.
The team have developed close working relationships with Bradford Council and the Healthy Places group to support implementation of initiative such as the Clean Air Zone.
And if that wasn't enough, Better Place have made and are making massive improvements to all of the local parks in the Better Start Bradford area, including Attock Park, Bowling Park, Bradford Moor Park, Horton Park and Myra Shay, with new toddler play areas, story trails, toddler trails, animal and interactive sculptures, sand pits, wheelie tracks, a fish mosaic pond, little story libraries and much more.
The environment plays such an active role in our health, and we can all take personal responsibility in those small steps to make change and make Bradford a better place for us all to live in. Our Better Place project is well and truly taking responsibility by building that jigsaw one small 'toddler step' at a time.
About Better Place
Better Place is a Better Start Bradford project that is being delivered in collaboration with Bradford Council, Groundwork UK, Public Health, voluntary and community sector groups and local people.
About Shahid Islam
Shahid Islam is Senior Research Fellow in the ActEarly Collaboratory with a special interest in citizen science and co-production. Prior to joining Bradford Institute for Health Research, Shahid held several posts in both the voluntary and statutory sector to drive forward the engagement and involvement agenda.
In 2015 Shahid was the winner of Bradford's Community Star Award for outstanding services to the voluntary sector. His recent research has concentrated on community inclusive approaches and how these can support efforts to reduce health inequalities.
Listen to our latest podcast here: 'Greener Cities, Healthier Communities'
About A Better Start
A Better Start is a ten-year (2015-2025), £215 million programme set-up by The National Lottery Community Fund, the largest funder of community activity in the UK. Five A Better Start partnerships based in Blackpool, Bradford, Lambeth, Nottingham and Southend are supporting families to give their babies and very young children the best possible start in life. Working with local parents, the A Better Start partnerships are developing and testing ways to improve their children's diet and nutrition, social and emotional development, and speech, language and communication.
The work of the programme is grounded in scientific evidence and research. A Better Start is place-based and enabling systems change. It aims to improve the way that organisations work together and with families to shift attitudes and spending towards preventing problems that can start in early life. It is one of five major programmes set up by The National Lottery Community Fund to test and learn from new approaches to designing services which aim to make people's lives healthier and happier
The National Children's Bureau is coordinating an ambitious programme of shared learning for A Better Start, disseminating the partnerships' experiences in creating innovative services far and wide, so that others working in early childhood development or place-based systems change can benefit.
Sign-up to join our mailing list