A Stitch in Time Saves Nine' - Why a little bit of mental health training can go a long way
A Stitch in Time Saves Nine' - Why a little bit of mental health training can go a long way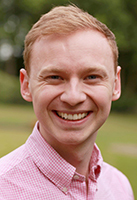 The idea that prevention is better than cure is not new. Indeed, the old adage, 'a stitch in time saves nine' dates back to the 1700s. But when thinking about the complexities of child development and mental health, how can we truly be preventative? Here at the Little Minds Matter: Bradford Infant Mental Health Service, we use training as our one stitch to save nine.
Early intervention is important for good mental health
We know that 75% of adults who experience mental health difficulties started to experience these difficulties in childhood and adolescence, and 50% began before the age of 141. There has been increasing recognition of the importance of very early life experiences in laying the foundation for future mental health. The first 1001 days of life – from conception to age two – has been called a 'critical' time of development. The quality of care we receive in this time lays the foundations for a whole range of future health and mental health outcomes2.
With this in mind, the need for early intervention could not be clearer. However, tight budgets, stretched clinical teams, and scarce resources make achieving early intervention a challenge for the health and care system.
A little bit of training goes a long way
Small and specialist services, like Infant Mental Health services, cannot be viewed as the solution to the challenges facing the health and care systems. Rather, our role must be to share the latest research and best practice around early intervention with practitioners working with families from conception to age two.
Early intervention can be woven into everyday contacts with families if practitioners from universal services, such as health visitors and midwives, are given time to maintain their knowledge and skills based on the latest research.
As a service, we offer a one-day Infant Mental Health Awareness training course to support learning around how babies' brains develop, attachment, and how to support high quality parent-infant interactions. This training has been popular; we have trained more than 200 professionals in Bradford in our first year of offering the course.
From the classroom to the clinic – putting training into practice
One challenge of training staff is ensuring that the training is readily transferrable to clinical practice. Professionals need to be able to apply what they have learned outside of the classroom and into each contact that they have with families. To help with this, we have developed a half-day follow-up training course. This focuses on putting their new infant mental health knowledge into action, by practising skills in observing parent-infant interactions and how to deal with potentially difficult conversations with families about early bonding and attachment.
Does a stitch in time save nine?
"Thank you all for putting on an excellent training session on infant mental health, I thoroughly enjoyed it and learnt lots, which I'm sure I will be able to incorporate into my practice." (Psychological Therapist)
Feedback from practitioners who attend our training is positive. Preliminary outcome evaluation suggests that practitioners feel more knowledgeable after our training and found it useful to their clinical practice. This suggests that a little bit of training really can go a long way, and we have partnered with the University of Leeds to independently evaluate the extent to which our training offer impacts on clinical practice.

About Little Minds Matter
The Little Minds Matter: Bradford Infant Mental Health Service is a Better Start Bradford Project. Better Start Bradford is funded by The National Lottery Community Fund to help children in Bowling and Barkerend, Bradford Moor, and Little Horton get the best start in life. We are delivered by Bradford District Care NHS Foundation Trust and have confirmed funding until August 2021.
References
1Kessler RC, Berglund P, Demler O, Jin R, Merikangas KR, Walters EE. (2005). Lifetime Prevalence and Age-of-Onset Distributions of DSM-IV Disorders in the National Comorbidity Survey Replication. Archives of General Psychiatry, 62 (6) pp. 593-602. doi:10.1001/archpsyc.62.6.593.
21001 Critical Days (2016). The importance of the conception to age two period. Cross Party Manifesto

About A Better Start
A Better Start is a ten-year (2015-2025), £215 million programme set-up by The National Lottery Community Fund, the largest funder of community activity in the UK. Five A Better Start partnerships based in Blackpool, Bradford, Lambeth, Nottingham and Southend are supporting families to give their babies and very young children the best possible start in life. Working with local parents, the A Better Start partnerships are developing and testing ways to improve their children's diet and nutrition, social and emotional development, and speech, language and communication. The work of the programme is grounded in scientific evidence and research. A Better Start is place-based and enabling systems change. It aims to improve the way that organisations work together and with families to shift attitudes and spending towards preventing problems that can start in early life. It is one of five major programmes set up by The National Lottery Community Fund to test and learn from new approaches to designing services which aim to make people's lives healthier and happier
The National Children's Bureau is coordinating an ambitious programme of shared learning for A Better Start, disseminating the partnerships' experiences in creating innovative services far and wide, so that others working in early childhood development or place-based systems change can benefit.
Sign-up to join our mailing list