A little animation goes a long way…
A little animation goes a long way…
Cara Thompson, Marketing and Communications Officer at Small Steps Big Changes, looks at how a series of animated videos is capturing the attention of little ones in Nottingham.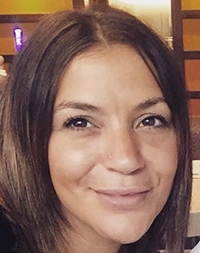 Small Steps Big Changes (SSBC) has taken a proactive approach to ensuring positive engagement with families during Covid-19 lockdown; by thinking outside the box, we've come up with a whole new way to keep in touch with families.

Our starting point during lockdown was a realisation that cancellation of our free groups and activities would have an enormous impact, not only on children's development socially, but also through the additional pressure on care givers' ability to support learning through play in the home environment.
To address these needs, we began to look at how we could put together engaging content aimed at children, which would support learning and be both fun and interactive. Having come across the work of SoJo Animation as part of our Ideas Fund and having met her at one of our community engagement events, she was an obvious choice to support with this work.
"Each project is an exploration into the creative thought processes of little ones, inspiring puppetry, digital animation, or sometimes a mixture of the two at the same time. Children experience the world in a wonderful way and Sojo Animation is my window back into that world (if only for a moment or two).''

SOJO Animation
SOJO Animation is a Nottingham based artist, who helps to celebrate the wonderful imaginations of children. Her child-led creativity, experience and approach to working spoke to us as we set to work with her on production of a series of four interactive shows that we would distribute via our new YouTube channel.
Each up-beat episode was aimed to get children to get up and dance, join in with the story and get creative with low-cost/no-cost ideas for things to make!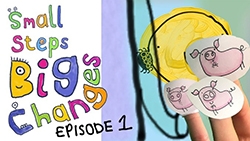 We couldn't have wished for a better response. The reactions we received were all extremely positive, with little ones returning to the show to re-watch throughout the week and asking 'When is SOJO back?' They've also received a great big stamp of approval from children, caregivers, our Parent Champions and local Councillors; we know because they've told us so!
'Evelyn absolutely loved this and made her very own three little pig's scene this morning. Thank you so much!'
Cllr Chantal Lee, St Ann's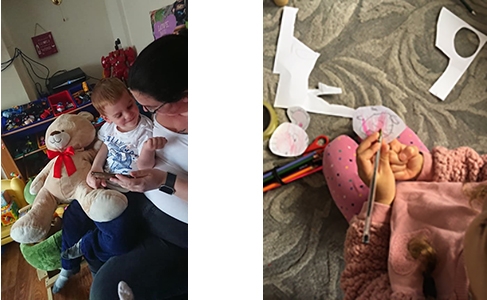 Mummy & Jake, Aspley
A press release on the launch of the episodes resulted in our Programme Director, Karla Capstick, being invited on to NOTTS TV to talk about the show and SSBC's response during the crisis (6 minutes in) https://nottstv.com/programme/ey-up-notts-thursday-16th-april/ . We also saw information included on the Nottingham Mutual Aid (Covid Response) and Family Lockdown Ideas pages via Facebook.
The feedback we received made us realise how powerful the medium of animation could be, with its immediate charm and ability to engage. We therefore took the decision to continue the SoJo Animation love a little longer, producing a further four ten minute episodes.
The first two of these focused on our fifth birthday, and what it might feel like for anyone who's had to celebrate a birthday in lockdown without being able to see friends and family.
Our final two episodes (to date) focused on oral health and the importance of toothbrushing. This work was undertaken in close collaboration with the oral health team at Notts Healthcare and built on messaging from our 'brush, book and bed' activity sessions. It also introduced us to Alfonso the Lion.
Once our episodes were aired, we very quickly realised that by sharing them via other channels we could increase engagement further. For instance, by reaching families who only engage with us via Facebook and Instagram. We've also included links to episodes from the Covid19 update on our website.
We're now looking at how we can further build and develop this work. But for the time being each episode can still be viewed via our YouTube channel and features our very own Small Steps Big Changes theme tune! Watch out though, as it's likely to become your new earworm!
Cara Thompson is Marketing and Communications Officer at Small Steps Big Changes in Nottingham

About A Better Start
A Better Start is a ten-year (2015-2025), £215 million programme set-up by The National Lottery Community Fund, the largest funder of community activity in the UK. Five A Better Start partnerships based in Blackpool, Bradford, Lambeth, Nottingham and Southend are supporting families to give their babies and very young children the best possible start in life. Working with local parents, the A Better Start partnerships are developing and testing ways to improve their children's diet and nutrition, social and emotional development, and speech, language and communication.
The work of the programme is grounded in scientific evidence and research. A Better Start is place-based and enabling systems change. It aims to improve the way that organisations work together and with families to shift attitudes and spending towards preventing problems that can start in early life. It is one of five major programmes set up by The National Lottery Community Fund to test and learn from new approaches to designing services which aim to make people's lives healthier and happier
The National Children's Bureau is coordinating an ambitious programme of shared learning for A Better Start, disseminating the partnerships' experiences in creating innovative services far and wide, so that others working in early childhood development or place-based systems change can benefit.
Sign-up to join our mailing list.