A Festival of conversations in Southend: getting families talking about the early years
A Festival of conversations in Southend: getting families talking about the early years
Richard Newson, Media and Communications Manager at the National Children's Bureau, looks at the learning behind a campaign to engage with expectant parents and families with very young children in Southend.
'Raising Southend - A Festival of Conversations' is in its second year - the team learnt a lot when the campaign first took place in 2021 and listened to feedback from parents to create and improve this year's programme. Staff at A Better Start Southend wanted to involve expectant parents and families as closely as possible, so the events resonated with them.
Working closely with local Parent Champions, professionals, and community leaders, the festival has adopted a 'fringe' style theme with over 35 events taking place across the city from 12-26 October.
A new feature to this year's format, which have proven to be one of the highlights of the festival, is the introduction of four roadshows. The roadshows are free flowing events, incorporating different themes, centred around early years activities. Each includes local service providers, charities, health specialists and professionals to offer guidance and advice to parents and also network opportunities for professionals.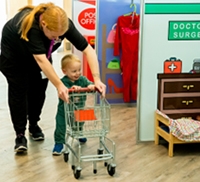 The Pregnancy & Early Years Health Roadshow took place on Thursday 20 October at the Maritime Rooms at Cliffs Pavilion. Little City Southend was the attraction for the children and provided child-sized role-play zones based on different industries and professions including a construction site with wheelbarrows, high viz jackets and foam bricks, a grocery shop with tills and shopping trolleys, and a vet's surgery with uniforms, stethoscopes and toy animals.
The children (and some adults!) were more than content, trialling all that Little City had to offer. We also had the option of a creche on site organised by our skilled creche team including child led activities. This enabled parents to explore the various individual stalls to find out more about A Better Start Southend, our delivery partners and related services available to them in Southend.
Aside from the early years themes, the emphasis of this particular roadshow was pregnancy. Midwives, specialist health visitors, local GPs and pharmacists were on hand to welcome expectant families, and together they started conversations and asked and answered questions in a relaxed environment.
Other service providers and charities present included:
Bump to Breast – ABSS' breastfeeding support group, providing weekly meet ups across the city.
Chaos & Calm – sensory sessions for children with additional needs.
Home-Start Essex – a home-visiting volunteer support service addressing topics such as routines, managing anxiety, budget and finance, playing and engaging with children.
NHS Community Dental Services – giving advice around oral health, teething and growing stages.
Healthwatch Southend – welcoming feedback, ideas and concerns around NHS health and social care services.
Compass – the Essex domestic abuse helpline.
Little Heroes ASD Support – offering support and sessions to families with children with autism and open to those who have not received a diagnosis.
Cake Club – parenting support group with regular walks, events and 'parenting solo' group sessions.
Family Action – including schemes such as Food On Our Doorstep (FOOD) which allow families to accept good quality food at a low cost while reducing food waste. This service is only £1 a year to become a member and allows families to make substantial savings on weekly groceries, along with life-skills workshops.
Trust Links projects – offering a Dad's Group and Families Growing Together sessions across ABSS wards, allowing local parents to meet each other as they learn gardening and a range of other activities.
YourFamily – providing sessions such as Feel Good Friday (self-care for parents alongside a creche), Tiny Touch Baby Massage and much more. YourFamily also signposts to other services available across Southend.
ABSS 1-2-1 Breastfeeding – providing support from breastfeeding specialists who can visit mothers to assist with any feeding issues or concerns.
ABSS Family Support Workers for Speech and Communication Needs – offering peer support for communication and language intervention
Gold Geese – a local charity that support children with cancer and their families, across Southend and Basildon.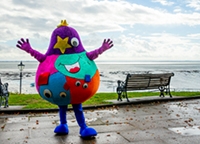 The ABSS mascot, Pip, was also invited and enjoyed meeting everyone. For those who haven't come across Pip before, the mascot was a collaborative design by local young children, who love the friendly character.
ABSS have distributed evaluation cards at each event to capture attendees' feedback of individual events. This data will be compiled by the Data and Research team at the end of the festival to create a final evaluation report and to help to shape future events.
To support the project team with the festival, ABSS appointed Bromfield Events who provided a framework, timeline, contacts and resources where necessary to help create a festival within budget. Film Free Photography provided professional photography at some of the key events to capture proceedings, and Soundcastle Media captured special moments on video of the opening ceremony and other video friendly events.
All in all, the programme was a great success and helped parents and families make fruitful connections with the services on offer while having a fun day out.
Find out more about A Better Start Southend
About A Better Start
A Better Start is a ten-year (2015-2025), £215 million programme set-up by The National Lottery Community Fund, the largest funder of community activity in the UK.
Five A Better Start partnerships based in Blackpool, Bradford, Lambeth, Nottingham and Southend are supporting families to give their babies and very young children the best possible start in life. Working with local parents, the A Better Start partnerships are developing and testing ways to improve their children's diet and nutrition, social and emotional development, and speech, language and communication.
The work of the programme is grounded in scientific evidence and research. A Better Start is place-based and enabling systems change. It aims to improve the way that organisations work together and with families to shift attitudes and spending towards preventing problems that can start in early life. It is one of five major programmes set up by The National Lottery Community Fund to test and learn from new approaches to designing services which aim to make people's lives healthier and happier
The National Children's Bureau is coordinating an ambitious programme of shared learning for A Better Start, disseminating the partnerships' experiences in creating innovative services far and wide, so that others working in early childhood development or place-based systems change can benefit.
Sign-up to join our mailing list