A Better Start – tackling communication and language vulnerabilities
A Better Start – tackling communication and language vulnerabilities
Matt Riddell, Funding Manager at The National Lottery Community Fund, considers how the appearance of a range of initiatives encouraging children to speak and interact with adults, signal that the importance of good early communication and language is now being recognised.
It feels like a long time since The National Lottery Community Fund (The Fund) created the eye catching Big Little Moments campaign. A campaign co-commissioned with our five A Better Start (ABS) partnerships in Blackpool, Bradford, Lambeth, Nottingham and Southend-On-Sea which aimed to build public understanding of brain development in babies and very young children and the importance of caregiving interactions, those 'Big Little Moments'.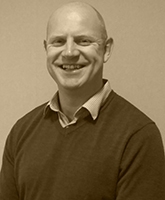 The campaign had a strong emphasis on improving speech and language, and social and emotional development skills, by encouraging an increase in the quantity and quality of caregiving interactions.
Since then I've watched with interest as other campaigns, tools and resources have emerged with similar aims. i.e. to give children the best possible start to life.
Thankfully, the importance of good early communication and language is now recognised and children are encouraged to speak and interact with adults. Unlike growing up in the 80s when I frequently heard that "Children should be seen and not heard" or "to only speak when you're spoken to"!
The BBC's Tiny Happy People is one of those initiatives that aims to close the communication gap by providing resources to support speech and language in the early years, providing a firm foundation that can be built on throughout their lives. The online resources have been used across our A Better Start areas as they add value to the work parents, volunteers and practitioners already do as a result of our 10-years of grant funding.
At the Fund we recognise that A Better Start doesn't sit in isolation and we don't have a monopoly on all things early years. A Better Start is part of a complex web of systems and resources that parents and practitioners can access and it is important for the legacy of our investment that all local early years services utilise other non-grant-funded resources as well as resources, learning and evidence from A Better Start itself. But why are early language skills important and why is there so much focus on this area by us (The National Lottery Community Fund) and others such as the BBC?
A recent study by Pro Bono Economics looked at the economic cost of early vulnerable language skills and produced some striking conclusions. For example: "Children with a poor vocabulary at age five are more than twice as likely to be unemployed at age 34".
Our five A Better Start partnerships were chosen for a number of reasons including evidence that there was a high level of need in relation to communication and language in the chosen wards. It is easy to conclude that the communication gap and negative outcomes associated with this were more likely to impact babies born in A Better Start areas.
I'm proud to say that there is already evidence that A Better Start is meeting one of its ambitions: to improve communication and language skills in babies and young children, and therefore improve their life chances. A Better Start partnerships recognise the value of supporting early language skills and, with funding from National Lottery players, have implemented their own portfolio of work in this field. The following examples were provided in 2020 by A Better Start Partnerships in relation to their speech and language work:
Better Start Southend
A Better Start Southend (ABSS) has a suite of speech and language interventions under the banner 'Let's Talk'. Between 2015 and 2019, 1,770 beneficiaries had engaged in 'Let's Talk' activities. The focus on prevention has resulted in a significant drop in the number of children being referred to statutory speech and language support and an improvement in the appropriateness of referrals to speech and language therapy services. Overall, data in 2020 demonstrated significant improvements in speech and language for children in A Better Start Southend wards, with 85.6% of children achieving at least the expected level of development in speaking, compared to 77.9% previously.
Blackpool Better Start
Blackpool Better Start training is now provided for all health visitors to use the WellComm Assessment, a speech and language toolkit for screening and intervention in the early years. All children in Blackpool are now offered screening at 9-12 months, 24 months and 36 month checks. Practitioners across several early years settings have also received the training and resources to enable them to use the WellComm tool.
Better Start Bradford
Better Start Bradford's 'Talking Together' project is a six-week home visiting programme delivered by BHT Early Education and Training. It aims to develop parents' knowledge of the importance of a good language environment and to improve parent-child interactions. All two-year-olds in the Better Start Bradford area are offered a language assessment, then families identified as potentially benefitting from additional support are offered the programme. Weekly sessions cover five topics related to improved language and communication, including: what is communication; play; attention and listening; turn taking; praise and encouragement.
Lambeth Early Action Partnership's (LEAP)
Lambeth Early Action Partnership's (LEAP) 'Talk & Play Every Day' programme is delivered by the Evelina London Children's Community Speech and Language Therapy Team and is central to LEAP's communication and language strand. It has three aspects: Chattertime, a group-based intervention delivered by specialist Speech and Language Therapists to parents of children who are at risk of a speech language or communication need; health promotion through the dissemination of consistent messages about communication and language development; and training for early years settings to achieve the 'Evelina Award for Communication Friendly Environments'. This training has provided LEAP early years practitioners with the knowledge and confidence to identify speech, language and communication needs using the WellComm Assessment tool, support communication and language development in their settings and to signpost or refer the child/parent for support in a timely manner. The focus on earlier identification meant that in 2020, as many as 50 additional children were referred for specialist support from EY settings within the LEAP wards within one academic term.
Nottingham's Small Steps Big Changes (SSBC)
Nottingham's Small Steps Big Changes (SSBC) has helped roll out Dolly Parton's Imagination Library book gifting scheme across the city. In 2020, over 4,500 children had registered on the scheme and 39 public, voluntary and independent nursery settings had also received books. SSBC also commissioned: Story and Rhyme Time; and FRED (Fathers Reading Every Day). SSBC is the key funder in the National Literacy Trust's 10 year partnership hub 'Read On Nottingham'. In 2020, the hub had delivered 'Early Words Together at 2' to 13 settings, benefitting 104 families in SSBC wards and aimed at building nursery workforce capacity to support parents to improve the home learning environment. It has also recruited 40 Literacy Champions to work in communities.
A Better start services continue to evolve as partnerships test and learn about the best ways to support families. This includes tapping into good quality non-Lottery funded learning resources such as Tiny Happy People. Our Funding will end in 2025 and having reduced or even closed the gap in terms of early language development, it is important that our ABS partnerships sustain their impact beyond this period. This can only be achieved through good leadership, education and empowering families and communities to continue to focus on key early childhood development areas including speech and language. To support this legacy each local partnership has its own local evaluation and The Fund have commissioned an ABS National Evaluation to generate evidence that will improve early childhood services for the future.
About A Better Start
A Better Start is a ten-year (2015-2025), £215 million programme set-up by The National Lottery Community Fund, the largest funder of community activity in the UK. Five A Better Start partnerships based in Blackpool, Bradford, Lambeth, Nottingham and Southend are supporting families to give their babies and very young children the best possible start in life. Working with local parents, the A Better Start partnerships are developing and testing ways to improve their children's diet and nutrition, social and emotional development, and speech, language and communication.
The work of the programme is grounded in scientific evidence and research. A Better Start is place-based and enabling systems change. It aims to improve the way that organisations work together and with families to shift attitudes and spending towards preventing problems that can start in early life. It is one of five major programmes set up by The National Lottery Community Fund to test and learn from new approaches to designing services which aim to make people's lives healthier and happier
The National Children's Bureau is coordinating an ambitious programme of shared learning for A Better Start, disseminating the partnerships' experiences in creating innovative services far and wide, so that others working in early childhood development or place-based systems change can benefit.
Sign-up to join our mailing list.