Simon Boguszewicz - BRIDGES
Simon Boguszewicz - BRIDGES
Simon joined the BRIDGES project early November 2016 after meeting the project officer at Walsall Job Centre.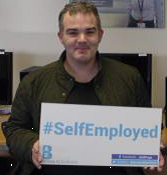 Simon had been unemployed for many years after sustaining an injury in his last role. He has always been a keen fisherman and is able to fish anywhere from local canals to competition pools and made his own bait when he was a child.
Although he lacked confidence, Simon was keen to explore fishing further, and worked with a project officer to develop a robust business plan. They worked on a one to one basis to look at every element of the business from customer base to sales and financial forecasts.
Simon pitched to the New Enterprise Allowance (NEA). NEA were pleased with his plan and granted a £2500 business start-up loan. He has already developed and sold testing baits and is getting ready for the new fishing season.
Simon said of the support he had received from Access to Business and BRIDGES "You've helped me focus, I know where I want to be and how to get there. The support from BRIDGES has been phenomenal, I don't think you realise the help you've given me and how it will change my life. You have to try new things in life or you'll never move forward, although scary it's part of the adventure"