Samara Latit - GEM
Samara Latit - GEM
Samara came to the UK in 2014. She was previously a teacher in Pakistan but has now been unemployed since August 2015. With English not being her first language, she felt she needed more confidence and support to find employment in this country.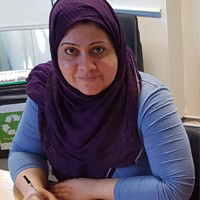 "The GEM Project has given me lots of ideas on what to do. It has helped me to become more independent and stand on my own feet. I have completed a Direction to Success course which has really supported me and given me the energy and an aim to work towards."
She is now volunteering at the Haven Family Nursery to build her experience and improve her English further. With a background in teaching, this childcare route is ideal for her and she is extremely keen to gain a childcare qualification to develop her skills further.
"I searched for my volunteering position with the help of my Navigator Developer; her methods are very interesting and I now feel mentally ready to get a job in the UK. I would recommend the GEM Project to anyone. My Navigator Developer has really helped me move forward and improve my life."