Belinda - Let's get working
Belinda - Let's get working
Belinda had recently left a job of 10 years. Her confidence had been knocked and she was unsure where to turn for support. She was worried she wouldn't gain employment easily, but heard about Let's Get Working, part of Building Better Opportunities, from another professional service she was working with.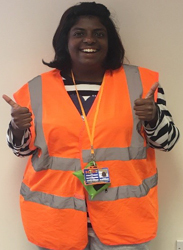 As part of Let's Get Working, support staff at the Sussex Community Development Association team helped Belinda access the IT suite to work on her CV and apply for job roles. Her confidence soared during this intensive 1 to 1 support.
Belinda learned new work-based skills while volunteering with St Michael's Hospice within the day care services.
After securing an interview for a job role Belinda began interview training. Not having had an interview in 10 years, she felt she was out of touch, and needed help to ease her nerves and provide moral support.
With this interview support, Belinda successfully secured a job at 247 Taxis as a Passenger Assistant, supporting children with educational or behavioural needs on their way to and from school. Her manager said "the staff have fed back that Belinda is really good and the children love her."
"I've appreciated the constant friendliness and the warm, welcoming environment at Let's Get Working. They gave me hope and believed in me when I was low."