June Durham - GEM
June Durham - GEM
Being a full-time Mum, June had been unemployed for around 7 years.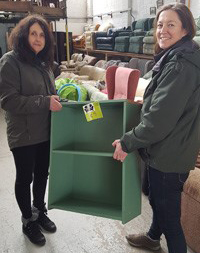 "I have wanted to get back into the world of work for a while and was working with the Job Centre, but was mainly going on different courses rather than getting any real work experience."
June began receiving support from GEM (Going the Extra Mile) – a project funded as part of Building Better Opportunities - in November 2016. After two months working with her Navigator Developer to build her confidence, June secured a work placement. Having developed her employability skills, she applied for a paid position at the Forest Upcycling project and was offered the role.
"I've really enjoyed being on the GEM Project. I'd much rather be working than only doing courses and it's given me the chance to get some real hands-on experience which I can reference on my CV. The support from my Navigator Developer has really helped bring me along and build my confidence, and now from this project I've been able to get a job."