Colin Maycock - Accelerate
Colin Maycock - Accelerate
Colin Maycock is one of the first people to be supported by Accelerate, a project funded as part of Building Better Opportunities. The former maintenance Supervisor suffered a stroke on holiday in the US in 2014 that left him requiring surgery, barely able to walk and struggling with his speech.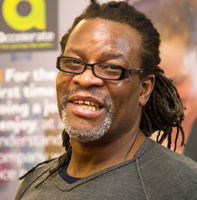 Working with his Journey Guide, Colin accessed subsidised gym membership to help with his rehabilitation, and took part in a number of confidence building exercises.
"It was the constant encouragement that I really appreciated and the fact that you knew people are there to support you as you find a new direction," explained Colin, who was 57 this year.
"I made it clear early on that I wanted to return to work and would like to give something back, so Accelerate put me in touch with The Stroke Association and I've just started to volunteer there.
"It's early days as I'm learning all of the different modules involved with the job, but I'm really enjoying being back in the workplace. I'll probably start off with some admin duties and then move on to one-on-one support with other stroke sufferers so I can help them get their lives back on track."
He concluded: "I would love to gain full-time employment there. That's the long-term aim and one I'm going to give 110% to try to achieve."
Following his time at Accelerate, Colin has secured employment doing light electronic assembly work.