Black History Month: How National Lottery funding is supporting communities to commemorate Windrush 75
Fiona Joseph, Equity, Diversity and Inclusion Manager at The National Lottery Community Fund, reflects on celebrating Windrush 75 and shares why this momentous anniversary holds personal significance to her.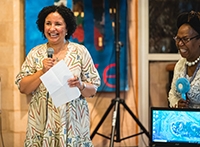 "Black History Month and Windrush 75 resonate very strongly with me and invoke a genuine sense of pride. My father is from the Windrush generation; he came from Challengers Village in St Kitts to Birmingham in May 1959. He worked first on the railways and then spent the rest of his working life on the production line at the Austin car factory in Longbridge.
"I am very proud of the extraordinary contribution that he and others of the Windrush generation have made to the social and economic life of the UK. My 'Pop' is very unassuming and would be the last person to see himself as heroic or worthy of celebration.
"This is why I was honoured to join one of the 140 community projects to receive a share of more than £1.2 million of National Lottery funding across the UK this year to commemorate the 75th anniversary of Windrush."
Earlier this year, St Paul's Church in Balsall Heath held its 'Windrush Supper Dance' as part of the Mayor's Community Weekend in the West Midlands. The event provided an opportunity for local people to come together and celebrate the incredible contribution the Windrush generation has made to the local area and beyond.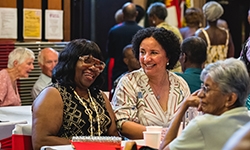 "It was fantastic to see the local community come together, along with West Midlands Mayor Andy Street, to pay tribute to the economic contribution of those people who came from the Caribbean to help post-war labour shortages in the UK.
"We enjoyed a thanksgiving prayer before sharing fabulous Caribbean food, including jerk chicken, curry goat, and rice and peas. I sat at a table with a group of women and we exchanged stories and memories of times past. A range of reggae and 1970s soul music played over the sound system, which took me right back to my childhood and had us bopping in our seats. Around the room there were photographic displays of Windrush history and members of the historical group 'Why Are West Indians' were present.
"The impact of a community of different faiths and generations uniting in celebration cannot always be measured in terms of numbers or metrics. Nevertheless, there was a real community spirit in the air that elevates communities in difficult times.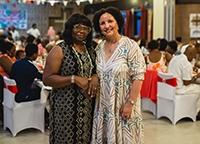 "The event also provided the opportunity to mark another important and interlinked anniversary – 75 years of the National Health Service. Liz, an assistant nurse at Birmingham Children's Hospital, was just one of many inspirational Black women I met on the day. Liz cares for babies and children up to the age of five. Aside from cuddling the babies - which she adores - her role often means supporting parents and carers when they are distressed and wracked with anxiety or grief. "It's as much about caring for the adults as it is for the babies and children," she said. I was so inspired by her loving approach and dedication to her work."
Read more from Fiona and other inspirational Black women across The National Lottery Community Fund about the importance of celebrating Black History Month in our previous blog.