Archery classes hit target with National Lottery grant
Archery classes hit target with National Lottery grant
People with visual impairments in Hereford are shooting for success with archery classes, thanks to support from the Big Lottery Fund, the largest funder of community activity in the UK.
The Royal National College for the Blind (RNC) was awarded more than £2,500 of National Lottery funding in September to provide archery classes for its students. The money will provide new equipment including arrows and different sized bows.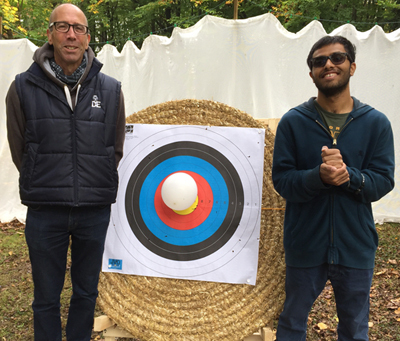 The archery classes have many benefits, helping to boost people's mental wellbeing and confidence, and improving balance and upper body strength. The sessions will also bring people together to socialise, sparking new friendships and team spirit.
Barry Morris, Duke of Edinburgh Co-ordinator at the Royal National College for the Blind, said: "We're so pleased to receive this National Lottery grant which has provided us with equipment so we can offer archery classes to more of our students. Our new bows are designed for different strengths so people of any ability can have a go. It's a really social sport and helps build our students' confidence and self-esteem, making them realise their potential and that they can do the same activities as somebody fully sighted. As a bonus, our archery classes support students to achieve their Duke of Edinburgh Award."
Brandon Hulcoop, 17, from Plymouth, joined RNC in September and enjoys taking part in sports. Brandon said: "It's fantastic that there's so many sport opportunities here like archery. I really enjoy the sport and it's so rewarding when you hear the arrow hit the target because then you know you're doing it right. Activities like this are key to helping me build my skills and develop as a person. I'm so grateful to National Lottery players because without them we wouldn't have this new equipment to benefit from."
Karthik Yeachareddy, 20, moved to Hereford from India this year so he could attend RNC. He enjoyed archery in India and can now carry on his hobby whilst studying. Karthik said: "I'm really glad that I can continue to play archery in my spare time - it's a challenging sport which requires patience but I really enjoy it. I like that there's a balloon displayed on the bullseye because when it bursts you'll know that you've hit it."
Matt Poole, Head of Regional Funding for the Midlands at the Big Lottery Fund, said: "We're proud to be funding these archery classes, which people with visual impairments have told us play an important part in boosting their confidence and wellbeing. Thanks to National Lottery players, students have the opportunity to take part in a social activity which boosts their mental and physical wellbeing, helping them settle into life at the College."
The Big Lottery Fund distributes money raised by National Lottery players for good causes. Last year it awarded over £93 million to projects across the UK supporting people with disabilities. 90% of the grants it makes are for under £10,000. To find out more visit www.biglotteryfund.org.uk