Community garden gives railway station new lease of life
Community garden gives railway station new lease of life
A community garden has given a Nottinghamshire railway station a new lease of life, thanks to support from East Midlands Trains, local businesses, Nottinghamshire Wildlife Trust, public donations, the local County Council and a grant from the Big Lottery Fund, the largest funder of community activity in the UK.
Volunteers at Attenborough Elderflowers have spent a year campaigning to secure funds to transform Attenborough Railway Station, so it reflects the rural nature of their village and its surroundings.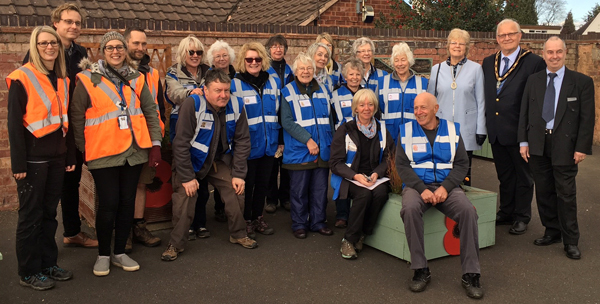 Their vision of beautifying the historic space is now full steam ahead thanks to almost £3,000 of National Lottery funding from the Big Lottery Fund, £1,500 from Nottinghamshire County Council and more than £2,000 in generous sponsorships and donations from local businesses and people in the community.
With a new garden already blooming on platform one, volunteers from East Midlands Trains, Network Rail and Attenborough Elderflowers were out in force at the station on Friday (26 October) to begin extending the garden onto platform two. A bug hotel and wildflower area were also created, providing a habitat for insects and creepy crawlies to enjoy. The volunteers were joined by Anna Soubry MP, Mayor Derek Burnett and the local community to celebrate this achievement.
The flowers and plants have added character to the station once again, after its original gardens were paved over in the 1930s and 40s. The station was built in 1856 and during the World Wars its platforms were extended to be used as an interchange for armaments and soldiers from Chetwynd Factory and Barracks. A poppy display was created alongside the gardens on Friday to commemorate those who lost their lives in the World Wars.
Margaret Blakeborough, Chair of Attenborough Garden Club, said: "Attenborough Elderflowers are a lively group whose enthusiasm for creating greener spaces is demonstrated by this project which is the first of, hopefully, many more in and around Attenborough. It's been incredibly heart-warming to see the local community get behind this initiative and come together to improve a space which matters to them, putting the station back on the map.
The volunteers have worked so hard during the summer heatwave to keep platform one's new garden in bloom. The station's rain-water butt was running empty so Attenborough Elderflowers came to the rescue by transporting water daily from their homes. We can't wait to see the garden across both platforms of the station for the local community and visitors to enjoy."
Derek Burnett, Mayor of Broxtowe, said: "It is fantastic seeing local people come together to improve a space which is important to them. It has been so inspiring meeting the volunteers who are behind this great initiative and hearing about the benefits the new garden will bring to Attenborough Railway Station. Excellent work and well done to everyone involved."
Matt Poole, Head of Regional Funding for the Midlands at the Big Lottery Fund, said: "Inspiring community groups like Attenborough Elderflowers are what National Lottery funding is all about. It's great to see money raised by players for good causes helping to bring this idea to life, encouraging local people to work together for the benefit of their community."
The Big Lottery Fund distributes money raised by National Lottery players for good causes. Last year it awarded over half a billion pounds and supported over 11,000 projects across the UK for health, education, environment and charitable purposes. 90% of the grants it makes are for under £10,000. To find out more visit www.biglotteryfund.org.uk